Millar's time trial practice run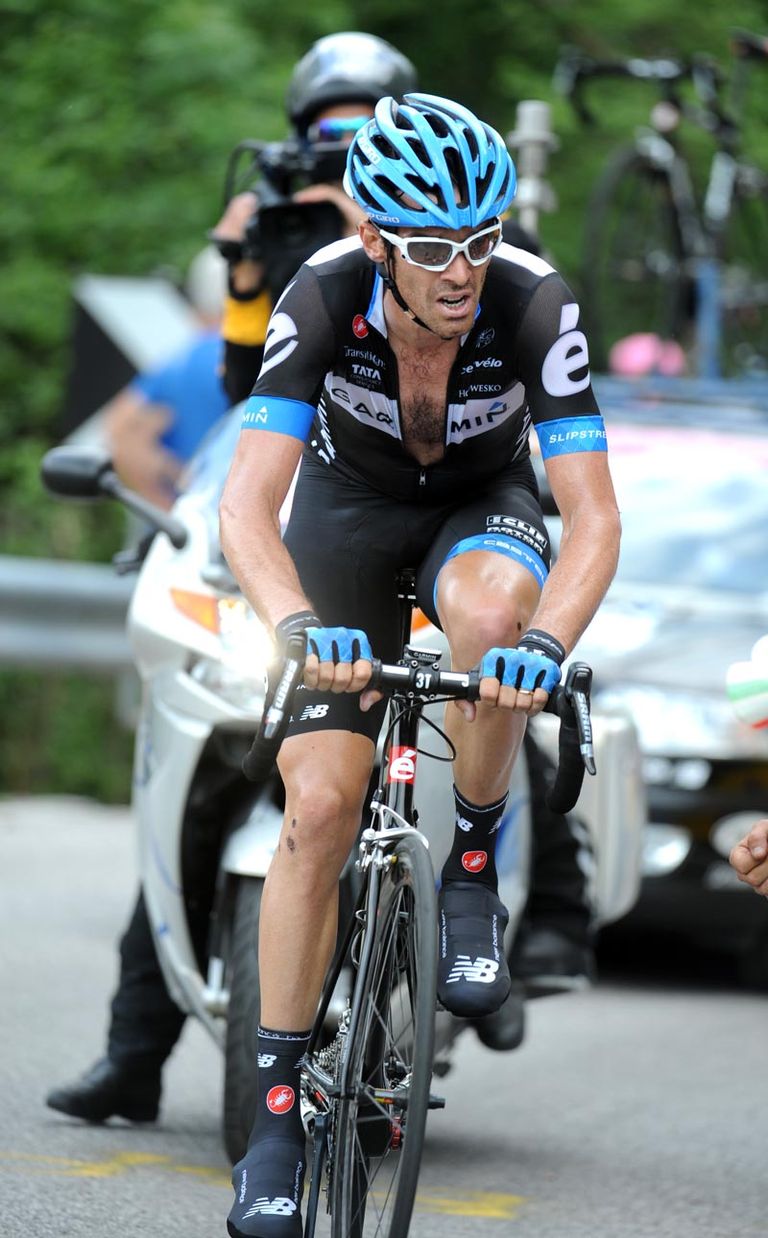 David Millar used the mountain time trial in today's stage of the Giro to test himself out for the flatter test against the clock in Milan on Sunday.
The Scot clocked a time of 30-51 on today's uphill effort from Belluno to the ski resort of Nevegal. Although 24th, almost two minutes behind race leader and stage winner Alberto Contador, Millar looked at the effort as "an opener" for the Giro's finale.
"There's no way I was going to win on that," he said of the climb. "But it was the same effort I'll do in Milan - even harder. If I can do that again, I'll be riding for the win I hope."
Millar said he rode as hard as he could over the 12.7km course. The Garmin-Cervelo rider tackled the descent from the start town with precision and for a while topped the leader board at the first checkpoint.
However the first category climb, which ramped up to about 14% for 5km, was never going to be to the liking of his 80kg frame. Again he was riding with a 36 tooth sprocket on his bike (run with a 42 inner chain ring) and said he used it one or two times during the time trial.
"That was deceptive, I thought it would get a bit easier towards the top, but it didn't, it got harder again," he said. "Mountain time trials are always savage."
Sunday's time trial in Milan is a different matter altogether: 26km with barely a blip on it. Following a change of course announced today (the result of a clash with local elections), it starts with a loop around the exhibition centre to the northwest of the city before following long wide avenues towards the cathedral in the city centre.
A few sharp corners bookend each end of the course, but these shouldn't pose any problems for Millar.
"I'm going for the stage win," he asserted, "but there are a lot of guys [to consider]: Mechov, even Contador. I'll have the advantage on them in that I won't have been going hard every day from now on. But there's always the occasional dark horse too."
Although Millar won't have to push himself for the sake of the general classification before the time trial, he said it won't be a case of completely letting off the gas.
"I have to test myself, keep it ticking over," he noted. "I'll take it day by day."
The last time Millar won an individual time trial in a Grand Tour was on the penultimate day of the 2009 Vuelta.
Giro d'Italia 2011: Latest news
Giro d'Italia News Shorts (May 24)
Controversial Crostis climb removed from Giro route
Sky leader Lofkvist loses more time at the Giro
Giro contenders struggle with Contador's dominance
Contador widens Giro advantage but Tour doping case waits
Porte reflects, one year after Giro success
Le Mevel goes on attack for Giro's pink jersey
Giro fines Contador for missing press conference
Cavendish responds to 'team car' accusations at Giro
Giro d'Italia News Shorts (May 15)
Giro's Sicilian cyclists proud to face Mount Etna
Contador surprises at Giro with attack ahead of mountains
Contador minds food at Giro as CAS decision nears
Weening supported by Rabobank and model Kroes
Local lad Appollonio bears fruit in Fiuggi
Giro d'Italia News Shorts (May 12 edition)
Blythe finding way in second Grand Tour
Leopard-Trek withdraws from Giro d'Italia
Leopard-Trek uncertain to continue in Giro
Tuesday's Giro stage in memory of Weylandt
Giro doctor describes actions to save Weylandt
Wouter Weylandt killed in Giro crash
Giro news shorts (May 8)
Cavendish likely to take Giro lead tomorrow
Giro 2011: Who will win?
Giro d'Italia 2011: Stage reports
Stage 16: Contador lords it over the rest in Giro TT
Stage 15: Nieve wins mountain marathon as Contador continues at the top
Stage 14: Anton conquers Zoncolan in shortened stage
Stage 13: Contador consolidates Giro overall as Rujano takes stage
Stage 12: Cavendish holds off Appollonio to take second victory
Stage 11: Gadret grabs dramatic stage win
Stage 10: Cavendish opens his Giro account
Stage nine: Contador storms Etna to take Giro lead
Stage eight: Gatto springs late attack to take win
Stage seven: Neo-pro De Clercq wins by a whisker
Stage six: Ventoso steals Giro stage six win
Stage five: Weening holds on to take stage and maglia rosa
Stage four: Tearful Farrar and Leopard-Trek lead riders across stage four finish line
Stage three: Vicioso victory overshadowed by Weylandt crash
Stage two: Petacchi wins as Cavendish takes lead
Stage one: HTC-Highroad wins Giro's opening team time trial
Giro d'Italia 2011: Photo galleries
Stage 16 photo gallery by Graham Watson
Stage 15 photo gallery by Graham Watson
Stage 14 photo gallery by Graham Watson
Stage 13 photo gallery by Graham Watson
Stage 12 photo gallery by Graham Watson
Stage 11 photo gallery by Graham Watson
Stage 10 photo gallery by Graham Watson
Stage nine photo gallery by Graham Watson
Stage eight photo gallery by Graham Watson
Stage seven photo gallery by Graham Watson
Stage six photo gallery by Graham Watson
Stage five photo gallery by Graham Watson
Stage four photo gallery by Graham Watson
Stage three photo gallery by Graham Watson
Stage two photo gallery by Graham Watson
Stage one photo gallery by Graham Watson
Giro d'Italia 2011: Live text coverage
Giro d'Italia stage 16 live text updates
Giro d'Italia 2011 stage 13 live text updates
Giro d'Italia 2011 stage 11 live text updates
Giro d'Italia 2011 stage seven live text updates
Giro d'Italia 2011 stage five live text updates
Follow the 2011 Giro d'Italia live with Cycling Weekly
Giro d'Italia 2011: Start list
Giro d'Italia 2011: Start list
Giro d'Italia 2011: TV schedule
Giro d'Italia 2011: British Eurosport TV schedule
Related links
Giro d'Italia 2010: Cycling Weekly's coverage index