Philip Deignan reveals Sky's opportunistic tactics at Giro d'Italia
Irishman Philip Deignan has recovered from early-season injury and illness to take to the start line of the Giro in Belfast on May 9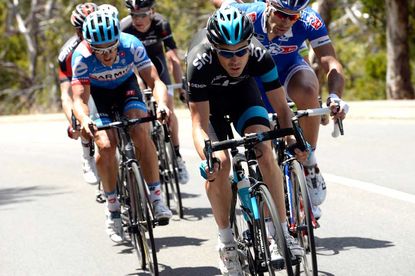 Words by Brian Canty
Ireland's Philip Deignan admits he is revelling in his new surroundings at Team Sky and says he can't wait to roll down the start ramp at the Giro d'Italia in Belfast next Friday (May 9).
The 30-year-old Letterkenny man joined the British squad at the end of last season and though his race programme has been interrupted by a series of injuries and illnesses this term, he remains confident in his own undoubted ability.
"My run-in hasn't been ideal obviously," he says, "but the team have been pretty good and told me because I'm coming into the race with only five or six days of racing I'm going to be underdone so it'll be about trying to ride through the first week or 10 days and get up to speed."
And he admits that a stage win is not outside his grasp.
"I'll do what I can for the GC guys but have no pressure and then in the last week go for breaks and try to get in a successful move and make it to the finish. I think the last four weeks I've really come on, I was struggling to get form four weeks ago but the improvement has been great. So if I can stay out of trouble and stay healthy in the first half of the race, there's always a chance of a win. The odds are always stacked against you and you need everything to go perfectly, you need a bit of luck and have a super, super day - but it is possible.
"Obviously that will mean losing time in the first 10 days, sitting up and going in grupettos trying to save my energy and picking three or four days that I think the break will go and stick. That's the plan for the moment but that could change and we'll find out before the race, but for the moment, that's what I'll be doing."
Deignan, who is one of just seven Irish riders to win a stage of a Grand Tour, says that with Richie Porte ruled out, they'll be adopting more of a 'wait and see' approach as regards the Tasmanian's replacement.
"Our plan changed completely because Richie Porte won't be there," lamented Deignan. "If Richie had been going it would have been all about me staying with him in the mountains and trying to help him whatever way I could, but now without him, we have more guys that are going to go for GC, like (Sebastian) Henao and (Peter) Kennaugh.
"I saw Henao in Coppi Bartali and I was really surprised how strong he was and I think he will definitely surprise a few people, he's still very young so I think he'll be around a good few years yet and the team won't put too much pressure on him. I think he can definitely be up there for the Young Riders jersey and with Pete, I think he showed how strong he was in Bartali and in the Tour last year so I think he'll try to see how far he can go and see if he can be consistent for three weeks.
"Obviously we won't be outright favourites but they can maybe do a top 10 and then we have guys like Ben Swift and Edvald Boasson Hagen who can go for stage wins."
Though he has been a professional for 10 years and raced at the highest level for a good chunk of that, Deignan says Sky are now the template for how to run professional cycling teams.
"I've definitely learned things here," he articulates. "I have a lot of experience from my previous teams but you always learn new things in a team like this. Just small things with regard training and diet. There was nothing major that we changed but little things with training and diet make a difference. It's great to be on the team and a lot of them nowadays seem to copy what Sky are doing and it's very much about the minor details making the differences."
And though he says the team's training base in Monaco has a few "distractions" he's not getting caught up in any of that as he counts down to a race he last rode in 2011.
"I was a little bit worried how it was going to go out here because in Monaco you're surrounded by a lot of other things that can be distracting but I've got a good group of friends here now and I just don't get involved in any of the other bullshit outside of the cycling world," he said.
"I get up and do my training and obviously the weather and the roads here are perfect for it so I've settled in really well. It's probably the happiest place I've lived outside of Ireland. The training group changes every week because everyone is on different race programmes but there's about 15 or 20 Australian guys here so there's no shortage of training buddies. Just a few weeks ago I was out training with Simon Gerrans and you can measure yourself and see who'll be up there on Sunday. That helps me gauge my form and hopefully I'll be okay come next weekend."
Team Sky Irishman Philip Deignan will miss Ruta del Sol as a result of collarbone fracture
Philip Deignan will play mountains support role for the like of Chris Froome and Richie Porte, and could start Giro
Thank you for reading 20 articles this month* Join now for unlimited access
Enjoy your first month for just £1 / $1 / €1
*Read 5 free articles per month without a subscription
Join now for unlimited access
Try first month for just £1 / $1 / €1