Rigoberto Uran can't rely on 'Colombian support' at the Giro d'Italia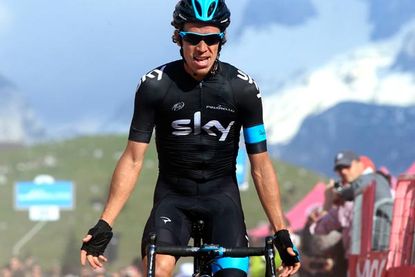 Rigoberto Urán must count on his Sky team-mates to win the Giro d'Italia, not his compatriots, according to Team Colombia General Manager Claudio Corti.
"We've got different sponsors, and I've got to honour my sponsors," Corti told Cycling Weekly. "We can't have our riders being domestiques for Urán. I'd be happy to see Urán win the Giro, but 99 per cent of it he has to do, one per cent may come from friendship."
Corti reacted to a comment from Colombian cycling legend, Fabio Parra. In the 1980s, Parra won two Tour de France stages and placed third overall. On Monday, he called on the 12 Colombians in the Giro d'Italia to unite behind Urán.
Urán sits third overall, 2-46 minutes behind leader Vincenzo Nibali (Astana). Cadel Evans (BMC Racing) is second overall at 1-26.
He won the white jersey of best young rider and placed seventh overall last year. This year, he was drafted to help Bradley Wiggins. He won the summit finish stage to Altopiano del Montasio and, after Wiggins abandoned, became Sky's overall leader.
Colombian Sergio Henao and Sky's other riders will help Urán. Team Colombia, Corti explained, will work to win one of the high mountain stages. If the chance arrives, he added, his riders, like John Atapuma or Fabio Duarte, could cooperate for a common goal.
"You can help to save a rider who's hurting, but to it's difficult to think that one of mine can drop Evans, Nibali and everyone else to deliver Urán," he said. "If it happens that way, it wouldn't be that my rider is helping Urán, it'd be that he's going strongly and so is Urán, and they find themselves together. To win, though, it's up to Urán."
Urán agreed.
"In Sky, there's Henao, but all the other [Colombians] race in other teams and I don't know if you can theorise about alliances," he said on Monday. "Plus, you've got to keep your feet on the ground because up until now, Nibali has been better."
Signing big names
Corti's Team Colombia riders would work for Urán or Henao if they were in the team. It could happen as the second division team is considering working with a private sponsor to bring in more funding for 2014 or 2015.
"My budget wouldn't let me sign these types of riders, but to support younger riders to reach their best. However, we have an idea of bringing in a private sponsor or two, probably a Colombian one, to expand the budget," Corti added.
"With a bigger budget we can do both, help young cyclists and also have proven cyclists that can immediately give the team results. We already have Leonardo Duque, who's raced in stage races. He can give extra advice on top of what the sports directors are giving during the races. This helps accelerate their learning process."
Giro d'Italia 2013: Previews and race info
Giro d'Italia 2013: Coverage index
Giro d'Italia 2013: British TV schedule
Giro d'Italia 2013: 10 things you need to know
Giro d'Italia 2013: The Big Preview
Giro d'Italia 2013: Stage reports
Stage 16: Intxausti continues Movistar's successful Giro with stage win
Stage 15: Visconti wins Galibier stage
Stage 14: Santambrogio wins and Nibali strengthens lead
Stage 13: Cavendish takes his fourth stage win of 2013 Giro
Stage 12: Cavendish takes 100th win as Wiggins' Giro bid faltrs
Stage 11: Navardauskas wins as favourites enjoy day off
Stage 10: Uran wins as Wiggins and Hesjedal lose time
Stage nine: Belkov takes solo win as Wiggins put under pressure
Stage eight: Dowsett wins as Nibali takes race lead
Stage seven: Wiggins crashes as Hansen wins
Stage six: Cavendish wins stage six of Giro
Stage five: Degenkolb avoids crash to take win
Stage four: Battaglin sprints to first Giro stage winStage three: Paolini takes charge
Stage two: Sky wins team time trial
Stage one: Cavendish wins opener
Giro d'Italia 2013: Photo galleries
Photos by Graham Watson
Stage 16 gallery
Stage 15 gallery
Stage 14 gallery
Stage 13 gallery
Stage 12 gallery
Stage 11 gallery
Stage 10 gallery
Stage nine gallery
Stage eight gallery
Stage seven gallery
Stage six gallery
Stage five gallery
Stage four gallery
Stage three gallery
Stage two gallery
Stage one gallery
Team presentation gallery


Giro d'Italia 2013: Videos
Giro final week preview
Giro week two preview
Giro first week video preview
Read more at http://www.cyclingweekly.com/news/latest/538048/giro-d-italia-2013-coverage-index.html#vdVa8XdAkAWsJOVs.99
Thank you for reading 20 articles this month* Join now for unlimited access
Enjoy your first month for just £1 / $1 / €1
*Read 5 free articles per month without a subscription
Join now for unlimited access
Try first month for just £1 / $1 / €1