Stelvio Pass: a Giro d'Italia fan's guide
Our quick guide to the iconic Giro d'Italia climb of Lo Passo dello Stelvio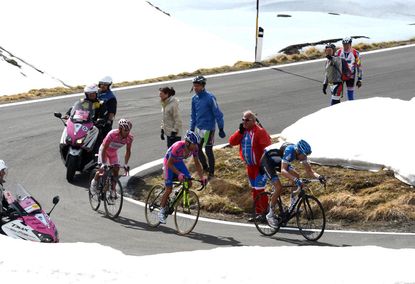 (Image credit: watson)
The Stelvio Pass featured in stage 16 of the Giro d'Italia on Tuesday, May 23. Here's a our quick guide to the iconic climb.
- 1825: Lo Passo dello Stelvio, or the Stelvio Pass opened because Austria's Franz Joseph I wanted a way from Vienna to Milan. It remained open year-around through 1915. Workmen who lived in houses distributed on the road kept it clean. Now, and since the WWI, the pass remains closed in the winter.
- 2758: Elevation at pass. From Bormio the road switches back on itself 36 times. From the classic side, the one used in 1953, there are 48 times tornati or switchbacks.
- 1953: Organiser RCS Sport first used the pass. Fausto Coppi drop race leader Hugo Koblet on the climb and took the pink jersey in Bormio. He won the race the next day in Milan.
- 1975: The race finishes at the top of the pass. Spain's Francisco Galdós won the stage and Italian Fausto Bertoglio took the overall title.
- 4: Number of times pass used as a stage finish. Graziano Battistini won in 1965, José Manuel Fuente in 1972, Francisco Galdós in 1975, Thomas De Gendt in 2012. With the four finishes included, the race visited the Passo dello Stelvio 11 times.
- 1967, 1984, 1988 & 2013: Pass cancelled due to snow.
- 2014: The organiser takes the race over the Stelvio and Gavia passes, the first time it included both in one stage
- 2017: Stelvio appears mid-way in stage 16
Thank you for reading 20 articles this month* Join now for unlimited access
Enjoy your first month for just £1 / $1 / €1
*Read 5 free articles per month without a subscription
Join now for unlimited access
Try first month for just £1 / $1 / €1