'It's too cold to race for five hours. It's unhealthy': Quick-Step doctor calls for shorter races in freezing conditions
Yvan Vanmol criticises decision to run Le Samyn at its full length in temperatures of -2ºC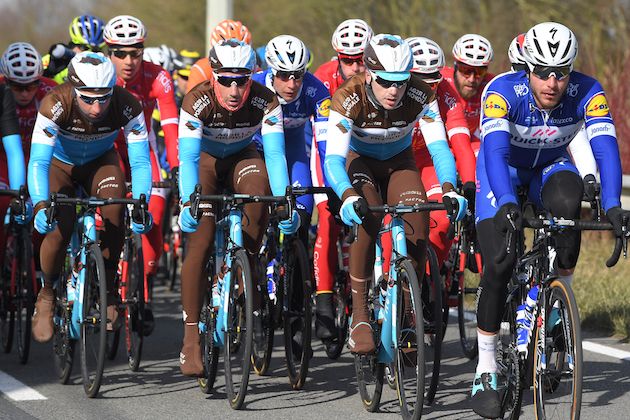 (Image credit: Luc Claessen/Tim De Waele/Getty Images)
Quick-Step Floors chief doctor Yvan Vanmol has criticised race organisers of Le Samyn for deciding against shortening the race due to freezing conditions, saying that racing for five hours in cold conditions was "unhealthy" and "irresponsible".
Temperatures at the start of the race in Quaregnon were around -2ºC, with wind-chill making it feel as low as -9ºC, and the mercury is not expected to rise beyond freezing for the duration of the 200km race.
Race organisers, teams, and riders met before the race to discuss whether to implement the UCI's Extreme Weather Protocol, but decided that the race should go ahead as planned, a decision that was criticised by Quick-Step's doctor.
>>> Strade Bianche roads covered in snow during cold snap (although heavy rain forecast for race)
"In my view it is too cold to exercise for five hours," Vanmol told Belgian television station Sporza. "The clothing is much better than 10 years ago.
"But cycling in this weather is unhealthy I think it's irresponsible to race for five hours, it should be possible to take off half the course and make a race of up to three hours."
Watch: Buyer's guide to the best winter cycling clothing
http://www.youtube.com/watch?v=l-zlRGHWA6A
Vanmol went on to describe how the riders would suffer in the cold, saying that the dry cold conditions currently lying over much of western Europe were especially bad for hard exercise.
"Especially the face, the fingers and feet of the riders are sensitive to the cold, and the dry cold is not good for the airways: there are contractions of the small muscles in the breathing ducts, so you get a lot of bad air," Vanmol continued.
>>> Michal Kwiatkowski braves heavy snow and freezing temperature to recon Milan-San Remo (video)
"The cold is also bad for the muscles and the joints, and everyone rides with leg warmed, which gives the riders extra friction on the knee joints."
According to the UCI's Extreme Weather Protocol, commissaires must call a meeting of officials, organisers, teams and riders prior to the start of a race if extreme temperatures are forecast.
They then have the power to modify the route or cancel the race entirely if the conditions are deemed sufficiently severe.