Young rider Keagan Girdlestone in improved 'stable' condition after horror crash
The 19-year-old Dimension Data for Qhubeka rider spent time off of a ventilator breathing on his own, but his family says there are "many more hurdles ahead"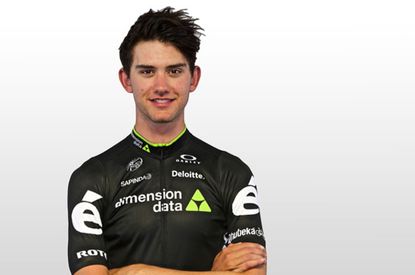 South African Keagan Girdlestone is no longer fighting for his life, but trying to recover after crashing into a team car's rear windscreen in the Coppa della Pace race Sunday in Italy.
The 19-year-old with continental team Dimension Data for Qhubeka is recovering in a Rimini hospital along Italy's east coast. His team and family feared for his life following the crash in the one-day race, but signs appear positive now.
"Some good news emerging from Rimini, Italy, with Keagan's physician confirming that Keagan is now 'stable and there is no immediate threat to life,'" his family wrote on his Facebook page.
Girdlestone spent time off a ventilator used to help him breathe this morning while undergoing scans.
"This time he spent off a ventilator shows he is now able to breathe on his own. Once back on the ward ventilation was resumed to assist him as he recovers. While his immediate situation has improved, there are many more hurdles ahead."
Girdlestone placed fourth in the junior time trial world championships last year in Richmond, USA, and began racing under-23 races this season with Dimension Data for Qhubeka, the feeder team for WorldTour team Dimension Data with Mark Cavendish and Steve Cummings. On Sunday, he lined up for the 172km 1.2-ranked Coppa della Pace.
He fell around 105km into the race and chased to rejoin the group. Around 119km, shortly before the line to start another circuit, he crashed into the rear window of a team car.
He suffered cuts around his neck. It is unclear how it happened, if the car braked suddenly or if Girdlestone failed to see a danger. Italian media reported that a speed bump was on the road near the incident.
Medics transported him to the hospital in critical condition. With news of the incident swirling through the peloton and social media, including some incorrect rumours that he had died, director Raffaele Babini cancelled the race.
"His injury treatment initially centred around the lacerations caused by contact with the vehicle," said Tom Reynolds, family representative. "He had substantial blood loss and this was the major focus of the medical attention early on. Mercifully, he has jumped over some early hurdles and we are now going from an hour by hour basis to a day at a time basis."
Girdlestone's parents are currently travelling from South Africa to Rimini. Further details on the incident may not surface until the police finish their work.
Thank you for reading 20 articles this month* Join now for unlimited access
Enjoy your first month for just £1 / $1 / €1
*Read 5 free articles per month without a subscription
Join now for unlimited access
Try first month for just £1 / $1 / €1