Great Britain's Lewis Askey wins junior Paris-Roubaix to deliver back-to-back British victories
First-year junior out-sprints Samuele Manfredi to take victory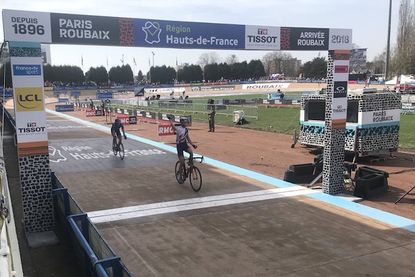 (Image credit: Marc Walker)
First-year junior Lewis Askey followed in Tom Pidcock's footsteps to make it two wins in a row for Great Britain in the junior edition of Paris-Roubaix, after out-sprinting breakaway partner Samuele Manfredi (Italy) in the famous Roubaix velodrome on Sunday.
The 16-year-old, who rides for Backstedt-Hotchillee as well as the GB Junior Academy, attacked a much depleted peloton with around 35km to ride, taking the Italian with him. The pair swapped turns all the way to Roubaix, fending off some concerted counter-attacking behind before Askey won the two-up sprint on the track.
"The Carrefour [de l'Arbre] was so hard," Askey said. "It came back to 15 seconds at one point and then yeah, I gave it everything to the line and managed to outsprint the guy."
It was only with around three kilometres to go that he started to believe in victory, he said: "Up to that point it was just give it everything and hope hope hope I was getting to the velodrome."
>>> Peter Sagan takes spectacular Paris-Roubaix victory after huge 54km attack
Fellow Team GB rider Samuel Watson - another first year junior - came in eighth.
Team coach Stuart Blunt described the day's "in-between" conditions as a real challenge, especially for younger, less experienced riders.
"If it's raining then it's raining and you know what you're getting, everybody rides accordingly. If it's dry it's dusty, and they ride accordingly," he said. "The problem we had today was that kind of greasy surface. It's unpredictable."
Tom Pidcock's win last year did their confidence no harm, admitted Blunt, but cautioned: "What these boys don't lack is confidence sometimes they have have to be reined in a bit. They don't lack belief in themselves.
"It's nice to win, but I'm pleased with the way they've conducted themselves. They always take pride in how they conduct themselves at races, how they operate as a unit."
Thank you for reading 20 articles this month* Join now for unlimited access
Enjoy your first month for just £1 / $1 / €1
*Read 5 free articles per month without a subscription
Join now for unlimited access
Try first month for just £1 / $1 / €1