Lizzie Deignan to relish being a 'total unknown' at the World Championships
Former world champ will go into the race after having surgery to remove her appendix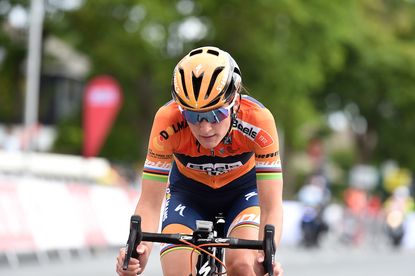 (Image credit: Andy Jones)
After an emergency operation to remove her appendix just four weeks ago, Lizzie Deignan has spoke about how she is enjoying her status as a "total unknown" coming into this year's World Championships in Bergen.
In an interview with the BBC, the 2015 World champ spoke about how she lost two kilograms of muscle after 13 days of bed rest following her surgery.
"I'm not the same Lizzie that I was three weeks ago" she admitted, and despite only doing two hour training rides when she can, the Brit claims they are "full on."
However, despite the setback Deignan is looking at the positives that the situation has provided, saying that she's enjoying where she is right now.
"It's fun," she said, "I'm a total unknown. My rivals won't ignore me but they won't know what to expect."
The 28-year-old took her last victory of the season at the GP Plouay in August, before having to abandon the Boels Rental Ladies' Tour a few days later with appendicitis.
After her lay-off though, the Boels-Dolmans rider acknowledged that the pressure was off her to perform.
"It's a world title and anything can happen. It's about how much you want it, I know that from the past. It's not always the strongest rider that wins in bike racing and normally that's very frustrating for me but it might not be on Saturday" she said.
Having labelled the course as "perfect" for her after a recon earlier in the year, Deignan was focussed on getting to the start line and although she may not be on the form that saw her win in 2015, she'll be sure to give it a go.
The women's elite race will take place on September 23 with Deignan leading the GB team into action.
Thank you for reading 20 articles this month* Join now for unlimited access
Enjoy your first month for just £1 / $1 / €1
*Read 5 free articles per month without a subscription
Join now for unlimited access
Try first month for just £1 / $1 / €1