Marcel Kittel: 'It's nice to win jumping from wheel to wheel'
German sprinter Marcel Kittel overcomes final kilometre chaos to win without a lead-out in the Dubai Tour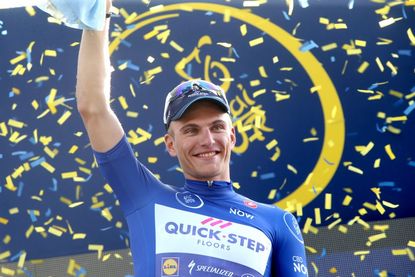 (Image credit: ANSA / Matteo Bazzi)
With his Quick-Step Floors team having executed a near-perfect lead-out train on stage one of the Dubai Tour, Marcel Kittel was pleased to showcase a different style of sprinting on stage two, producing a late surge for the line to secure his second victory in consecutive days.
A sharp turn with just over one kilometre to go caused chaos among the sprinters trains and meant Kittel's Quick-Step lead-out got swamped pushing him far down the pack. Yet with the help of team-mate Fabio Sabatini, Kittel he managed to weave through the bunch and edge ahead of LottoNL-Jumbo's Dylan Groenewegan with seconds to spare.
He said he had relied on a philosophy a previous sports director had told him to ensure he didn't give up, even though at one point he looked to be out of contention.
"It's a moment when you almost think oh no now it's over maybe, but that's the wrong way to think," Kittel told press after the stage.
>>> Marcel Kittel wins second consecutive Dubai Tour stage to extend overall lead
"One of my old sports directors said 'always finish at the finish line' it sounds very simple but it's true – unless you haven't crossed that finish line you can still go for the victory and I think that mentality kept me in contention for the victory today.
"It's nice to win like this when you jump a little bit from wheel to wheel."
At such an early point in the 2017 season, the 28-year-old had said the five-stage Dubai Tour was a good opportunity for he and his team-mates to trial the lead-out, identify problems giving them a chance to iron out mistakes as the year progresses. Kittel continued he was proud of the way his team had adapted within such chaotic circumstances at the finish, to ensure he took his seventh career victory in Dubai.
"Today was just a different final [compared to stage one]. In the end there was not so many possibilities to stretch out the peloton just before we came to the finish line," he said.
"We just came really late into the last corner, which in the end didn't give us the chance to go for a pure lead-out like we could show yesterday.
"We were still able to adapt to that situation, Fabio Sabatini had to go from one and a half kilometres from the finish, he brought me back, and in all that chaos we still managed to come back at the end when it mattered."
Watch: Dubai Tour 2017 stage two highlights
For the second day in a row, Kittel edged ahead of Dutchman Groenewegan on the line, and he was certain the 23-year-old would continue to be a threat in sprints throughout this season.
"He's one of the names that I also have on my list when it's about going for sprints, for finals," Kittel said. "I think he will show his talent for sure again this year like he did last year."
Thank you for reading 10 articles this month* Join now for unlimited access
Enjoy your first month for just £1 / $1 / €1
*Read 5 free articles per month without a subscription
Join now for unlimited access
Try first month for just £1 / $1 / €1