Matt Bottrill stays on top in National Time Trial Series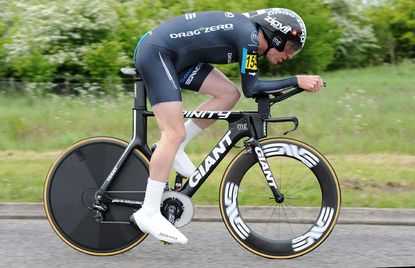 Former series winner Matt Bottrill (Drag2Zero.com) stayed on track to reclaim his crown with victory in round three of the RTTC National Time Trial Series in Norfolk on Sunday.
His time of 47:01 gave him a second victory in the series and maintains his 100 per cent record this season after the opening race was cancelled because of snow.
Scott Walker (MG Décor) was over two minutes behind, while Dean Robson (Somerset RC) was third.
Bottrill won the title in 2010 and 2011 before losing out to team mate Jeff Jones last year, but is on track for a third victory.
"I'm really happy with that," said Bottrill afterwards. "The course suited me well, I came with a plan of doing a 30mph ride. My coach Bob Tobin worked out a plan to achieve this and I'm happy to say I stuck to it! I love racing roads like this - this is what I think time trailing should be about."
Rebecca Slack leads the women's table having also won both of the races held so far. This time, the Look Mum No Hands rider came in well under the hour with a time of 56:09, more than six minutes faster than Camel Valley C&TC's Andrea Parish in second place.
Slack will be hoping that she can maintain her form and go one better than last year when she lost out to multiple national champion and record holder Julia Shaw by two points.
Elsewhere, Hope Factory Racing's James Gullen won the Kent Valley RC hill-climb on Bank Holiday Monday, clocking 25-14 to go close to a course record for the 9.1-mile climb from Kendal to the summit of Shap in Cumbria. Junior James Knox (Champion System) was second with a superb 25-26.
Mid Devon CC's Andrew Perkins was the only rider to go under 20 minutes in the Cambridge CC 10 on Friday.
Perkins stormed the Madingley course in 19:51 although he still fell short of the course record of 19:22 set by Michael Hutchinson.
Talking of Hutchinson, he secured a convincing victory in the Sussex CA 25 at Steyning, one of two riders to set new course records for the G25.93.
The In Gear-Quickvit rider clocked 49-31 to break the men's course record and win the event by almost three and a half minutes from team-mate Conall Yates. And Jo Rowsell (Wiggle Honda) won the women's event by more than seven and a half minutes, her time of 55-38 smashing the old women's record and giving her ninth overall.
Former British best all-rounder Kevin Dawson made the most of breezy conditions in Scorton to secure top spot in the Darlington CC 25 with Keith Murray finishing around a minute down.
Former national hill climb champion Matt Clinton showed that he's just as competitive on the flat by winning the Coventry CC 10. The MikeVaughan.co.uk rider was 20 seconds quicker than his rivals with a 20:21.
Team Swift took a one-two in the Yorkshire Cycling Federation 25 as Joel Wainman and Simon Beldon were quickest at Topcliffe. Thirty-eight-year-old Wainman edged out his team mate with a 52:01.
It was a three-way scrap for honours in the Eastern Counties Cycling Association's 20-Mile TT at Ugley in Essex with the top three riders finishing within 11 seconds of each other. Russell Kober (Hainault RC) stopped the clock on 46:11 and Adam French (Rapha Condor CC) put in a 46:15 but it was St Ives CC's Scott Cousins who took top spot with 46:04.
Matt Sinclair (Lutterworth Cycle Centre RT) raced round the Matlock CC 10 in 21 minutes dead to take victory from Buzz Cycles Zenith's James Tucker by four seconds.
Tom Ward showed the older riders how it was done in the VTTA South Wales Open 10-Mile TT as the 18-year-old took victory with a 20:03. In the two-up event, Mark Hammond and Stefan Harrison took victory for Stourbridge Velo.
And Gavin Moore (Pro Cycle Hire) won the VC Baracchi 10 on Bank Holiday Monday. His time of 21-49 for the B10/43 Harleston to Bungay bypass course was good enough for victory by 10 seconds over Godric CC's James Trenchard.
Related links
Time trial news section
Thank you for reading 20 articles this month* Join now for unlimited access
Enjoy your first month for just £1 / $1 / €1
*Read 5 free articles per month without a subscription
Join now for unlimited access
Try first month for just £1 / $1 / €1