Miguel Indurain defends Bradley Wiggins over TUE controversy
The five-time Tour de France winner says Wiggins has "no reason to justify himself" over the furore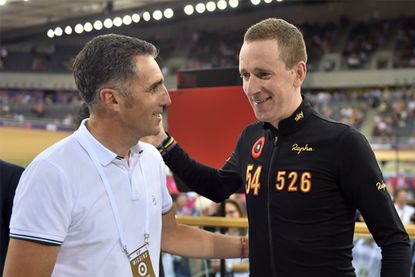 Five-time Tour de France winner Miguel Indurain says that Bradley Wiggins followed the rules in applying for TUEs and should not have to justify himself.
Wiggins received permission to inject corticosteroid triamcinolone ahead of the 2011 and 2012 editions of the Tour de France and the 2013 Giro d'Italia. Some suggest that Wiggins and his then current employers Team Sky entered a grey area fair play given the reported strong effects of the corticosteroid known as 'Kenacort'.
>>> Dave Brailsford says he 'made things worse' in Team Sky and Bradley Wiggins furore
"I am not following [the issue] too much, but there's no reason for [the media fuss], because he followed the rules," Indurain told Cycling Weekly.
"The rules change over time, and one has to follow the rules how they were at the time. They gave him the 'OK' so there's no reason he has to justify himself to anyone, because he did what they said."
Wiggins, who is racing the London Six Day this week, considers Indurain one of his childhood heroes.
The 2012 Tour winner said that a specialists and Doctor Freeman suggested he use triamcinolone. The UCI approved the TUE certificate, each time coming ahead of his season's main goal.
The World Anti-Doping Agency (WADA) prohibits such corticosteroid use in competition. If a rider wants to race and has to use it, he needs a certificate.
Teams that are in the Movement for a Credible Cycling (MPCC) require their riders to take an eight-day break after a corticosteroid injection. Seven of the top 18 teams are members. Sky and others have not joined.
"He got the 'OK,' he followed the rules, and there are people in place to make sure the rules are followed. He respected the rules, and it's not his problem. He should keep his head held high," Indurain added.
"Every person knows what kinds of problems they might have. To race at such a high level, these kinds of things are normal, injuries, illnesses, and you have to find the best possible solution. And the people giving out these permissions do it in an equitable way, they won't just give them out for anything."
>>> London Six Day: Mark Cavendish and Bradley Wiggins sit third after day one (video)
The UCI has tightened its TUE process over the recent years. The number of certificates issued in 2015 is only fiver per cent of what it was in 2009. In 2009, the governing body granted 239 and in 2015, 13. In 2012, it allowed for 46.
Some say it needs to go further. Froome said, "It is clear the TUE system is open to abuse and I believe this is something the UCI and WADA need to urgently address."
After the TUEs were exposed in a data dump by Russian hack group Fancy Bears and other issues, UK Anti-Doping began investigating British Cycling and Team Sky.
Thank you for reading 20 articles this month* Join now for unlimited access
Enjoy your first month for just £1 / $1 / €1
*Read 5 free articles per month without a subscription
Join now for unlimited access
Try first month for just £1 / $1 / €1