Movistar rider punished at Volta a Catalunya trolls Tejay van Garderen
Movistar rider José Joaquin Rojas believes that Tejay van Garderen should have been disqualified at the Volta a Catalunya for the removal of his helmet.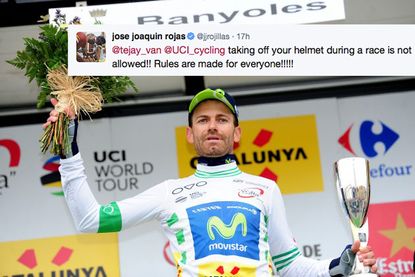 In what is quickly becoming an ongoing saga that shows no sign of abating, the Movistar rider who was at the centre of the pushing incident at the Volta a Catalunya says that BMC Racing's Tejay van Garderen should be disqualified from the race.
José Joaquin Rojas was caught on camera during Tuesday's team time trial pushing two of his teammates en route to the Spanish team crossing the line two seconds faster than their nearest challengers, BMC.
BMC were furious at infringement of rules - the UCI stipulate pushing in TTTs is not allowed - and after a series of mixed messages and mistranslation, they got their wish, with the whole Movistar squad being deducted at least a minute; Rojas had already had three minutes added onto his stage and overall time.
Van Garderen and his BMC colleagues hailed the "correct" decision, but Movistar were adamant that they had done nothing wrong, publishing a detailed response to their penalisation.
>>> Movistar say penalty imposed after Catalunya TTT 'sets a dangerous precedent for the future'
But in yesterday's stage four, race leader van Garderen - who is well-placed with three days left to take the biggest GC victory of his career - was captured on camera taking his helmet off in the peloton to remove his cap.
Under UCI rules, such actions are forbidden and comes with a fine of 100 Swiss Francs and automatic qualification, something Rojas was keen to point out.
Van Garderen didn't rise to the bait, but Rojas was back again, tweeting the American the UCI rules, while also tagging the governing body in his post.
Today's fifth stage of the race held in Catalonia, Spain, concludes atop the 1,000m Lo Port (Tortosa). The summit finale will go along way in deciding the GC with just two days remaining afterwards.
Thank you for reading 5 articles this month* Join now for unlimited access
Enjoy your first month for just £1 / $1 / €1
*Read 5 free articles per month without a subscription
Join now for unlimited access
Try first month for just £1 / $1 / €1