Olympic Games track cycling schedule revealed
The men's team sprint will open proceedings at the Olympic Games on August 11, with the men's team pursuit gold to be decided on day two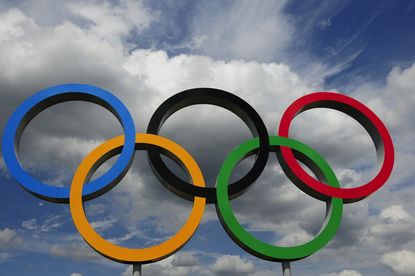 Philip Hindes and Jason Kenny will be among the first Team GB riders on the track at the Rio 2016 Olympic Games with team sprint qualifiers the opening event of the meeting.
Track cycling begins on August 11, the sixth day of the Games in Brazil, with the men's team sprint the first medal to be decided, with qualifying, first round and finals taking place in the same afternoon.
>>> Olympic cycling live TV guide: BBC to broadcast every minute of every race
Both the men's and women's team pursuit squads will also be in action on August 11, with qualifying taking place. The men will return the following day for round one and the finals, while the women get a day off before returning on August 13.
The men's omnium begins on August 14, culminating the following day, while Laura Trott will defend her omnium gold on August 15 and 16.
>>> Brian Cookson 'very concerned' at further Rio 2016 velodrome delays
The women's sprint and men's keirin will round out the meeting on August 16.
Rio Olympic Games Track schedule [GMT+4]
Swipe to scroll horizontally
Day 6 - August 11

| | | | |
| --- | --- | --- | --- |
| 16:00-16:16 | Men's Team Sprint Qualifying | Row 0 - Cell 2 | Row 0 - Cell 3 |
| 16:19-17:10 | Women's Team Pursuit Qualifying | Row 1 - Cell 2 | Row 1 - Cell 3 |
| 17:10-17:23 | Men's Team Sprint First Round | Row 2 - Cell 2 | Row 2 - Cell 3 |
| 17:23-18:19 | Men's Team Pursuit Qualifying | Row 3 - Cell 2 | Row 3 - Cell 3 |
| 18:21-18:29 | Men's Team Sprint Finals | Row 4 - Cell 2 | Row 4 - Cell 3 |
| 18:35-18:45 | Men's Team Sprint Victory Ceremony | Row 5 - Cell 2 | Row 5 - Cell 3 |
Swipe to scroll horizontally
Day 7 - August 12

| | | | |
| --- | --- | --- | --- |
| 16:00-16:14 | Women's Team Sprint Qualifying | Row 0 - Cell 2 | Row 0 - Cell 3 |
| 16:14-16:50 | Men's Sprint Qualifying | Row 1 - Cell 2 | Row 1 - Cell 3 |
| 16:52-17:17 | Men's Team Pursuit First Round | Row 2 - Cell 2 | Row 2 - Cell 3 |
| 17:17-17:28 | Women's Team Sprint First Round | Row 3 - Cell 2 | Row 3 - Cell 3 |
| 17:30-17:58 | Men's Sprint 1/16 Finals | Row 4 - Cell 2 | Row 4 - Cell 3 |
| 18:00-18:08 | Women's Team Sprint Finals | Row 5 - Cell 2 | Row 5 - Cell 3 |
| 18:08-18:18 | Men's Sprint 1/16 Final Repechages | Row 6 - Cell 2 | Row 6 - Cell 3 |
| 18:20-18:50 | Men's Team Pursuit Finals | Row 7 - Cell 2 | Row 7 - Cell 3 |
| 18:50-19:00 | Women's Team Sprint Victory Ceremony | Row 8 - Cell 2 | Row 8 - Cell 3 |
| 19:00-19:10 | Men's Team Pursuit Victory Ceremony | Row 9 - Cell 2 | Row 9 - Cell 3 |
Swipe to scroll horizontally
Session 1

| | | | |
| --- | --- | --- | --- |
| 10:00-10:21 | Women's Keirin First Round | Row 0 - Cell 2 | Row 0 - Cell 3 |
| 10:23-10:42 | Men's Sprint 1/8 Finals | Row 1 - Cell 2 | Row 1 - Cell 3 |
| 10:44-11:05 | Women's Keirin First Round Repechages | Row 2 - Cell 2 | Row 2 - Cell 3 |
| 11:07-11:15 | Men's Sprint 1/8 Final Repechages | Row 3 - Cell 2 | Row 3 - Cell 3 |
| 11:17-11:40 | Women's Team Pursuit First Round | Row 4 - Cell 2 | Row 4 - Cell 3 |
Swipe to scroll horizontally
Session 2

| | | | |
| --- | --- | --- | --- |
| 16:00-16:16 | Men's Sprint Quarterfinals - Race 1 | Row 0 - Cell 2 | Row 0 - Cell 3 |
| 16:18-16:22 | Men's Sprint Race for 9th-12th Places | Row 1 - Cell 2 | Row 1 - Cell 3 |
| 16:22-16:34 | Women's Keirin Second Round | Row 2 - Cell 2 | Row 2 - Cell 3 |
| 16:34-16:50 | Men's Sprint Quarterfinals - Race 2 | Row 3 - Cell 2 | Row 3 - Cell 3 |
| 16:53-17:21 | Women's Team Pursuit Finals | Row 4 - Cell 2 | Row 4 - Cell 3 |
| 17:21-17:25 | Men's Sprint Quarterfinals - Race 3 | Row 5 - Cell 2 | Row 5 - Cell 3 |
| 17:27-17:33 | Women's Keirin Finals 7-12 | Row 6 - Cell 2 | Row 6 - Cell 3 |
| 17:33-17:39 | Women's Keirin Finals 1-6 | Row 7 - Cell 2 | Row 7 - Cell 3 |
| 17:41-17:49 | Men's Sprint Semifinals - Race 1 | Row 8 - Cell 2 | Row 8 - Cell 3 |
| 17:49-17:59 | Women's Team Pursuit Victory Ceremony | Row 9 - Cell 2 | Row 9 - Cell 3 |
| 17:59-18:07 | Men's Sprint Semifinals - Race 2 | Row 10 - Cell 2 | Row 10 - Cell 3 |
| 18:07-18:17 | Women's Keirin Victory Ceremony | Row 11 - Cell 2 | Row 11 - Cell 3 |
| 18:17-18:21 | Men's Sprint Race for 5th-8th Places | Row 12 - Cell 2 | Row 12 - Cell 3 |
| 18:21-18:25 | Men's Sprint Semifinals - Race 3 | Row 13 - Cell 2 | Row 13 - Cell 3 |
Swipe to scroll horizontally
Day 9 - August 14

| | | | |
| --- | --- | --- | --- |
| 16:00-16:38 | Women's Sprint Qualifying | Row 0 - Cell 2 | Row 0 - Cell 3 |
| 16:40-17:02 | Men's Omnium 15km Scratch Race | Row 1 - Cell 2 | Row 1 - Cell 3 |
| 17:04-17:12 | Men's Sprint Finals - Race 1 | Row 2 - Cell 2 | Row 2 - Cell 3 |
| 17:12-17:40 | Women's Sprint 1/16 Finals | Row 3 - Cell 2 | Row 3 - Cell 3 |
| 17:42-17:50 | Men's Sprint Finals - Race 2 | Row 4 - Cell 2 | Row 4 - Cell 3 |
| 17:50-18:47 | Men's Omnium 4km Individual Pursuit | Row 5 - Cell 2 | Row 5 - Cell 3 |
| 18:47-18:51 | Men's Sprint Finals - Race 3 | Row 6 - Cell 2 | Row 6 - Cell 3 |
| 18:51-19:29 | Women's Sprint 1/16 Final Repechages | Row 7 - Cell 2 | Row 7 - Cell 3 |
| 19:29-19:39 | Men's Sprint Victory Ceremony | Row 8 - Cell 2 | Row 8 - Cell 3 |
| 19:42-20:00 | Men's Omnium Elimination Race | Row 9 - Cell 2 | Row 9 - Cell 3 |
Swipe to scroll horizontally
Session 1

| | | | |
| --- | --- | --- | --- |
| 10:00-10:19 | Women's Sprint 1/8 Finals | Row 0 - Cell 2 | Row 0 - Cell 3 |
| 10:21-10:48 | Men's Omnium : Kilometre time trial | Row 1 - Cell 2 | Row 1 - Cell 3 |
| 10:50-10:57 | Women's Sprint 1/8 Final Repechages | Row 2 - Cell 2 | Row 2 - Cell 3 |
| 10:59-11:17 | Women's Omnium 10km Scratch Race | Row 3 - Cell 2 | Row 3 - Cell 3 |
Swipe to scroll horizontally
Session 2

| | | | |
| --- | --- | --- | --- |
| 16:00-16:24 | Men's Omnium Flying Lap | Row 0 - Cell 2 | Row 0 - Cell 3 |
| 16:26-16:30 | Women's Sprint Race for 9th-12th Places | Row 1 - Cell 2 | Row 1 - Cell 3 |
| 16:30-17:20 | Women's Omnium 3km Individual Pursuit | Row 2 - Cell 2 | Row 2 - Cell 3 |
| 17:23-18:15 | Men's Omnium 40km Points Race | Row 3 - Cell 2 | Row 3 - Cell 3 |
| 18:17-18:35 | Women's Omnium Elimination Race | Row 4 - Cell 2 | Row 4 - Cell 3 |
| 18:35-18:45 | Men's Omnium Victory Ceremony | Row 5 - Cell 2 | Row 5 - Cell 3 |
Swipe to scroll horizontally
Session 1

| | | | |
| --- | --- | --- | --- |
| 10:00-10:16 | Women's Sprint Quarterfinals - Race 1 | Row 0 - Cell 2 | Row 0 - Cell 3 |
| 10:18-10:39 | Men's Keirin First Round | Row 1 - Cell 2 | Row 1 - Cell 3 |
| 10:41-10:57 | Women's Sprint Quarterfinals -Race 2 | Row 2 - Cell 2 | Row 2 - Cell 3 |
| 10:57-11:19 | Women's Omnium 500m Time Trial | Row 3 - Cell 2 | Row 3 - Cell 3 |
| 11:19-11:23 | Women's Sprint Quarterfinals - Race 3 | Row 4 - Cell 2 | Row 4 - Cell 3 |
| 11:25-11:46 | Men's Keirin First Round Repechages | Row 5 - Cell 2 | Row 5 - Cell 3 |
| 11:46-11:50 | Women's Sprint Race for 5th-8th Places | Row 6 - Cell 2 | Row 6 - Cell 3 |
Swipe to scroll horizontally
Session 2

| | | | |
| --- | --- | --- | --- |
| 16:08-16:00 | Women's Sprint Semifinals - Race 1 | Row 0 - Cell 2 | Row 0 - Cell 3 |
| 16:36-16:10 | Women's Omnium Flying Lap | Row 1 - Cell 2 | Row 1 - Cell 3 |
| 16:44-16:36 | Women's Sprint Semifinals - Race 2 | Row 2 - Cell 2 | Row 2 - Cell 3 |
| 16:58-16:46 | Men's Keirin Second Round | Row 3 - Cell 2 | Row 3 - Cell 3 |
| 17:02-16:58 | Women's Sprint Semifinals - Race 3 | Row 4 - Cell 2 | Row 4 - Cell 3 |
| 17:42-17:05 | Women's Omnium 25km Points Race | Row 5 - Cell 2 | Row 5 - Cell 3 |
| 17:52-17:44 | Women's Sprint Finals - Race 1 | Row 6 - Cell 2 | Row 6 - Cell 3 |
| 18:02-17:52 | Women's Omnium Victory Ceremony | Row 7 - Cell 2 | Row 7 - Cell 3 |
| 18:12-18:04 | Women's Sprint Finals - Race 2 | Row 8 - Cell 2 | Row 8 - Cell 3 |
| 18:20-18:14 | Men's Keirin Finals 7-12 | Row 9 - Cell 2 | Row 9 - Cell 3 |
| 18:26-18:20 | Men's Keirin Finals 1-6 | Row 10 - Cell 2 | Row 10 - Cell 3 |
| 18:30-18:26 | Women's Sprint Finals - Race 3 | Row 11 - Cell 2 | Row 11 - Cell 3 |
| 18:40-18:30 | Men's Keirin Victory Ceremony | Row 12 - Cell 2 | Row 12 - Cell 3 |
| 18:50-18:40 | Women's Sprint Victory Ceremony | Row 13 - Cell 2 | Row 13 - Cell 3 |
Thank you for reading 5 articles this month* Join now for unlimited access
Enjoy your first month for just £1 / $1 / €1
*Read 5 free articles per month without a subscription
Join now for unlimited access
Try first month for just £1 / $1 / €1