Australian team pursuit rider Melissa Hoskins escapes serious injury after training crash
The Australian team were training at race speed when they crashed in the Olympic velodrome in Rio on Monday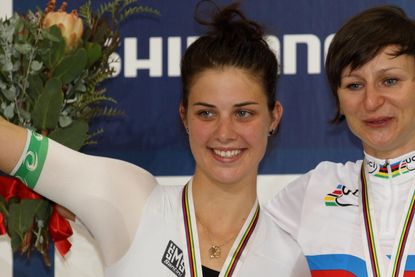 (Image credit: CJ Farquharson)
Australian cyclist Melissa Hoskins has been released from hospital having escaped serious injury after she and the team pursuit squad crashed while training at race speed on Monday.
Hoskins, Ashlee Ankudinoff, Georgia Baker, Amy Cure and Annette Edmondson were training together in the Olympic velodrome in Rio and were riding down the back straight when four of them went down. It was unclear what caused the crash.
>>> Olympic Games track cycling schedule
25-year-old Hoskins was immediately transported to the local hospital and put in a back brace as precautionary measure, but was released from hospital later on Monday after being cleared of serious injury.
Edmondson was the only member of the team to escape the crash, while the other members were treated for minor injuries at the velodrome.
Team pursuit qualifying begins on Thursday in the velodrome, and the Australian squad will be looking to perform much better than they did at the Track World Championships in London in March, where they could only take fifth place.
The team will be hoping Hoskins can regain full fitness before rolling out on Thursday evening.
"I'm grateful that I have nothing broken but it wasn't exactly the most comfortable position and comfortable feeling I've had," Hoskins said after on release from hospital.
"You know, when you're crashing at those speeds it's never good but I'm just grateful that none of the other girls were hurt or injured either. I've still got four days before qualifying and a day off before the semis and finals on Saturday.
"The girls are in fantastic form. It's a bit of a setback but we will do what we do and get on with the job and it's a new day tomorrow."
Thank you for reading 20 articles this month* Join now for unlimited access
Enjoy your first month for just £1 / $1 / €1
*Read 5 free articles per month without a subscription
Join now for unlimited access
Try first month for just £1 / $1 / €1