Greipel and Co. in Surrey to check out Olympic road race route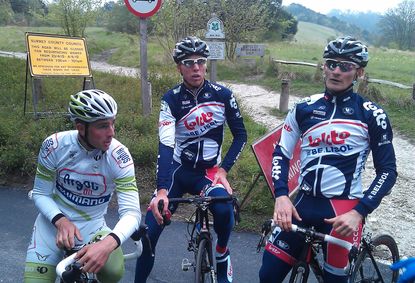 After the Italian women's cycling team were turned away from Box Hill yesterday, today saw a small group of German male pro's make an attempt on Surrey's most infamous climb.
Andre Greipel, Marcel Sieberg, John Degenkolb and Danilo Hondo rode out from Ripley to Mickleham with former British pro Neil Hoban where they also encountered the workmen at the bottom of the climb.
Some sweet talking from the riders, and their guide Hoban, allowed them to ride up to the first hairpin (around 1km). They then rode the loop in reverse and down the climb from the top. They got down past the top hairpin to the area where spectators were allowed for the test event last year.
Greipel, one of the contenders for this year's race, tweeted "Ok, flicked Bob the builder. We passed him a could see 1st 1,2km, then road was blocked. Turned around and did circuit other way around. Went to the top of Boxhill and could do last 1km of the climb. So we missed just about 600m. New road will be good! Thanks for resurfacing."
The Zigzag road was meant to reopen on Monday, but due to the recent bad weather the work is ongoing, although Surrey County Council's website currently says the work has been completed.
According to one of the men working on the road they still have 300 tonnes of asphalt to lay, but should be finished by this Friday.
It wasn't just the Italian women that went home disappointed yesterday. The Canadian women's team also arrived at the hill in the afternoon only to get turned away.
John Degenkolb, Marcel Sieberg and Andre Greipel at the bottom of Box hill.
German riders at the bottom of Box Hill talking their way on to the new road.
Riders get part way down the climb on the new tarmac.
Related links
Italian women turned away from Box hill
Exclusive: 2012 Olympics road race route
Olympic test event: The report card
Box hill, a victory for CW and its readers
Thank you for reading 5 articles this month* Join now for unlimited access
Enjoy your first month for just £1 / $1 / €1
*Read 5 free articles per month without a subscription
Join now for unlimited access
Try first month for just £1 / $1 / €1