Paralympics video: Jody Cundy comments on false start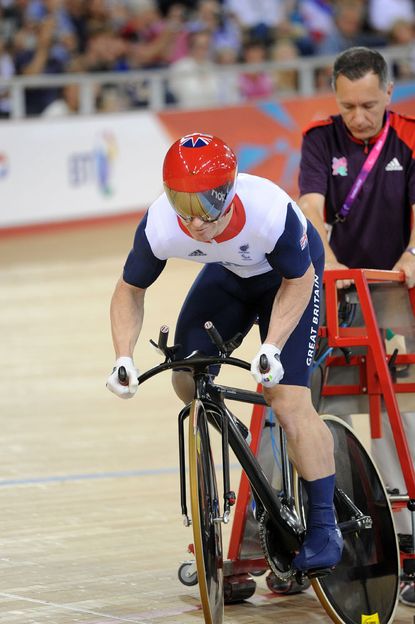 Jody Cundy remains insistent that he should have been given a second shot at riding for the time trial gold medal he believes would have been his.
The British cyclist admits he still feels the pain of his false start in the London Velodrome, one that prompted an angry outburst that thrust him into the national spotlight.
Cundy refused to accept the decision of the officials not to grant him a restart, prompting an outburst in front of 6,000 fans.
He went on to win a bronze medal in his less favoured event of the individual pursuit, but Cundy remains full of regrets at his missed opportunity.
"An emotional rollercoaster is about the best way I can describe the experience of London 2012 for me," said the 33-year-old.
"I come away with a bronze medal, probably not the medal I wanted, but still a bronze taken in an event that isn't really my number one event.
"With the time trial false start I didn't really know how to cope with it, especially the fact I didn't get that restart and they said it was rider error and I never got that second chance.
"However they judged it the fact I didn't get a second start is how they interpreted the results, but if I look back I should have had a second start anyway even if the gate didn't open.
"I knew in training how fast I had been going and the fact that my world record was quicker than the time the Spaniard (Alfonso Cabello) had rode.
"Unfortunately I never got to show it and I'll probably never be in that shape, form or prime ever again. But I shall try the next time I go to a major championships to make sure I'm back in this kind of shape and we will see what happens then."
Lloyds TSB, proud supporter of ParalympicsGB and proud partner of the
London 2012 Paralympic Games. Get closer to the Games at
lloydstsb.com/london2012
Related links
London 2012 Paralympic Games coverage index
Thank you for reading 20 articles this month* Join now for unlimited access
Enjoy your first month for just £1 / $1 / €1
*Read 5 free articles per month without a subscription
Join now for unlimited access
Try first month for just £1 / $1 / €1