'One of a kind': How Tom Boonen became a legend of cycling
Tom Boonen's fellow riders pay tribute to the Belgian star as he completes his final race at 2017 Paris-Roubaix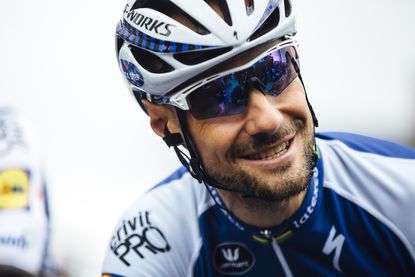 (Image credit: Daniel Gould)
Get The Leadout Newsletter
The latest race content, interviews, features, reviews and expert buying guides, direct to your inbox!
Thank you for signing up to The Pick. You will receive a verification email shortly.
There was a problem. Please refresh the page and try again.
A "one of a kind" Tom Boonen rolled to a stop in Roubaix's velodrome on Sunday in northern France, closing what is perhaps the greatest chapter in the book of Classics cycling.
In the sun-soaked velodrome, one and a half laps of smooth French cement at the end of cycling's roughest one-day race Paris-Roubaix, his career came full circle. In 2002, the 21-year-old fresh-faced Belgian blasted through the mud and left behind US Postal team leader George Hincapie to signal his arrival with third place.
Now, as fit as ever, the 36-year-old Belgian of team Quick-Step Floors is waving goodbye. Along with many other prizes, he leaves with a world champion title, three Tour of Flanders wins and four cobble trophies from Paris-Roubaix.
Uniquely, Boonen sits tied for the record number of wins in both cobbled Monuments. He matched Belgian Roger De Vlaeminck in Paris-Roubaix and five others in the Tour of Flanders. It all came with a charm and friendliness, through even the tough moments, rarely seen among cycling's superstars.
"He never gave up, he had a fantastic early career, but he had some tough moments," says one of his great rivals Fabian Cancellara.
"He was always there. He crashed hard and had some tough moments. Many people forget that he won early and went through it all. People forget what he went through, and for me, that is more impressive."
Cancellara also won three Flanders titles, but won Paris-Roubaix 'only' three times. No other rider was as successful in both of cycling's toughest and most famed Cobbled Classics, not even Belgian cycling great Eddy Merckx.
Cancellara raced against Boonen from the junior ranks until he retired in 2016. One would win Flanders one year, one would win it the next, developing into this generation's biggest rivalry.
>>> Paris-Roubaix: Latest news, report and more
Italian Filippo Pozzato (Wilier-Selle Italia) grew from the Mapei development team with Cancellara and teamed with Boonen early on in team Quick-Step. Thanks to Boonen's support, Pozzato achieved his biggest win.
"I always remember the time that we came into San Remo and he helped me win the race," Pozzato explains.
He sat on his blue Wilier bike ahead of the Three Days of De Panne's second stage, his hair just as wavy and thick as when he won the 2006 Milan-San Remo.
"That photo of me winning Milan-San Remo with him with his arms in the air behind me in the group. Then 15 days later in Flanders, I pulled around 40 kilometres for him in the final and he went on to win. That's a special memory for me."
Boonen won plenty, but only ever managed a third and second place in the Italian monument.
The cyclists from the early 1980s are fading away as new cyclists like Jonathan Dibben, class of 1994, come through. Bernhard Eisel (Dimension Data) rode in the Mapei development team as well, and butted heads with Boonen.
"It's just a sign that soon we'll all be gone," Eisel says with a grin.
"Tom dedicated everything to cycling. He knew when had to be on top of his game. Being there in the major races, but at the same time, he always remembered that it's just a bike race. That makes him special, always good for a laugh and never too serious about the whole thing. He's professional, but we always could have a good laugh."
Eisel remembers seeing Boonen around at the early junior races. He kept crossing paths with him in the Classics and in the Tour de France sprints. He placed fifth in the 2006 Paris-Roubaix when Boonen was already a Classics great with three Monuments in his palmarès.
'This is a guy to follow'
Boonen took after his father André, who raced as a professional in the 1970s. Success came early racing near home in Mol, in Belgium's north.
He considered two teams when making the next step in the amateur ranks: the Eddy Merckx team or the Kortrijkse Groeningespurters. All the best were with Merckx's team and some with Herman Frison's team, he thought, so why not race with the team from Kortrijk?
Former professional and 1998 Paris-Roubaix victor Dirk Demol, from Kortrijk, had already made trip north to Mol's Balen suburb to visit Boonen.
"When I was there, I saw this tall guy and polite guy, and I loved the way he pedalled," Demol says. "Immediately, I said, 'This is a guy to follow.'"
Boonen looked into the Kortrijkse team, which he considered to be well-structured, and decided on it. Besides he wanted to race against the best and not with them in the Merckx and Frison teams.
"I eventually accept the job to be a sports director with US Postal in 2000, but I arranged for him to come to our training camps," continues Demol. "He was doing five to six hours every day and just getting better. A normal rider would be dead."
Demol pulled Boonen aside. "Listen Tom," he said, "I'll make sure you're on as a stagiaire and have a contract."
"We had him on as a stagiaire and one year later, he had a contract," says Demol. "He raced one year more with the Kortrijk team. He already had chances to sign with other teams, but he waited."
Boonen rode with US Postal in 2000 as a stagiaire and debuted in the professional ranks in 2002. Similar to Peter Sagan, who came along 10 years later, it was as if Belgium launched a missile from Flanders directly at the heart of cycling.
He blasted through the mud in an early 2002 Paris-Roubaix escape and once joined by Johan Museeuw and US Postal team-mate George Hincapie, he pushed ahead. When his team captain crashed and fell in a ditch, 21-year-old Boonen charged ahead solo in pursuit of Museeuw. Caked in mud, he arrived third in the velodrome, and the new Lion of Flanders was born.
"I thought, 'he has some class'," explains Roger Hammond, who would place third in the velodrome two years later. "To be the domestique in the US Postal team for Hincapie and then to ride him off his wheel was pretty impressive. You knew he was going to be special, but just how special you didn't know immediately."
Demol was twitchy the rest of that season. Team manager Johan Bruyneel was stalling on offering a 2003 contract and Patrick Lefevere was calling.
"We are going to lose him," Demol said. They did. Demol remained upset for years to come.
"Everyone celebrates Tom in Mol, but that's my home town!" former cyclist and Quick-Step sports director Wilfried Peeters says with a laugh one morning ahead of Ghent-Wevelgem.
"I knew his father very well. As a junior, Tom would ride behind the motor bike with me on it. We trained together, as well, but then I was professional. I remember thinking, 'This is a guy for the future.' But I didn't know that he'd be as strong as he is now."
"He's one of a kind and was made for the cobbles," says Sky sports director and 2001 Paris-Roubaix winner Servais Knaven.
"The first time I really saw him was in the 2002 Paris-Roubaix. We all remember that day and in our team afterwards, we started speaking about him. The year after he joined us in Quick-Step, and he's still there now, it shows how loyal he is.
"The first time I spoke with him was at the end of 2002, at the first team meeting. He was young but he'd always say what I thought. He was a funny character. From day one, he was really part of the team. He was going to be our sprinter. The first year of the Classics weren't too easy for him, but then he started winning big races. He won every one except Omloop Het Nieuwsblad."
The King of Belgium
The Boonen motor began to rev a couple of years into his contract. He began what would be a four-year winning streak in E3 Harelbeke. He won the Flanders/Roubaix double in 2005, which he would repeat in 2012.
He won two stages in his debut Tour de France in 2004. Team boss Patrick Lefevere nodded in confirmation because he believed Boonen would be a sprinter. He won stages in the 2005 Tour and held the green jersey until crashes forced him to quit. He won the green points jersey in 2007 and claimed six stages over the years as he slowly became more of a Classics man.
"Tom Boonen was always good, [others] came along, they were scintillating for a year and then would disappear, but every year he was good," Hammond says. "The only times he wasn't a rival was when he was laying on the road with something broken, other than that, he's always been good. It shows his class.
"I shared rooms with him often," adds Knaven. "I am around 10 years older than him and have more experience. I remember when we rode the Tour together and we shared a room. He won one or two stages. Also had some bad moments, when he crashed in the green jersey. It was up and down, but we always had a good time together."
The good times came with the bad. In 2007 to 2009, he tested positive for cocaine three times. Quick-Step suspended him from racing twice and Boonen admitted he was struggling with a problem.
The crashes took their toll, too. In recent years, he seemed to fall more often and at bad times.
In 2013, a week before Flanders, he crashed in Ghent-Wevelgem and banged his right knee and hip. In Flanders, a fall shortly into the race resulted in a fractured rib and put an end to his Classics season.
A dislocated shoulder from a fall in Paris-Nice ruled him out of the 2015 Classics. He returned hot and won a handful of races only to fall and fracture his skull in the last race of 2015, the Abu Dhabi Tour. He suffered to reach full speed in the 2016 Cobbled Classics, coming good for the final one, when he narrowly lost the Paris-Roubaix sprint to Australian Mathew Hayman.
Boonen erased any doubts that he should have retired after the skull fracture when he stormed through the late summer, winning RideLondon and the Brussels Cycling Classic, and placed third behind Peter Sagan in the Doha World Championships.
"I had the honour of commentating on his first victory as a professional rider which was the 2003 Tour of Belgium and my first Tour of Flanders on the motorbike was in 2005, which was his first win," Belgium's Sporza television commentator, Renaat Schotte says.
"In the fun moments and also in the bad moments, he has charisma. Like how he reacted to Mat Hayman when he lost Paris-Roubaix last year – that was so classy. Of course, he doesn't like to lose but the way he is to the outer-world shows the true gentleman he is.
"He is really sensitive how everything people think. He is a human being that cares a lot about other people. He does not only stand out as a champion, but as a human being."
"My first year in Cofidis [2006], I was a neo-pro back then in what was called the ProTour level and he was the world champion," explains American Tyler Farrar (Dimension Data). "I was a nobody and all the big riders kind of treated me like a nobody, and then at some small race in France and Tom Boonen was there, and he came up and just started talking to me in the middle of the stage. He was just being a nice guy, but I was thinking, 'Why is Tom Boonen talking to me!?'
"I always try to remember that. It made a huge impact on me. He's been a class act his whole career. You look at his resume, it's insane and yet he's a pretty normal guy, he's still friendly and treats everyone in the peloton with respect."
"He has a lot of respect for all the riders whether you're his prime competitor or a guy on a smaller team, he'll treat you the same," says Sky's Luke Rowe.
"He's just inspirational, he's the king of Belgium. In that breakaway with him in Flanders, on his wheel, going up the climbs, it's a wall of 'Tommeke'. It's crazy the support and the respect people have for him."
'It's like a funeral'
As Knaven said, Boonen remained loyal to team Quick-Step. Amazingly, he only changed teams once, from US Postal in 2003. He remained with Quick-Step for 15 years.
In comparison, Fabian Cancellara rode for five teams. And Filippo Pozzato changed teams almost every year.
"It was a piece of cake to keep him, we never really discussed it," team Quick-Step Manager Patrick Lefevere says. "We just sat down once a year and without many words we came to an agreement."
Lefevere had a gem. Boonen won, remained loyal and charmed everyone from fellow riders to press.
"He has a special charisma, he's charming, but on the bike, he's a fighter. I almost never saw him in a bad mood. When he loses he can recover quicker than I can!
"I think [that's what team sponsors like] because at the end of the story the customers are the people who decide if you keep somebody or not."
"He stayed himself," Peeters adds. "He remained like he was in the beginning of his career. He is a man of the people."
Peeters helped some riders to their bikes outside the team bus. Boonen walked to his to begin one of his last races. It is difficult for Peeters – who calculated that he was in the team car for 80 per cent of Boonen's wins – and the rest of the team.
"It is like someone of your family is dying," Quick-Step Sports director Rik Van Slycke says of April 10, the day after Paris-Roubaix.
"It's that hard. Of course we all live for the team day and night, and Tom has been one of the fixed points. He was always there in the Classics and always prepared to win and when he goes away… it's sadness."
Quick-Step has many other winners, which makes the team so effective in races. It can rely on Philippe Gilbert, Niki Terpstra, Zdenek Stybar and Yves Lampaert in the Classics. It has Julian Alaphilippe and Dan Martin for the Ardennes Classics. And other riders like Fernando Gaviria, Bob Jungels and Gianluca Brambilla for all-year-round.
"[Fans were crazy for him] already from day one. They first started following him immediately because Johan Museeuw had just retired," Knaven adds.
"People will cry when he retires in Paris-Roubaix, I am 100 per cent sure of that. For sure, though, they will find a new guy to support. And, for sure, those fans will forever support their Quick-Step team."
Thank you for reading 20 articles this month* Join now for unlimited access
Enjoy your first month for just £1 / $1 / €1
*Read 5 free articles per month without a subscription
Join now for unlimited access
Try first month for just £1 / $1 / €1
Get The Leadout Newsletter
The latest race content, interviews, features, reviews and expert buying guides, direct to your inbox!
Gregor Brown is an experienced cycling journalist, based in Florence, Italy. He has covered races all over the world for over a decade - following the Giro, Tour de France, and every major race since 2006. His love of cycling began with freestyle and BMX, before the 1998 Tour de France led him to a deep appreciation of the road racing season.