Eating disorders and pro cycling: American rider Ben King reveals battle with bulimia (video)
Now riding for Dimension Data, Ben King reveals how he suffered from bulimia as a teenager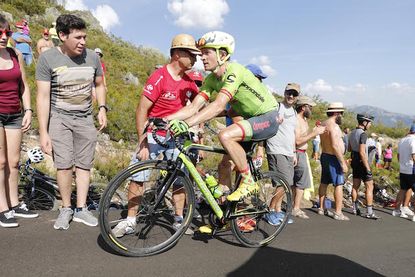 (Image credit: Yuzuru Sunada)
Weight is an obsession of almost all professional cyclists, but is an obsession that can sometimes end up going go far, as was the case for Dimension Data rider Ben King, who has opened up for the first time about his struggle with bulimia.
Speaking to Christian website I Am Second, King describes his battle with eating disorders as a teenager after a tough period of racing in Europe convinced him that the lighter he could get his body, the faster he would be able to ride.
"I'd ride in the morning, do weights in the middle of the day, do track practice, go home, cram in my homework, go to swim practice, and just die on my bed every night," King said.
"One night on the way back from swim practice, I pulled over on the road and opened the door and made myself throw up. In this twisted way it gave me a sense of control. It became a habitual thing."
>>> 'Beware body weight obsession': eating disorders among cyclists
King recalls how one night he threw up in the toilet before brushing his teeth, and seeing blood in the sink after washing out his mouth.
"I was totally beating my body into submission," King continued. "The thing that I was trying to control was beginning to control me."
King continues to describe how he hid his illness from his family, before using his faith to recover and learning more about sports nutrition and how a healthy diet is necessary to recover form training.
The charity Beat provides help and support for those suffering from eating disorders, and can be contacted on 0808 801 0677 or help@b-eat.co.uk for those over the age of 18, and 0808 801 0711 or fyp@b-eat.co.uk for those under the age of 18.
Thank you for reading 20 articles this month* Join now for unlimited access
Enjoy your first month for just £1 / $1 / €1
*Read 5 free articles per month without a subscription
Join now for unlimited access
Try first month for just £1 / $1 / €1