Quintana taking 'conservative' approach to Tour de France as Movistar plan three-pronged attack
The Spanish team could field their biggest names in Mikel Landa, Alejandro Valverde and Nairo Quintana at the 2018 Tour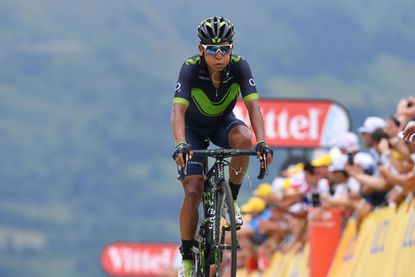 (Image credit: Yuzuru Sunada)
Team Movistar are planning Nairo Quintana's schedule so he and its other leaders Mikel Landa and Alejandro Valverde are perfectly positioned for the 2018 Tour de France.
All three will skip the Giro d'Italia to be ready for the Tour when it departs on July 7 in Vendée. Quintana is taking a more relaxed approach this year after over-cooking it in 2017.
>>> 'I'm proud to be part of the team': Chris Froome dismisses Doping in Sport report allegations
"We have Valverde, you see that he's back to the big level and recovered well," general manager Eusebio Unzué told Cycling Weekly.
"We hope that Landa can confirm it in the Tour too. We hope that it's going to be perfect for all of them at the Tour."
Quintana has had only six days of competition compared to 13 at this point in 2017. His only event so far is the Oro y Paz stage race last month at home in Colombia.
The team did not take him to Tirreno-Adriatico where Chris Froome is currently racing. Quintana won it in 2017 and then placed second in the Vuelta Asturias prior to the Giro d'Italia, where he held the pink jersey on final day before he was overtaken by Tom Dumoulin (Sunweb) in the time trial.
"Yeah, he's going to have around five to six fewer days compared to other years. Just that we delayed his European debut," Unzué added.
"He already began in Colombia, a week-long race, then we wanted to begin him a little bit more calmly before the Tour. Also in racing, not pushing it so much in these races here in Catalunya, País Vasco."
The 28-year-old had his worst Tour de France yet in 2017. After placing runner-up twice before behind Chris Froome, he eventually finished 12th overall. His father Luis complained during the race that Movistar were over-using their star, and Quintana now wants to be more "conservative" in his preparations.
"The goal is to get to the Tour rested," Quintana told El Tiempo this week.
"Now, if I realise that I'm strong and I can win, then I'll do so, but the idea is to be more conservative."
Between here and the Tour Quintana will likely ride only three European races: the Volta a Catalunya, País Vasco and the Critérium du Dauphiné (or the Tour de Suisse). The Volta a Cataluyna is up first and begins on March 19.
http://www.youtube.com/watch?v=QaCHePwsEuk
"We want to let my body have a chance recover, allow it some respite, because I approached every year with the same bad habit of competing for everything," explained Quintana.
"The boss says, 'It's because Nairo's ambitious.' No, Nairo isn't, Nairo does what you want and what you order.
"They want to win the race and when they have a leader like me, they want to earn respect, show courage, and win."
Valverde is returning from a leg injury he suffered in a crash in the 2017 Tour, already winning the Abu Dhabi Tour in February and showing his continued value. Landa started Tirreno-Adriatico this week and on stage one faced Chris Froome and Sky in the team time trial.
"We hoped, but up against Sky and BMC..." Unzué added. "Sky was the big favourite. BMC was going to have a hard time, but did well. Anyway, Sky truly brought an impressive team. Really, it's an impressive team."
Thank you for reading 20 articles this month* Join now for unlimited access
Enjoy your first month for just £1 / $1 / €1
*Read 5 free articles per month without a subscription
Join now for unlimited access
Try first month for just £1 / $1 / €1