Riders to face bans for holding on to team cars and going through level crossings from 2018
Harsher penalties introduced as part of regulations shake-up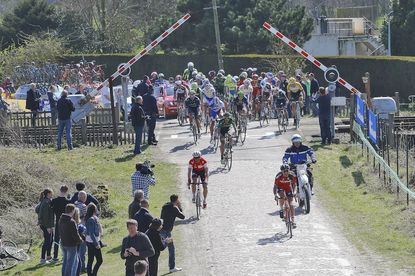 (Image credit: Graham Watson)
Riders will face bans for holding on to team cars and riding through closed level crossings from 2018, as the UCI introduces harsher penalties for next season.
Under the current regulations, riders caught holding on to cars during a race can already be disqualified - as was the case with Gianni Moscon at the recent World Championships and with Vincenzo Nibali at the 2015 Vuelta a España - and issued with a 200 CHF fine.
However new rules will see riders holding on to or pushing off a vehicle "in order to gain a significant advantage" face harsher penalties, with the UCI disciplinary commission having the option to suspend a rider for up to a month and impose a fine of 5,000 CHF.
Watch: How the UCI tests for hidden motors

Cycling's governing body is also looking to crack down on riders going through closed level crossings, such as the incident that occurred at Paris-Roubaix in 2015 where a number of riders rode across the tracks as the barriers were closing.
According to the current regulations, riders can be eliminated from a race for going through a closed level crossing, but the new rules will mean that they will also risk a one month ban and a fine of up to 5,000 CHF.
The new, harsher rules regarding level crossings and holding on to team cars look to be part of a wider shake-up of cycling's rules and regulations by the UCI, with 2018 seeing the reduction of team sizes from nine to eight in Grand Tours and from eight to seven in other races.
The sport's governing body also has a new president at the helm in David Lappartient (although these rule changes were agreed prior to his election last week), with the Frenchman promising to step up checks for hidden motors and repair the UCI's relationship with ASO, one of cycling's main race organisers which runs the Tour de France as well as a number of other races.
All of the new rules will be introduced from January 1, 2018.
Thank you for reading 20 articles this month* Join now for unlimited access
Enjoy your first month for just £1 / $1 / €1
*Read 5 free articles per month without a subscription
Join now for unlimited access
Try first month for just £1 / $1 / €1