'I rode the hill-climb and couldn't stop being sick. I spent the night in hospital'
Adam Kenway talks about the time when he was sick after the National Hill-Climb Championships in 2015, which ended up with him spending a night in hospital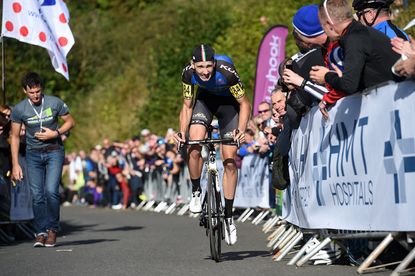 (Image credit: Andy Jones)
Hill-climbs are pretty straightforward: you ride up a hill as fast as you can on as light a bike as possible.
But the aftermath can often be gruesome, with riders falling off their bikes into grass verges, vomiting and occasionally passing out. The effort and toll is sometimes too much.
For Adam Kenway, one of the favourites for this year's National Hill-Climb Championships on Bank Road in Matlock, 2015's Nationals proved to be a ride with consequences.
The Metaltek-Kuota rider had a sickness bug a fortnight before the race on Jackson Bridge but felt well enough to train for the Riber and Bank Road double-header, the week before the Nationals.
But after riding Riber first, he "got to the top and I was physically sick. Sometimes I feel sick, but I've never before actually been sick," he told CyclingWeekly.
"I did Bank Road in the afternoon and had an awful race; I felt empty. The next two days I had this sickness bug again, the week before the Nationals. Looking back on it I should have called it quits then.
"But in the end, I thought it's only a couple of minute effort, if I just sit up and recover I'll be fine. I was tapering from that point anyway and wasn't putting any efforts in."
>>> 'My power output was so high my vision went blurry and my eyes felt funny'
His refusal to withdraw turned out to be a mistake. He was tipped as 2014 champion Dan Evans's main rival, but he could only finish eighth as Richard Bussell (AeroCoach) won.
Kenway remembered: "In the morning I felt alright. But halfway up the climb my stomach turned. I got to the top and I was really, really rough.
"I ended up in hospital because I couldn't stop being sick all through the night. I went to hospital that night at 9pm and Joe Clark (who finished third and lives near Kenway) ended up driving me home because I couldn't drive and he had to stop to let me be sick.
"My wife had to take me to hospital and I spent the night in hospital under all sorts of drugs. I came out the following night. It wasn't nice.
"It made me question what I was doing, certainly. You think it's a short effort so it'll be fine but that's almost worse because you put your body into somewhere where it almost doesn't want to go. You can see so much pain and anguish on the rider's face, that's why hill-climbs are so fun to watch!"
>>> Compare these super-lightweight hill-climbers' bikes
Kenway isn't alone. Matt Clinton, who has finished on the podium a record-equalling eight consecutive times, was sick after his 2008 Nationals win, also on Bank Road.
"That was the worst physically I've ever been," he admitted. "I might have had too much caffeine gels beforehand but either way I felt bad.
"I went down one of the back roads and had to keep stopping on the way down. That was horrible."
Thank you for reading 10 articles this month* Join now for unlimited access
Enjoy your first month for just £1 / $1 / €1
*Read 5 free articles per month without a subscription
Join now for unlimited access
Try first month for just £1 / $1 / €1
Chris first started writing for Cycling Weekly in 2013 on work experience and has since become a regular name in the magazine and on the website. Reporting from races, long interviews with riders from the peloton and riding features drive his love of writing about all things two wheels.
Probably a bit too obsessed with mountains, he was previously found playing and guiding in the Canadian Rockies, and now mostly lives in the Val d'Aran in the Spanish Pyrenees where he's a ski instructor in the winter and cycling guide in the summer. He almost certainly holds the record for the most number of interviews conducted from snowy mountains.