Rivals tip Joe Clark for hill-climb title as course records tumble
Joe Clark has been touted as the favourite for the National Hill Climb Championships after a weekend of new course records being set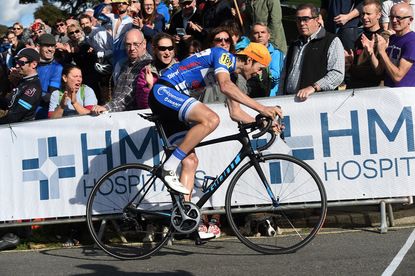 (Image credit: Andy Jones)
Three course records were broken at the weekend as the competition for the National Hill-Climb Championships hots up.
Dan Evans (Cannondale-UK) , who was champion in 2014, broke his own course record at Holme Moss on Saturday with a 6:11 ride, a few hours after he won on Jackson Bridge.
Chris Dyke (Manchester BC) became the first person since Peter Graham in 1958 to set a new course record on Mam Nick, posting a time of 6:27, seven seconds quicker than three-time national champion Graham who revealed earlier this year that he had beaten five world champions in his lifetime.
The major result of the weekend, however, was Joe Clark's win on the The Rake. The EnvelopeMaster rider won with a time of 2:17.2, three seconds faster than Richard Handley (One Pro Cycling) in second.
Evans could only finish fourth, almost ten seconds adrift of Clark and behind Kieran Wynne-Cattanach (Rhos-on-Sea CC).
That result led both Evans and Adam Kenway to declare Clark favourite for the Nationals in three weeks' time, while Paddy Power shortened the Belper rider's odds from 16/1 to 8/1.
Evans, however, remains the bookies' favourite.
Kenway - who was victorious at the Monsal Head climb the week prior beating Clark - won two events himself at the weekend to continue his outstanding form, with wins at the South Pennine Road Club's Chris Storer Memorial hill-climb and Bolsover & District CC's Carr Lane event; he set a new record in the former.
>>> Compare these super-lightweight hill-climbers' bikes
"I'm really pleased with my weekend results," Kenway said. "But Joe is the man to beat [at the Nationals].
"He put 10 seconds into Dan Evans at the Rake and that climb is almost a replica of the Nationals course of Bank Road, excect the flat bits are at the top rather than at the bottom. He's super, super-lean. I'm good mates with him. He's a little hill climbing machine!"
Evans was disappointed with his performance on the Rake, and almost didn't even have wheels to race on Holme Moss.
How to climb one of the UK's hardest ascents
"I had a bit of drama. I had real bad cramp after Jackson Bridge and then I punctured two rear wheels in my Holme Moss warm up," he said.
"So my partner Jess rode first, flew down the descent and then we changed wheels on the start line.
"It was nice to put a decent gap into people like Matt Clinton and Kieran Savage who have been going well. Holme Moss is special so it's great to have the course record."
In South London, reigning national champion Richard Bussell (Aerocoach) and James Lowden (Team ASL360) shared the spoils at the Cat and Bec hill-climbs.
Bussell won Catford CC's event with a time of 1:50.6, but Lowden – who until now hasn't been considered as a major contender for the Nationals – won Bec CC's climb in the afternoon, clocking 1:44.6, more than six seconds faster than Bussell.
In women's hill-climbing, three-time national champion Maryka Sennema (Paceline) won the Catford event, while Lowden's sister Joscelin was the fastest in the Bec race.
On the Rake, Becky Lewis (Wrexham RC) was the fastest as she set a new female course record.
Thank you for reading 10 articles this month* Join now for unlimited access
Enjoy your first month for just £1 / $1 / €1
*Read 5 free articles per month without a subscription
Join now for unlimited access
Try first month for just £1 / $1 / €1