Peter Graham: The man who raced and beat five world champions
Cycling Weekly visited Peter Graham, a man with a habit of beating world champions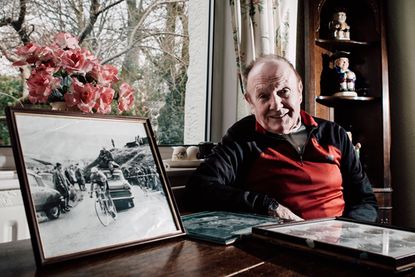 Get The Leadout Newsletter
The latest race content, interviews, features, reviews and expert buying guides, direct to your inbox!
Thank you for signing up to The Pick. You will receive a verification email shortly.
There was a problem. Please refresh the page and try again.
As a three-time winner of the RTTC National Hill-Climb Championships and a perennial figure at time trials, road races and track events throughout the 1950s and 60s, Peter Graham is well known to riders of a certain generation.
But the Lancastrian, now 81, doesn't just have a reputation as one of the country's finest domestic riders during his heyday. In 2013, it dawned on him that he also holds a feat as romantic as it is remarkable: across his 40-year racing career he beat five world champions. Just how did he manage that?
"Simpson didn't say a word or shake hands. He just buggered off"
BLRC Hill-Climb Championships - October 4, 1958 - Mam Tor Gap, Castleton
The race, location or rider didn't matter: Tom Simpson did not like being beaten. Especially when he was favourite and even less so when he was defending champion.
That is why, after defeat to Peter Graham in the 1958 BLRC Hill-Climb Championships, the last ever British League of Racing Cyclists event, Simpson didn't hang around to offer congratulations to the 23-year-old.
>>> Tom Simpson's World Championships win: 50 years on
"I got to know Tommy quite well in the Sixties and we got on well, but beating him didn't please him one bit because he never took things nicely when he was beaten," Graham recalls, 58 years later.
"No one was expecting me to beat him, so when I did, down at the headquarters afterwards, he just nodded and didn't say a word or shake hands. He just buggered off."
>>> Tom Simpson: A life in pictures
Graham is right when he states that his victory at Mam Tor Gap was unexpected. This magazine's photographer had been briefed to only photograph the likely winner — Simpson.
Indeed, Cycling reported that Graham's ride was "not as spectacular as [third place finisher Eric] Wilson" and his improved time "caused a minor sensation when announced".
But Graham was no slouch: he had finished second, just 3.2 seconds adrift of Simpson on the same climb in the same race a year earlier. To magnify his achievement, his time of 6:34.6 smashed the course record by 6.6 seconds and it is a time that has still never been bettered.
What makes Graham's defeat of Simpson even more impressive is that he rode the 35 miles from his home in Bury to the climb in Castleton, and then rode back. Before his return ride, he even popped down to the Withington Wheelers Hill-Climb at nearby Peaslows Hill and won their event too.
>>> From Burton to Armitstead: Britain's road race world champions
Not that he can recall it. "I can't remember that but Cycling says that I won an event straight after too!" Graham laughs. "I just remember riding my Claud Butler track bike back to Bury."
Seven years later Simpson would go on to become Britain's first ever road race world champion, but there'll always be one result omitted from his palmarès because of the extraordinary effort of
an RAF national serviceman riding for West Pennine.
Result
1. P. Graham (West Pennine) 6:34.6; 2. Tom Simpson (Fallowfield Club) 6:35.6; 3. Eric Wilson (Rossendale RC) 6:36.6.
"I was swearing at Merckx to come through but he just sat there, poker-faced. I thought: 'Rotten swine'"
Manx Amateur International RR - June 20, 1963 - Isle of Man
Swearing repeatedly at Eddy Merckx - who among his exhaustive list of wins counts three rainbow jerseys from 1967, 1971 and 1974 - would, for many, constitute a sin. But back when he was just another Belgian hopeful, Peter Graham became increasingly irate with a rider who he refers to as "me laddo". So incensed, in fact, that he made it his goal to beat Merckx for minor placings, an ambition he achieved with cheek.
>>> Cycling quiz: Eddy Merckx in 10 questions
What caused Graham's angst was Merckx's unwillingness to chase in the latter kilometres of the 1963 Manx Amateur International. A group of eight had leapt out of the peloton to chase the leading trio but Graham suffered a flat tyre.
As he tried in vain to rejoin what had become the race-winning move, Merckx - then Belgian amateur road race champion who three days prior had turned 18 - dropped back to Graham. The Englishman had renewed optimism that he could bridge back to the chase group, but Merckx didn't play ball.
>>> How they used to train: Eddy Merckx's chain gang
"I kept urging him to come through because it would have given me a break and I'm sure we could have got back," Graham says. "I started to wave him through and then I started to call him a few names and swear at him in French. I could speak a bit of French at the time so I kept shouting at him, 'Come on, we'll get through, get on.' But he just sat there, poker-faced, wouldn't do a thing."
The failed double act was caught by the remnants of the bunch, but pride was still at stake for Graham.
"I was that mad that I'd missed my chance to get up there, I thought, 'Well, he's not going to beat me.' I thought, 'You rotten swine, you could have helped me a bit and got us back.' Because of this I was determined to beat him at the finish.
>>> Eddy Merckx: the man behind the legend
"So when it came to the finish at the grandstand, I looked round for him, sat on his wheel and then jumped past him and beat him by quite some way."
It was a few years later when Graham, sat looking through the results sheet, spotted his foe. "'Hellfire!' I said, 'that was Eddy Merckx.'He must think that I'm this nasty bloody Englishman who once swore at him to come through! It seems funny looking back, me barking orders at Merckx."
Result
1. Ken Hill (England B) 5:16.32; 2. R Goodman (England A) at 20 lengths; 17. P. J. Graham (West Pennine) at 2.05; 29. E. Merckx (Belgium) at 2.08
"Hugh Porter was staggered as someone of his stature wasn't supposed to have been caught"
Isle of Man Week Invitational Australian Pursuit - June 18, 1963 - Douglas, IoM
You wouldn't get many of the current era's track superstars — say, Jason Kenny or Grégory Baugé — racing against ordinary club riders on the boards. But if you did, you could be confident that Goliath would triumph over David.
The concrete outdoor Onchan track on the Isle of Man, however, was not the setting for routine results. It was here in 1963 when Hugh Porter, who five years later would win the first of his four World Championship gold medals in the individual pursuit, was embarrassed by a pair of Brits and two Aussies.
>>> Hugh Porter: legend of the bike and the mic
Randy Allsopp, the reigning 50-mile time trial champion, and Peter Graham began so fast in the 10-lap, 4,000m Individual Australian Pursuit race that Porter was caught and eliminated before the main action even began. The crowd-puller, the favourite, was spat out the back. Gone. And he wasn't best pleased, either.
"Hugh Porter was staggered as someone of his stature wasn't supposed to have been caught," Graham recalls.
It was a disaster for Porter from the moment the start pistol fired. Allsopp remembers: "I was a total novice and I thought, 'I might as well have a go,' so I went flat out."
Producing a rapid turn of pace, Cycling detailed how "as usual, half the field was caught, Hugh Porter falling to Allsopp's lightning start".
>>> 50 years since Vin Denson's historic 1966 Giro d'Italia stage victory
Allsopp recalls vividly: "The crowd was going wild because I was catching, and then caught, Hughie. I could hear the cheering; it was electric."
Making the most of Allsopp's blistering start was Graham, starting 50 yards behind. "Randy started like an maniac and me being behind him got the benefit of this," Graham says. "He couldn't half start fast and his only ambition was to catch Hughie, which he did, promptly eliminating him."
>>> How to keep riding in your 80s
But Allsopp and Graham couldn't continue their heroics, with Australian Kevin Baensch catching the pair in the final 1,000m and beating his compatriot and the 1962 British Empire and Commonwealth Games IP champion Maxwell Langshaw. Graham, fourth behind Allsopp, was rightfully elated with his result: fourth place had never been sweeter.
"It was all down to Randy, he was a maniac for pace," he says.
Result
1. Kevin Baensch, 5:21.7; 2. Max Langshaw, 5:24.4; 3. Randy Allsopp, 5:30.8; 4. Peter Graham, 5:44.2. Eliminated: Hugh Porter.
"Half of the field must have beaten him but Reg wasn't bothered"
Abbotsford Park CC 25-mile TT - Summer, 1976 - Chelford, Cheshire
There is a distinct difference between road racing and time trialling: the former is mano-a-mano and the latter is man against clock.
It would appear that Gordon Perry temporarily forgot the difference one summer morning in the mid-Seventies.
>>> Beryl Burton: British Legend
Reg Harris - undoubtedly the best British track sprinter of the 1950s with four sprint World Championship golds and two Olympic silvers - was riding a 25-mile time trial on the J23 course in Cheshire, aiming to record a maiden sub-60 minute time in the distance.
But for much of the event, the 56-year-old, then riding for City of Stoke-Draka Foam, wasn't alone. Upon finishing, with a time of 1:05.00, he approached his close friend Peter Graham, who had clocked a time almost five minutes quicker: 1:00.25.
"Reg finished his ride and came over to me and said, 'Who the hell's that bloke there?' I looked around and it was the little guy out of ABC Centreville CC, Gordon Perry," Graham recalls. "He goes to me, 'I caught him with a lap and a half before the finish and he sat on my wheel and tried to outsprint me at the end!' Reg thought it was hilarious!"
>>> Who do you think is Britain's greatest ever cyclist?
Harris would never go on to crack the hour over 25 miles and would continue to be beaten on the country's carriageways. Graham acknowledges as much: "He was riding 25s because he was just one of the guys and enjoyed racing. But he wasn't a time triallist. Half of the field must have beaten him but Reg wasn't bothered. At the time we thought nothing of it — dozens beat him in a time trial. You beat Reg in a 25? So what?
"It didn't mean anything to me until all these things started mounting up."
Result
Results sheet missing. However, several riders who rode the event and for Abbotsford Park CC confirmed Reg Harris's time of 1:05.00 to CW.
"Cavendish wasn't happy when reminded I had beaten him"
Isle of Man International Cycling Week, 10-mile time trial - June 25, 1998 - Ramsey, IoM
Just imagine, a few months after winning the World Championships Road Race, being reminded of how, 13 years earlier, an amateur veteran had beaten you in a time trial.
That's what happened to Mark Cavendish at the Revolution track meet in November 2011 when he was handed a copy of a 1998 results sheet. The Manxman wasn't best pleased.
Cavendish, looking at his nemesis, the waving Peter Graham, looked puzzled, started laughing and then appeared to stand still, deep in thought. Graham's friend - sceptical about the claim - showed Cavendish the result sheet from a 10-mile time trial held on the Isle of Man, pointing out Graham's time of 26.00 over 10 miles and a 13-year-old Cavendish's time of 26.25 - 25 seconds slower.
"'This is wicked, making me sign this!'" Graham recalls Cavendish saying. But sign his autograph he did, before turning away, ready to race at the Manchester Velodrome. "My friend believed me then!" Graham adds.
The time trial, however, wasn't all bad for Cavendish: he may have been the fifth fastest juvenile - David Lethbridge topping the category one minute, 41 seconds faster - but he was the quickest juvenile from the island.
You could argue it is clutching at straws to boast about beating a rider in his first teenage year, and many other riders can also lay claim to beating Cavendish's time, but Graham's quicker ride allowed him to claim that he had got the better of five world champions - an incredible achievement considering he beat Tom Simpson 40 years before he beat Cavendish.
Despite Cavendish's joking reluctance to sign the programme, there were no hard feelings.
Graham says: "Despite what people say about him being short-tempered, I've known Mark since he was a little lad and he's a real nice guy."
Result
Senior: 1. Graeme Stirzaker (VC St Raphael) 21:28; Veterans:…12. Peter Graham (Lancashire RC) 26:00
Juvenile: David Lethbridge (Birkenhead North End) 24:44…5. Mark Cavendish (Manx Viking Wheelers) 26:25
Thank you for reading 20 articles this month* Join now for unlimited access
Enjoy your first month for just £1 / $1 / €1
*Read 5 free articles per month without a subscription
Join now for unlimited access
Try first month for just £1 / $1 / €1
Get The Leadout Newsletter
The latest race content, interviews, features, reviews and expert buying guides, direct to your inbox!
Jack Elton-Walters hails from the Isle of Wight, and would be quick to tell anyone that it's his favourite place to ride. He has covered a varied range of topics for Cycling Weekly, producing articles focusing on tech, professional racing and cycling culture. He moved on to work for Cyclist Magazine in 2017 where he stayed for four years until going freelance. He now returns to Cycling Weekly from time-to-time to cover racing, review cycling gear and write longer features for print and online.