Hugh Porter: legend of the bike and the mic
A cycling legend in his own right in his younger days, Hugh Porter is now known for commentating on some of the biggest races. As he turns 75, Cycling Weekly sits down with the man himself to look back on his remarkable career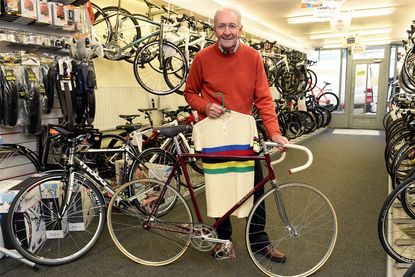 Get The Leadout Newsletter
The latest race content, interviews, features, reviews and expert buying guides, direct to your inbox!
Thank you for signing up to The Pick. You will receive a verification email shortly.
There was a problem. Please refresh the page and try again.
From winning four world pursuit titles — a record still unbeaten today — to commentating on every British Olympic cycling medal in the modern era, Hugh Porter has experienced all aspects of cycling.
Rumours of his demise are greatly exaggerated; Hugh Porter, who turned 75 on Tuesday, shows no sign of ending his long career in cycling. Having been a fan, then a successful road and track racer and then a commentator, Porter's enthusiasm for the sport shows little sign of waning.
"My love of the sport is as great as ever," he says. "I love anything to do with challenges; when I became a fan aged 10, I was infatuated, looking at the magazines, seeing pictures of guys with tubulars around their necks.
"And these days, when doing the commentary and announcing work, I enjoy creating the stories around the action, and painting the picture of the race. I've always loved having a microphone in my hand."
Porter — who says he never gets nervous ahead of going on air — remains remarkably busy, despite the BBC's much-publicised decision to relieve him of his commentary duties at the start of 2013.
"It took me a long time to come to terms with it," he says. "I know nothing lasts for ever, but if they'd had asked me for my thoughts on the commentary position, I'd have asked if we could have gone up to the Commonwealth Games in Glasgow."
Despite assurances from the BBC that his departure would be publicised "correctly", Porter felt the matter was poorly handled: "People who emailed the BBC to complain got some standard reply saying I'd retired, and I was told that [presenter] Jonathan Edwards's words on the matter at the Track World Championships in 2013 were that I'd gone to 'pastures new'. I found it unbelievable."
World pursuit champion
That Porter can still be heard on ITV4's Tour of Britain and Tour Series coverage, as well as the Revolution Series highlights and numerous other events, is testament to his staying power.
It also shows that you write him off at your peril — something that one of his rivals did in 1971; Porter responded by doubling his tally of individual pursuit world titles from two to an unrivalled four in the succeeding 24 months.
"Porter is finished, he is an old man," claimed Belgian Dirk Baert after the then 31-year-old Briton finished third in the discipline at the Varese Worlds.
"I wasn't in the right frame of mind at those Worlds," Porter recalls. "The pro scene in Britain had gone backwards, we were struggling for events, and my morale was low.
"Had I not have gone to those Worlds, I probably would have packed up racing then. But what Baert said fanned the flames."
Porter's rainbow jersey haul began three years earlier in Rome. His pursuiting credentials were already clear — by then, he had been a three-time British champion in the discipline, and also won gold at the 1966 Commonwealth Games in Kingston, Jamaica, setting a time that stood as a Games record for 12 years.
A bronchial infection ruined his chance of success at the 1964 Tokyo Olympics ("which has probably proved harder over the years, as the Olympics didn't enjoy the same status as it
does now," he admits), and a bronze in the previous year's Worlds was his best amateur Worlds performance.
Porter recalled wondering whether he would ever win a rainbow jersey, having been a beaten finallist in his first professional World Championships in 1967 (over the distance of five kilometres, as it was then).
"At least I had achieved the ultimate aim, which was to get a professional contract [with the Condor-Mackeson team]," he says.
"That was the hard bit done; as a result of that, I had promoters coming up to me asking me to ride track meetings, which meant I was finally getting paid good money."
However, on August 29, 1968, Porter finally achieved his dream of becoming world champion. He beat Siegfried Adler — the indoor Hour record holder at the time — and Ole Ritter — the outdoor Hour record holder and Giro d'Italia stage winner — en route to taking the title in Rome.
"You can't explain what it's like getting your first rainbow jersey, especially in a country like Italy, where children grow up wanting to be champion cyclists," he says.
"Five-kilometre pursuits were the perfect distance for me," adds Porter, who was famed for riding a 90in (50x15) gear throughout his track career. "I got faster and faster during each ride, and it suited me.
"There's a code of respect among professionals; winning a world title meant I became accepted."
Another silver came the following year in Antwerp, Belgium, where the championships took place on a (unusual for the time) 250m track. Belgian Ferdinand Bracke took the title, having gambled on a fast start, catching Porter within a dozen laps.
Even so, Porter took his second title in 1970, on home soil at Leicester's Saffron Lane Velodrome. "The velodrome was alive," he says. "I'd had a good road season in the build-up to the Worlds, and my gaps to my rivals just got bigger and bigger with each round."
Having qualified fastest by seven seconds, he claimed gold by over 11 seconds, as he nearly caught Italian Lorenzo Bosisio in the final.
The fourth title
Revitalised by Baert's comments in 1971, Porter came back to win what he describes as his "most cherished" world title in Marseille in 1972. "I beat Bracke, the rider I had the most respect for," he recalls. "He held the Hour record, finished third in the Tour de France and won the Vuelta. He was some rider."
This was some pursuit final, too: Belgian rider Bracke was two and a half seconds ahead by lap seven and led until the last lap. This magazine's report from the time described how "at the bell, Porter was sprinting". It continued: "The title shows the he's not finished."
"We had a champagne reception and dinner on the seafront late that evening — even the waiter wanted my autograph!" Porters recalls.
Now holding equal titles with any rider before him, Porter went into the 1973 Worlds at San Sebastian saying he'd "never felt quite so relaxed before a Worlds".
Explaining why he felt at ease despite him being on the verge of becoming the world's best ever pursuiter, Porter says: "In the pursuit, there is no greater pressure than man against man. It's a bit like being a boxer, I guess. But I had three titles, equal with anybody else."
Not only did this world title come against what he calls "the best entry field you could get", it avenged a defeat from his amateur days on the same track. "It was the 1965 Amateur World Championships, and I was going really well. I rode the fastest in qualifying, a 4-59 [amateurs rode four kilometres], but we had a heavy downpour and the track was an open, concrete one.
"Officials cancelled the racing, so we went back to the team hotel. Then a call came through saying the track was fit to race, so I went back.
"I went faster again in the next round — but I got beaten by a Colombian called Martin Rodriguez. Somehow, he'd gone from riding a 5-04 in qualifying to a 4-56, a time nobody else beat in the championships."
Eight years later, on the same track (albeit now with a roof), nobody could stop Porter.
Having qualified fastest, he caught Rodriguez in the quarter finals, then disposed of Mogens Frey — an Olympic team pursuit gold medallist and Tour de France stage winner — in the semis. In the final, he went from trailing Olympic team time trial champion Rene Pijnen with seven laps remaining, to beating the Dutchman by 10 seconds.
"That's it, I've done what I came to do," he said at the time.
To this day, Porter's record of four world titles in the discipline remains unmatched: one ahead of five riders, including Sir Bradley Wiggins and Roger Rivière.
"And yet," he says, 41 years on, "you won't find my name on the toilet wall in graffiti in the Manchester Velodrome."
Broadcasting highlights
Pursuiting, and those who compete in it, has not changed much since Porter's time.
"You could do both the track and road back then, just as riders do today," he says. "In 1966, in the build-up to the Commonwealth Games, I had a purple year on the road: I won the Star Trophy overall, the Archer GP, GP of Essex and a stage of the Milk Race in Bournemouth, among others.
"Back then, the Track Worlds were held just before the Road Race Championships in late summer. So I'd ride the road season, then a month, five weeks out from the Worlds, switch to track training. I had a derny loaned to me -— I'd do hour-long sessions, 30 minutes behind
the derny."
The road is a part of Porter's career that gets overlooked easily; in fact, after he retired from the track, he continued road racing until 1979.
"After winning the pursuit title in Leicester in 1970, I finished the road race a few days later. I came home in the peloton," he says.
"The Bantel team [he rode for] had dissolved by the end of my racing career, but in those days, you could more than get by competing on your own," he adds. "The company continued to sponsor me, which I was extremely grateful for."
From there, his long career in broadcasting began. From beginnings at Radio Birmingham, Porter went on to call the action at every Olympic Games from Los Angeles in 1984 to London 2012.
"How can anybody be luckier than me — I've called every British Olympic, world champion and Commonwealth champion in the modern era," he says.
The highlights? "Chris Boardman, in my discipline at the 1992 Olympics in Barcelona, made that win even more poignant. Jason Queally in the kilo at Sydney 2000, as well as Yvonne McGregor getting the pursuit bronze," he starts.
"Bradley Wiggins avenging his 2002 Commonwealth Games defeat to McGee in the Athens Olympics two years later stands out, as does Cav's thrilling sprint in Denmark, when he won the world road title.
"I was lucky enough to call Victoria Pendleton's medals, and Sir Chris Hoy's sixth gold medal in London was historic."
Porter was inducted into British Cycling's Hall of Fame came in 2008, made Freeman of the City of Wolverhampton the following year, and has also been awarded an honorary degree from the local university.
Despite what the BBC may have said when replacing him, Porter has no plans about slowing down, let alone retiring, just yet.
"I haven't noticed that my power of recall is diminishing. When that happens, it will be the time to stop," he says.
Riding to the Palace
Hugh Porter and his wife Anita Lonsbrough have the rare distinction of both having been awarded an MBE.
Lonsbrough was awarded her MBE for services to swimming in 1963, while Porter received his for services to cycle racing in March 1973.
"Somebody said I should ride into Buckingham Palace on my bike," he recalls. "So I parked the car up at the top of the Mall, got the bike ready and rode in from there.
"I had my top hat and grey morning suit on and a policeman standing outside the Palace's front gate wondered what I was doing.
"I told him that as I'd won my MBE on a bike, so I was coming to receive it on a bike. I then parked it next to all these Rolls Royces!
"But the press loved it — the Daily Express used a full-page picture of me on the front cover!"
Beating the Belgians on the six-day circuit
The six-day scene was arguably at its strongest during Hugh Porter's era. "They were proper
six-days then, each one was really hard, all the big names were involved," he says.
"Without doubt, the toughest was the Bremen Six, which was always the first one after Christmas. All the purists were there. The track was 166.6m long, so it was tight, and the banking was really steep.
"The programme would begin with 100-lap sprints, 50 each for each rider, followed by an unknown distance Madison of around 40 minutes, then an elimination race for the white numbers, then the black numbers, and then a final.
"But this is where it got really hard: there would be a points race of 100 laps — but with sprints every laps — and as soon as that ended the gun would sound to go straight into an hour-long Madison. There would be more sprint events to finish; the session would run through to 3am."
Porter rode over 20 six-days during his career, with a third of those coming in a single winter.
"They called me 'the Locomotive' in Belgium; it's said if you've got a nickname there, you've arrived," he adds.
Photographs by Andy Jones and the Cycling Weekly archive
Thank you for reading 20 articles this month* Join now for unlimited access
Enjoy your first month for just £1 / $1 / €1
*Read 5 free articles per month without a subscription
Join now for unlimited access
Try first month for just £1 / $1 / €1