'It seems like David Lappartient has something against Team Sky. It looks quite personal, and that's wrong'
Quick-Step director Brian Holm slams the UCI president after his comments about Sky, budget caps and further reducing team sizes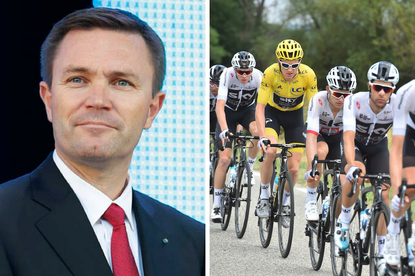 (Image credit: Sunada)
UCI president David Lappartient seems to have something personal against Team Sky and "that's wrong," says Brian Holm.
Lappartient, referencing Team's Sky's success in Grand Tours and Geraint Thomas's 2018 Tour de France win, spoke in an interview about reducing team sizes further from eight to six, banning power metres and team two-way radios, and introducing budget caps.
>>> 'The squad doesn't make a rider stronger': Reinforced team won't help overhaul Sky dominance, says Movistar boss
"It seems like he has something against Sky," Quick-Step Floors sports director Brian Holm told Cycling Weekly.
"It looks quite personal, and that's wrong. As a president, you should be neutral. I think it's wrong, it's a bad start."
Frenchman Lappartient took office last September for a four-year term. He beat Brian Cookson, who was running for a second term.
"When our fine young president came along, the first thing he said he would do is stop motor doping and betting.
"We have bigger problems, like drafting with the TV motorbikes. That's the biggest problem now. Everyone complains about it. It has a strong influence in the race. We calculate that in our tactics, how much we can use the motorbikes. I know about Dumoulin's comments, but I think it was better this year in the Tour.
"Betting? I've never heard about this problem. And motor checks? That's just symbolic bulls**t. A waste of time and money.
"I wonder, has he ever seen a cycling race before or just doesn't have a clue?"
The UCI reduced team sizes for the 2018 season. They dropped from eight-man rosters to seven in the Classics and smaller stage races, and from nine to eight in Grand Tours.
"Cut down the teams because of Sky's dominance? Sky is good. We are probably the best team in the Classics, BMC in team time trials. Etcetera. So why come with that crazy idea?
"If we have fewer guys, they are just going to pull that much harder. That's not very good for the health of cyclists either.
"And with Froome winning four times. He was the best, so why shouldn't he win? I think Thomas was the best, and he won, fair and square.
"Boring? I don't think so, we had good bunch sprints with Groenewegen, Gaviria, Démare... It was very divided. And in the mountain stages, there was a good fight. And an exciting fight for the overall podium.
"Why would a president say it's a boring sport? He should instead support Sky and say they are doing a good job. In my time, you had big teams like Panasonic, Renault, Indurain with Banesto, US Postal."
Lappartient told Swiss publication Le Temps that the UCI must "analyse everything" for the coming season.
"Sky is like a football team that plays smartly, but without exciting fans," Lappartient continued. "When the viewers see eight riders dictating the pace, locking down the race, they think about switching channels to a soap opera. It's up to the UCI to make sure races are attractive."
"If there should be a problem, I wouldn't put it in the press every time just to be in the press," Holm added. "I'd do like former president Pat McQuaid and go to the team bosses and speak with them.
"Just saying something to say something, he doesn't make himself look any smarter."
Lappartient had yet to reply to Cycling Weekly when asked for comment regarding this article.
Thank you for reading 20 articles this month* Join now for unlimited access
Enjoy your first month for just £1 / $1 / €1
*Read 5 free articles per month without a subscription
Join now for unlimited access
Try first month for just £1 / $1 / €1