'The squad doesn't make a rider stronger': Reinforced team won't help overhaul Sky dominance, says Movistar boss
Movistar boss Eusebio Unzué praised Team Sky after their dominating win with Geraint Thomas at the Tour de France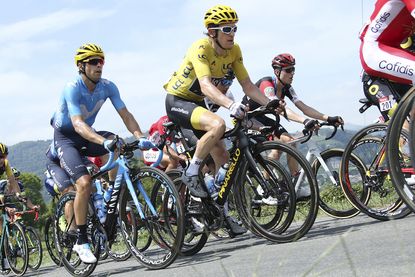 (Image credit: Getty Images)
A beefed up Tour de France team will not produce a stronger leader to combat Team Sky's Geraint Thomas or Chris Froome, says Movistar boss Eusebio Unzué.
Movistar and its predecessor teams Caisse d'Epargne, Banesto and Reynolds ruled cycling for years with riders like Miguel Indurain. The head of the Spanish super team complimented Team Sky but warned that strengthening up a team does not equal Tour wins.
>>> Riders react to UCI president David Lappartient's budget cap and six rider team suggestions
"The squad doesn't make a rider stronger. A rider has his level. Yes, the team is important, if you're indeed the best. The team isn't going to make you stronger — your level is what it is," Unzué said.
"To have the chance to spend [the budget] you want and then achieve your goals, you just have to congratulate them. It's more than just great riders. It's the science and their system and they way they prepare, each year it's easier for them to achieve something at the Tour and harder for the rest of us."
The Spanish super team complimented a "dominant" Geraint Thomas in his two stage wins and 2018 Tour overall victory.
"Sky's a great team and this year, again, they have the strongest rider," Unzué said.
"[Thomas] is rider that has never had much luck in the Grand Tours but nevertheless has been the most brilliant and most consistent rider. He's taken two stage wins so you can't take absolutely anything away from him. He's been the dominant rider with a team to protect him."
Thomas won the Rosière summit finish stage and took over the yellow jersey. The next day, he won again at Alpe d'Huez, keeping the yellow jersey for 11 days to win overall in Paris.
Movistar finished second and third with Nairo Quintana and Alejandro Valverde in 2015 behind Chris Froome. Much had been made about its three leaders, with Mikel Landa included, in the eight-man Tour roster for 2018.
"Sky could have had three leaders too had it not been for Bernal's crash. It's not a problem of three leaders. They're quality riders," continued Unzué.
"[Quintana, Landa and Valverde] haven't been able to achieve everything they're capable of. Like I said, I'm not going to blame bad luck for not being where we should have been. Sometimes that's just sport.
"We came here looking for more than we have been able to achieve. It was a brilliant stage victory for the team with Nairo, but in the general classification, we had hoped to be able to be on the podium, but that was not to be.
"Starting with three leaders, they're three guys who can contest the general classification; it's not a problem of three leaders. If any of them had emerged at the top we would have supported him. It's not a problem of three leaders. It's just that our three guys, who were on a good level, were still far from the level of the best riders in the race."
Thank you for reading 20 articles this month* Join now for unlimited access
Enjoy your first month for just £1 / $1 / €1
*Read 5 free articles per month without a subscription
Join now for unlimited access
Try first month for just £1 / $1 / €1