Stellar year lands 19 year-old Sophie Wright a place in the Women's WorldTour
Norfolk based rider rubs shoulders with the world's best at Plouay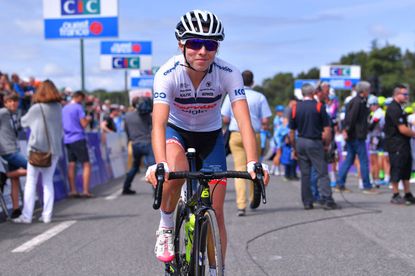 (Image credit: Luc Claessen/Getty Images)
Warming down on the turbo by the Cervélo-Bigla team camper, Sophie Wright has the beginnings of a smile on her face. Just finishing their first Women's WorldTour race would be good enough for some 19 year-olds, but for Wright 53rd place was good, but not quite good enough.
"I wouldn't say pleased, I would say satisfied," she told Cycling Weekly, her legs spinning on a new Cervélo bike.
She had never realistically expected to win the race, but that her team had animated the latter stages in Brittany and failed to take the win was disappointing, even if Wright herself had been able to contribute at such an early point in her career.
"Our plan was to stay in the race for first 80km and then move up and get to the front, which we all managed to do. Thomas [Campana - DS] said go 80-90% on the next climb and that's when I took to the front, put the pressure on and strung the bunch out a bit.
"I guess it was a lead out, but it sparked off up the climb and that's when I got dropped from the main pack. I guess that's going to happen if you go into the red before the main climb."
Wright's performance comes on the back of an excellent year which began with her leaving British Cycling's Senior mountain bike Academy, allowing the Norfolk based rider to ride more on the road and broaden her horizons.
The move has worked spectacularly. Having transferred from the Torelli-Brother team, Wright travelled to France safe in the knowledge she had won the National Women's Road Series. A string of top ten results, including victory at the Tour of the Reservoir, had secured the title before last Sunday's final race, the Ryedale Grand Prix.
Though she had always dabbled on the road, mountain bike was Wright's first two-wheeled passion, but despite winning a number of MTB races this year we are unlikely to see her racing seriously on the trails in the near future.
"I've been doing more and more national roads races and because I've been doing well I've been really enjoying it," Wright continued.
"I've done a few mountain bike races, I did a few World Cups and came second at the national champs, but at the last World Cup in Italy I had quite a bad crash and smashed my helmet.
"All my smashed helmets have been from mountain bike, and if I'm not going to commit and live somewhere mountainous and get the technical training in I'm going to end up killing myself.
"Italy was a turning point for me, I told my Dad I am not going to do this any more. The road season has been going so well that I am really in the flow and that's when I started looking for a pro team and commit to the road."
Having seen Cervélo-Bigla's excellent performance at La Course in July, she sent the team her CV and signed for the Danish registered squad a few days before Glasgow European Championships.
There, confident in her future, she produced a standout performance, riding much of the 130km alone off the front of an all-star peloton.
"I had a three minute lead, but when it was about about 30 seconds I started lapping it up and enjoying it. The support from the crowd was amazing," she explained. "The publicity really helped me get noticed and I guess it's given me confidence, because it can be quite intimidating being among these world class riders."
Wright is no new comer the road success. After winning the the 2016 European MTB championships she finished third in the equivalent road race behind current senior German road champion Liane Lippert (Sunweb), experiences which have doubtless helped this summer.
She certainly appeared unfazed on Saturday in Plouay where once again she rubbed shoulders with the world's best.
Clearly ambitious, obviously talented, Wright is a self assured young woman, and with heart arrhythmia issues which blighted her 2017 behind her, looks set to be one to watch on the world stage.
Thank you for reading 20 articles this month* Join now for unlimited access
Enjoy your first month for just £1 / $1 / €1
*Read 5 free articles per month without a subscription
Join now for unlimited access
Try first month for just £1 / $1 / €1