Steve Cummings: 'It's been a terrible year, there's no sugar coating it'
Brit puts poor year down to a multitude of changes as he aims for a possible stage win at the Vuelta a España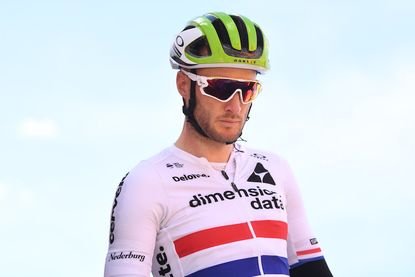 (Image credit: Getty Images)
British rider Steve Cummings puts his "terrible" 2018 season down to multiple factors including a change in his race programme at Team Dimension Data.
Cummings, who currently has a chest cold, is starting the Vuelta a España in Málaga on Saturday with the team after a tough year. The goal is to help Louis Meintjes win the race overall.
"It's been a s**t year. A terrible year," Cummings told Cycling Weekly by telephone from the south of Spain in Andalusia.
>>> Vuelta a España 2018 start list: Nibali, Sagan, Porte, Quintana among starters
"There's no use of sugar coating it. I'm not being negative, but I've not been near my potential. It's sad for me and sad for the team."
Cummings won stages of the Tour de France in 2015 and 2016 and both the British national road race and time trial titles in 2017. He knows the highs and can recognise the lows, but says a 2018 race programme that saw him miss Tirreno-Adriatico and take part in other races like the Tour de Romandie did not suit him.
"They wanted to take a risk with a race programme that didn't work. That's been the main reason. There's more intricacies than that but... If you have been training for one way for many years and then you start changing...
"I thought we had a good recipe that was working well. I didn't want to change. Even now at the Vuelta. If you asked me at the start of the year the races I wanted to do, the Vuelta wasn't on my list.
"I am happy to be here but it's just like the whole season has been like that. The only time I really was going well was July then they didn't select me for the Tour de France. I didn't understand that."
The 37-year-old has coped remarkably well considering the change in programmes and setbacks. Recently, he just recovered from a fractured fibula head in his left leg suffered in the Tour of Austria.
"Normally, I start with one race before Tirreno-Adriatico. Tirreno-Adriatico, Milano-Sanremo, País Vasco. I wanted to do the Giro this year because of the extra week ahead of the Tour. I would've asked to do the Giro, that was the only difference," continued Cummings.
"It's about races that suit me and then timings between races to have time to work in the best way I can. Some guys work best under load. I've understood what's best for me, the blue print, then to change it and do other stuff just didn't make sense."
The change in programme led to breathing issues that needed to be resolved by a specialist. In certain parts of central Europe, Cummings has always suffered in his career. As a result, he always tailored his race programme to avoid those areas.
"I did Romandie for the first time this year. I had a massive breathing problems, it affected me in the Dauphiné, but with a specialist he fixed it," he added. "But then if I didn't go to Romandie, I probably won't have that problem at all, but I'm just doing what's best for the team."
Dimension Data was hit with a number of injuries in the team this year, including Mark Cavendish suffering several setbacks. As a result, the team needed to shift its healthy riders around and fill race rosters. And it needed WorldTour points.
"I'm a rider who needs a lot of work, objective driven, but if I'm not working properly then I'm not going to get the best out of myself," Cummings said.
"The secret for the last few years has been hard work and consistency, good planning, but if you take good planning away it's more difficult to find consistence and train properly because it's not clear what you are preparing for.
"I'm not a big risk taker, I ride at the back. I take calculated risks because I have to. But if something's not broken then there's no need to fix it."
Cummings has won stages in both the Tour and the Vuelta in his career. His goal is to get through the Vuelta with Meintjes, perhaps win a stage, and "decompress" after 2018.
In 2019, a Giro stage victory in his adopted home country of Italy is his "big objective." He added, "but for sure, I need to go back to following a proper plan."
Thank you for reading 20 articles this month* Join now for unlimited access
Enjoy your first month for just £1 / $1 / €1
*Read 5 free articles per month without a subscription
Join now for unlimited access
Try first month for just £1 / $1 / €1