'What makes me the rider I am?': Critérium du Dauphiné winner Jakob Fuglsang on what's behind his success
Danish rider sits down with CW to talk about whether nature or nurture is behind his success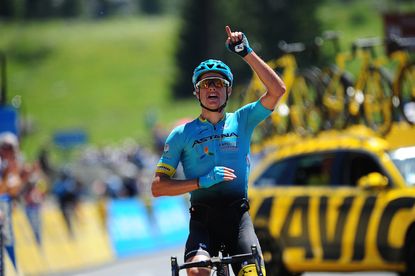 (Image credit: Yuzuru Sunada)
Perhaps it's because he's not quite a star of the sport that Jakob Fuglsang's win was not the biggest talking point to emerge from the Critérium du Dauphiné at the weekend.
But for the 32 year old Dane himself, it is a performance that will perhaps help him address an issue that has nagged at him throughout his career: whether he has it in him to step up to that status.
When I sat down with the Astana rider in February to interview him for another feature this was a topic that kept reoccurring. On one hand he was happy being a luxury domestique, able to offer his abilities for a leader in both the hills and on the flat.
On the other, he wondered if he should make more of his talents and the occasional opportunities he gets to lead. Could he be a bigger name, competing - as he did in the Dauphiné - with the best?
>>> Five things we learned from the Critérium du Dauphiné
In my mind, this uncertainty made Fuglsang the most interesting of all the interviews we conducted for 'Nature or nurture? What makes you the rider you are?'.
In the end, however, it ended up on the cutting room floor as champion riders like Romain Bardet, Greg Van Avermaet and Lizzie Deignan edged him out of a feature limited in size by magazine pages. If only he was a bigger name with a more spectacular palmarès…
Watch: Critérium du Dauphiné stage eight highlights
Here, though, is that interview from February: What, Jakob Fuglsang, insecurities and all, has made you the rider that you are?
Cycling Weekly: How would you describe yourself as a rider?
Jakob Fuglsang: I can do GC but I can also be a luxury helper. Over the years I have developed a really good sense of reading a race.
CW: What strengths make you that rider?
JF: I climb relatively well. But I'm not a skinny 55kg guy so I can also take some wind and go well on the cobbles and other terrain.
I'm a kind of all-rounder. That is something that helps me be that good domestique that I know that I am, but that I also sometimes wish I wasn't.
CW: It sounds like this is a little dilemma for you…
JF: Sometimes I think I should be more my own GC guy. Sometimes I spend energy where it's not needed because at the end of the day I like to help. I don't only want to ride for myself.
I like to ride to help others – that was especially the case when I was riding for Andy Schleck. He was a close friend. It's a pleasure to help someone you like.
CW: Every team you've been with, there's been another bigger name leader …
JF: That's true. When I was younger and in a team like Saxo Bank there were many bigger names. I was looking at some pictures recently of our Tour team. Frank and Andy Schleck, Stuart O'Grady, Jens Voigt, Fabian Cancellara. It was a very powerful team.
CW: Did you learn a lot riding with that wealth of talent?
JF: For sure. And riding with Stuart O'Grady, he was probably the best road captain I've ridden with. He really knew how to control a race and use a team's strengths.
CW: Do you have any weaknesses that have perhaps stopped you being that all-out GC leader on a team?
JF: One small thing is I'm not the super egotist that it sometimes takes to be the leader: the one who says 'I don't give a f*** about the rest of you – I'll do my race'.
And also believing in my abilities. If I had done so more in my early years, that might have changed something. But it's not like I have regrets.
CW: In some ways, it must be nice to switch between being a leader and helper?
JF: For me it is a nice combination. I don't have the pressure all the time that I'm the one who has to deliver. But sometimes there's one guy standing on the podium and people forget there's a whole team behind him.
I think even Vincenzo [Nibali] would agree that at the Giro d'Italia last year, he would have not won without a team. Teamwork is one of the aspects why I wanted to switch to the road from mountain biking. I really like the team aspect of road cycling.
CW: Tell us about those formative years as a mountain biker.
JF: I was doing mountain bike until I was junior and did the road as training. Then I started to do a bit of racing on the road. I rode the World Championships on the road for the first time as an under 23 in 2007 [the same year Fuglsang won the under-23 world cross-country title].
CW: You switched to the road full-time in 2009. But how has the off-road background shaped you as a road rider?
JF: The ability on the cobblestones is something that came naturally after being a mountain biker. Being able to ride in a crosswind comes if you grow up in a country like Denmark. It's always windy.
CW: You're from Silkeborg, the same town as Lars Bak. What's it like for riding?
JF: It's hilly for Denmark - the highest point in Denmark is 20km away - but it's nothing compared to where we race. I think the climbing ability comes from mountain biking actually. I didn't have that good technical skills for a mountain biker.
In Denmark we have no huge downhills, no rocks, no mountains. My strong point in mountain biking was the climbing. They are still just shorter climbs, but when I came to the road they said 'you're good on the climbs, you're a GC guy'.
CW: And that was that decided?
JF: My coach and I sometimes talk and say maybe I should stop caring about my weight, even put on some muscle and go for the one-day type of races instead. Especially after the Olympics. I'm an all rounder, but would I have more success if I focussed only on one day racing?
CW: But you haven't decided that yet?
JF: No. And this year, I'm getting the chance to be the leader in the Tour de France [now likely to be shared with Fabio Aru]. If I can't do more than what I did in 2013 [7th], then maybe that will be the time to try and improve in other directions.
CW: Which characteristics come very naturally, and which have you had to work at?
JF: Of my strengths, I've really had to work on climbing but the rest has come quite naturally.
CW: What aspects of cycling will you never be good at?
JF: Bunch sprints will never be my thing. Or sprints in general. I'm not an explosive guy. It's not impressive what comes out of the power meter when I do sprints. I'm working on it, but it's something I will never be super at. I'm more of a diesel engine.
CW: Is there any result that really reflects the type of rider that you are?
JF: The Olympic road race. It was not a stage race but it had cobble sections, crosswinds, short steep climbs, long climbs, technical descents. Everything. Even down to the point I missed out in the sprint at the end! But even Peter Sagan loses to Greg Van Avermaet now and then.
Thank you for reading 20 articles this month* Join now for unlimited access
Enjoy your first month for just £1 / $1 / €1
*Read 5 free articles per month without a subscription
Join now for unlimited access
Try first month for just £1 / $1 / €1