Team Sky's Gianni Moscon says his 'image suffered' from allegations
The Italian was accused by Swiss rider Sebastian Reichenbach of deliberately causing him to crash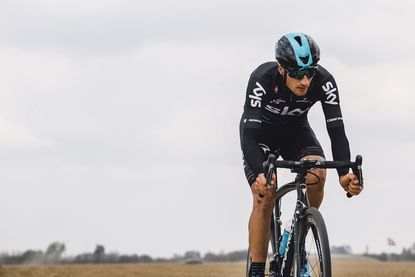 (Image credit: Daniel Gould)
Team Sky's Gianni Moscon says that his image took a beating over the last year that saw him serve an internal suspension.
Moscon fell out with Kévin Reza (FDJ) in the Tour de Suisse for reported racial slurs and with Reza's team-mate Sébastien Reichenbach later in the year. Reichenbach claimed Moscon deliberately pushed him off his bike and threatened legal action.
"Nothing irregular happened," Moscon told La Gazzetta dello Sport newspaper of Reichenbach. "I'm upset that he shot off right away with those accusations. I'll see how to handle myself because my image suffered."
>>> Chris Froome to race the Giro d'Italia in 2018, say sources
The French WorldTour FDJ team and the Swiss rider immediately blamed 23-year-old Italian for the incident in the Tre Valli Varesine on October 3. Though threatening legal action, nothing has materialised yet.
The incident came after Moscon returned to action and supported Chris Froome to his Vuelta a España victory. Sky sidelined him earlier in the year after reported racial slurs in the Tour de Romandie towards Frenchman Kévin Reza, one of the few black cyclists in the WorldTour.
"They are things that help you grow. When I am full-on in competition, I feel the adrenalin. Maybe for this I have results, if not, maybe I'd give up sooner. It is as though I'm in a competitive trance," Moscon said.
"I transform on the bike, but I'm not a bad person. I will learn to manage certain dynamics better. With Reza I said something that I shouldn't have, I admitted it, and I clarified myself right away with him."
Moscon quickly proved himself in cycling's top team. He placed fifth in Paris-Roubaix this spring and rode in support of Froome in the Vuelta a España. He said the attention is on him, but also on Sky.
"I don't accept that they say we are arrogant, everyone does his work. They're [other teams are] envious. We do the schooling and this isn't appreciated," Moscon added.
"Like the [turbo] trainers, they laughed when we brought it out after races. Now those who laughed are the first to take them to the podium while waiting."
Moscon will aim for the Classics with Ian Stannard and Sky's other leaders, and then the Tour de France in 2018.
"In Roubaix, I hope to arrive solo because in the sprint I'm bad off. Compared to the specialists, I pay for my weight. I could have a few extra kilos, 72 instead of 70 that I had at the Vuelta," he said.
"The Giro d'Italia would be great, but he team is thinking of my debut in the Tour. That would be something special."
Thank you for reading 20 articles this month* Join now for unlimited access
Enjoy your first month for just £1 / $1 / €1
*Read 5 free articles per month without a subscription
Join now for unlimited access
Try first month for just £1 / $1 / €1