'The toughest course of all time': Italian riders 'stunned' by mountainous World Championships road race route
Route with 5,000m of climbing deserves serious respect, says Nibali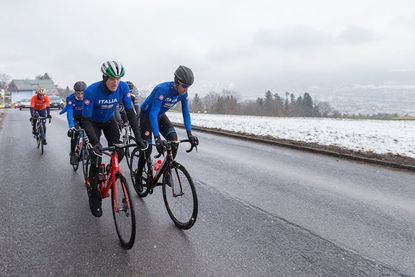 (Image credit: Expa/OK Rad WM 2018)
The 2018 World Championships might still be six months away, but from the reactions of some Italian riders following a recon of the routes last week, the road races are already worth looking forward to.
Vincenzo Nibali, Franco Pellizotti, and Alessandro De Marchi travelled to Innsbruck, Austria with Italian team manager Davide Cassani to check out the mountainous route, and were surprised by what they found.
The men's road race will take cover 265km, and pack in more than 5,000m of climbing, making this the most mountainous World Championship road race course since the 1995 event in Colombia.
>>> 2018 World Championships route: Essential info on the Innsbruck-Tirol courses
The men's race will include seven ascents of the eight kilometre, 5.7 per cent climb to Igls, before concluding with one ascent of the viciously steep climb to Gramart, which includes gradients of up to 28 per cent on a section nicknamed "hell".
However this final climb will not be used in any of the other races, with the elite women's race instead covering three laps of the longer but shallower climb to Igls.
Unsurprisingly, Cassani said that the final climb, which will be crested just eight kilometres before the finish in the men's, left a lasting impression on his riders.
"I've already seen the course, but today my riders and I were equally stunned," Cassani said. "The eight kilometre climb, which has to be tackled seven times in the elite men's race, and the last lap before the ascent to 'hell' with up to 28 per cent gradient have really made an impression on us!"
De Marchi was also struck by the brutal route, describing it as perhaps "the toughest world championships of all time" while Nibali, who will lead the Italian team at the race on September 30, said that he had even more respect for the route having had the chance to ride two laps of the course himself.
>>> Vincenzo Nibali's Milan-San Remo Strava file shows his gruelling effort
"The 'hell' section reminds me of a mountain bike climb. But before that there is also the eight kilometre climb," Nibali said.
"I expect a hard race with plenty to think about: how do I allocate my powers, when do I eat, what equipment do I use? And the decisive factor for the national coach is also the right selection of teammates.
"After [former professional rider and course designer] Thomas Rohregger showed me the route on the map before departure, I expected a difficult course. But the recon ride gives me even more respect. Many other riders will be surprised like me."
Thank you for reading 20 articles this month* Join now for unlimited access
Enjoy your first month for just £1 / $1 / €1
*Read 5 free articles per month without a subscription
Join now for unlimited access
Try first month for just £1 / $1 / €1