Tinkoff and IAM exit from WorldTour could leave volatile transfer market for riders
The gap left by folding WorldTour teams IAM and TInkoff will mean fewer spots available for riders in the top level of pro cycling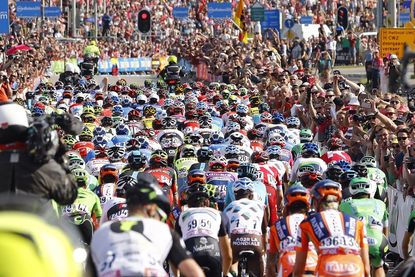 (Image credit: Watson)
Riders may have to settle for less this transfer season with supply possibly set to outweigh demand and so grant teams a greater bargaining power.
IAM will cease operations at the end of the year and Tinkoff it is widely believed will also fold through want of a sponsor, leaving a sizeable gap in the 2017 WorldTour that is not guaranteed to be filled by two new ventures offering maximum positions.
Celio Sport & Image rider agent Dries Smets said the inauguration of brand new teams to the WorldTour typically gives riders a stronger footing in contract negotiations but that's not been the case in recent times.
The Bahrain team project supported by Prince Nasser bin Hamad Al Khalifa as well as Bjarne Riis's new venture are well documented though it is unconfirmed if they will be operational for next season.
"It's like any economy, it's a question of supply and demand. If there is a lot of riders on the market but not many spots that always has consequences for the price," Smets said.
"The top riders, the big names on teams, they don't feel that as much because there is demand for top riders. All the teams need a leader for the Classics, for GC on a Grand Tour, so those riders they're out of that system.
But for all the rest, the middle class rider, you feel that and you feel teams are more in charge of deciding the amount they get and when they want to take a decision on that."
At least one Pro Continental outfit is reportedly interested in promotion to the WorldTour next season but that would only slightly alleviate a potentially flooded market given its existing stable.
Watch: Who's the funniest rider in the peloton?
"If no new teams jump in then it's clear it's not a market that is very good for the rider, so then you basically have to follow what the team say, and also they will decide the time," Smets said.
"The way things look now, teams are waiting a bit longer to make decisions [on contracts], say until the Tour [de France]."
Smets established the Spring Classics and the Tour de France as the busiest periods for transfer discussions prior to the official August window where, under UCI rules, squads can sign and announce new riders.
"In general, concerning the transfer market, basically that always goes with waves. The first wave of transfers is right at the end of the Classics where teams look at their Classics season and they look at whether they need anyone else for their Classics group," he said. "It picks up again starting now and builds to the Tour de France where most deals get done.
"That natural wave system, I would call it, always gets a bit disrupted by what happens with teams for the future, for next year in this case," Smets continued.
"The problem for us as agents, and more importantly for the riders, is that [with] two teams folding, that's roughly 60 riders on the market, team managers feel that they are the ones in the driver's seat again now because there are more riders on the market than there will be spots in the peloton."
Smets said the current transfer climate is no different to that of the past three to four years.
Not since Orica-GreenEdge in 2013 has a fledging squad entered the WorldTour, and some outfits have long anticipated proposed 2017 UCI WorldTour reforms and downsized.
"Nobody really knows what the actual situation of that reform is," he said. "That uncertainty certainly doesn't help the market because teams don't know which system and rules they will have to operate so they all wait to hear from the UCI. Then they don't hear anything so they tread cautiously.
"The logical consequence of such an economy is the fact that there are job losses," Smets added.
"In that case the first thing a rider does is see if he can still find a spot but at a lower level, so that would mean if you're WorldTour you look at alternatives at Pro Continental level, some even are willing to then, if that doesn't work, go down to Continental level. But for some that's unfortunately where it ends."
Cycling Weekly reported last week the Bahrain project is quietly preparing to debut in 2017 with Vincenzo Nibali (Astana) linked to it.
"I'm hoping this gap will still be filled with maybe a new project, and also other teams hopefully increasing the number of riders on their team as well," Smets said. "That might ease the pain a bit."
Thank you for reading 20 articles this month* Join now for unlimited access
Enjoy your first month for just £1 / $1 / €1
*Read 5 free articles per month without a subscription
Join now for unlimited access
Try first month for just £1 / $1 / €1