Russ Downing 'gutted' not to have won a fifth Lincoln GP but delighted for winner Tom Stewart
JLT-Condor's Russ Downing missed out a record-breaking fifth Lincoln GP title against his training partner and fellow Yorkshireman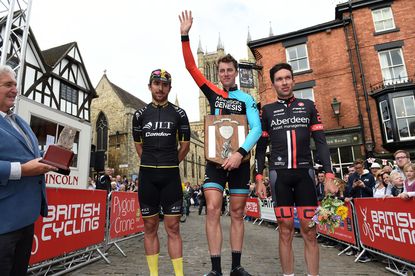 (Image credit: Andy Jones)
Russ Downing was just 20 metres away from winning the iconic Lincoln GP for a record-breaking fifth time on Sunday, but he was beaten dramatically at the finale by Madison-Genesis' Tom Stewart.
26-year-old Stewart edged out Downing (JLT-Condor) in the closing metres despite the race legend cresting the final cobbled climb of Michaelgate in the lead with less than 100 metres until the finish line.
>>> Tom Stewart and Alice Barnes win in the Lincoln Grand Prix (videos/photos)
It meant that Downing remains the joint record-holder with four wins along with Paul Curran, which left him with mixed emotions.
"I'm pretty gutted but I'm happy for Tom, he's a great buddy and a great training partner. Madison are a massive rival to JLT so it's a bit mad [that he's happy for Stewart] but I train with him," Downing said.
>>> Tom Stewart talks training and nutrition
Stewart spoke afterwards about the years he watched the iconic race on the roadside and the hours spent watching previous editions on video which helped him in his winning move, a push for the line that shocked Downing.
"I didn't look back [on the cobbles], I was hurting, trying to push the bike forward, but just as I was cresting, going round the corner, I saw this shadow on my right and Tom had committed to going through the gap.
"I don't think anybody would have tried to go up there but Tom can handle his bike and that was it, the momentum, I was tiring up and he just got me."
>>> Everything you need to know about the Pearl Izumi Tour Series 2016
Third in a stage of the Tour of Britain in 2014 and riding to an impressive 13th in the chaotic final stage of the Tour de Yorkshire earlier this month, Stewart has repeatedly shown his class in big races.
Recap stage three of the Tour de Yorkshire
Stewart, Downing and his brother Dean and Graham Briggs are regular training partners around Doncaster, and the Downings have had a huge influence in the development of the former mountain biker.
"It's really special to be on the podium with him," the victor, who completed a degree in civil and structural engineering at Sheffield University in 2013, said. "I know that he will be absolutely gutted but also really pleased for me. I owe him a lot."
"The Downing name and the Lincoln Grand Prix is synonymous and whether Russ is in form or not, if he gets a sniff of the line, then he's a force to be reckoned with," Madison manager Dave Povall said.
"Ever since Tom started riding a bike, the two of them [Russ and Dean] have been huge in his progression and development. They've done a lot of miles together in training. They have a special relationship.
"I said to him when I picked him up at the station yesterday, before we even pulled out of the car park, I told him he could win this. Tom's parents are here today, so for them to see him win this legendary event, it's pretty special."
Thank you for reading 20 articles this month* Join now for unlimited access
Enjoy your first month for just £1 / $1 / €1
*Read 5 free articles per month without a subscription
Join now for unlimited access
Try first month for just £1 / $1 / €1