Armstrong admits he suffered in Tour's final time trial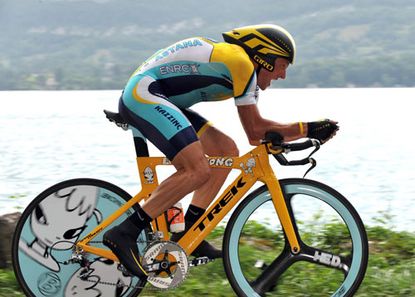 Lance Armstrong fought his way through the time trial and finished a disappointed 16th, a significant one minute and 30 seconds slower that team mate and stage winner Alberto Contador.
However, it was still a good day for the Texan veteran. He moved up to third overall, 5-25 behind Contador and confirmed that electronic goods chain RadioShack will sponsor his new team in 2010.
Interestingly, the official press release said Armstrong will compete for Team RadioShack as a cyclist, runner and triathlete in events around the world, including the 2010 Tour de France.
The RadioShack announcement was widely expected just after the end of the time trial and Armstrong confirmed it after facing another post-race anti-doping test.
"Is it out yet…?" He asked before commenting.
"Yeah, RadioShack have agreed to partner with us."
"From a couple of perspectives: from the cycling perspective, it's a couple of years of ProTour cycling, but also a close relationship and partnership with the foundation."
"It's a great partner if you look at their presence in the Unites States: 4,400 stores, 35,000 employees and 30 million customers a year and make LiveStrong their exclusive charity for their stores. It's a huge opportunity for us as an operation. As cancer survivors, it's pretty mega."
Armstrong said that RadioShack will be the team's main sponsor but hinted that other sponsors will come on board.


Cycling Weekly has heard that IT company Oracle – initially tipped as a possible main sponsor – could be second sponsor. The usual technical sponsors will be part of the team, with a possibility that Nissan will be car sponsor.
"They (RadioShack) will be the main sponsors," Armstrong said.
"They'll be others sponsors that we haven't finalised yet. But the usual suspects will be there. Nike, Trek and maybe a couple of others we're working on."
According to reports, the team has already made an application for a ProTour licence to the UCI, including a detailed list of the riders expected to be part of the team. So far none of those names have emerged.
Cycling Weekly understands that Alberto Contador is under contract directly with the Kazakhstan Cycling Federation, while Garmin manager Jonathan Vaughters confirmed to the Reuters news agency that none of his riders are set to join Armstrong's team.
Armstrong has hard time on final TT
Armstrong was in anti-doping for a long time after the time trial, causing a long wait for Bradley Wiggins and Andy Schleck. When he emerged he confirmed what seemed clear on television: he was hurting all the way through the time trial.
"I suffered," he said after a long sigh.
"I probably started too hard and maybe I was just empty from yesterday and those cramps I suffered at the end of the stage. I felt good at the beginning, I felt smooth, but there was a tailwind, so maybe everyone felt good. I just wasn't that strong on the climb, maybe the end result was good in terms of the general classification."
"I've got mixed emotions, 16th in a time trial is not a good result, but my ambition is to get on the podium, so I have to be happy with that."
On Mont Ventoux on Saturday, he is just hoping to hang on to the strongest riders in the hope that will secure him third place overall in Paris.
"I want to protect my position but it'll be hard with Andy [Schleck] climbing so well. I've just gotta watch for the moves and don't let him get away."
Thank you for reading 20 articles this month* Join now for unlimited access
Enjoy your first month for just £1 / $1 / €1
*Read 5 free articles per month without a subscription
Join now for unlimited access
Try first month for just £1 / $1 / €1