The best tweets from the second rest day of the 2018 Tour de France
We round up the most entertaining tweets from pro cyclists on the second rest day of the 2018 Tour de France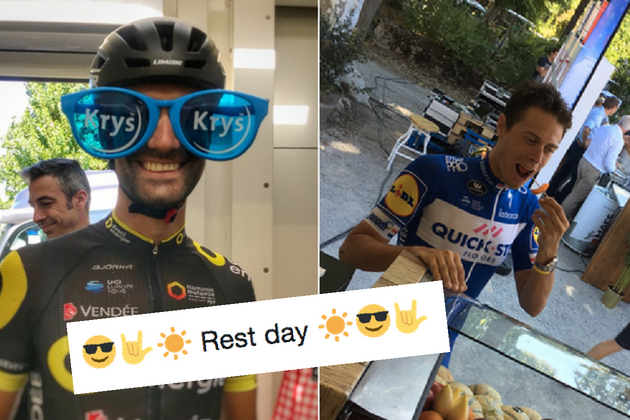 However the rest days aren't rest days for all, with mechanics and soigneurs still working hard to get things ready for the final few stages.
After a tough first two weeks of the race, all of the teams and riders were out for short rides on Monday morning maybe throwing in a few intervals to keep the legs ticking over.
Over at Quick-Step Floors, the riders and guest certainly seemed to be enjoying themselves (although they'll probably be looking forward to some non-0% beer in Paris in a week's time
And, of course it's a chance for riders to catch up on social media. Here we collect together some of the Tour rest day tweets that have caught our eye.
Unfortunately some of the big-name riders also had to speak to the media (sorry lads) with seasoned pro Alejandro Valverde taking the day in his stride.
From the looks of some of the tweets, the countryside around the city of Carcassonne looks amazing for riding.
There was also the chance to do a bit of sightseeing and pose for a few photos outside Carcassonne's spectacular city walls.
With the second week of the 2018 Tour de France completed, the riders are enjoying their second day off from racing in Carcassonne.
Of course the rest day is also a chance to take things a bit easy and recharge the batteries for a tough final week, so most of the teams included a cafe stop along the way.
>>> Who's out of the Tour de France after stage 15?
And finally spare a thought for the Team Sunweb soigneurs - and those of other teams who do the same - that have to haul eight mattresses to and from hotel rooms every night for three weeks.
The racing resumes on Tuesday with stage 16, a mountainous stage from Carcassonne to Bagnères-de-Luchon over 218km that should see the race for the yellow jersey resume in earnest after a few transition stages.
Meanwhile, things were pretty relaxed chez Direct Energie
Rest days are invariably far from that for riders, as well as teams and staff. As well as physically recuperating via massages and trips to the team physio, the day will invariably include a light recovery ride, possibly a press conference, lots of eating and other essential duties before racing recommences the following morning.