Bradley Wiggins: Tour rest day press conference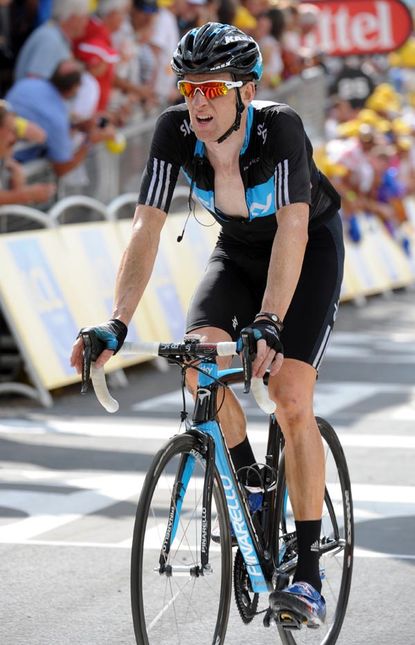 On the Tour de France's first rest day in Morzine, Team Sky's Bradley Wiggins sat down with the media to talk about his race so far - and to look ahead to the big days to come. Here is what he had to say...
How have you recovered today and how are you feeling with another big day coming?
Yeah, good, not too bad. We got quite organised with it today and went out for a decent ride with the whole team. We tried not to treat it too much like a rest day, just an easier day, try not to switch off too much. It's easy to just, you know, [switch off] especially with the day we've got tomorrow. We did three hours this morning with a good climb in there.
Talk us through yesterday, you seemed to hit the first big climb pretty hard and it seemed like it was pre-planned.
Everyone was trying to get to that climb first. There was a crash on the roundabout and after that I don't know what happened to be honest. I just sat in third wheel. [Juan Antonio] Flecha rode and he knew he was going to get dropped anyway so he put a decent turn in. It wasn't that high a tempo until Saxo [Bank] took over and then they really hit it to the top of the climb.
How was it on that climb [Col de la Ramaz]? Were you worried about the final climb?
No, no, that climb was really good. I felt pretty strong up that one. There wasn't that many guys left at the top, although I didn't really look round. I was just trying to concentrate on getting the cooling stuff we had planned at the top. We were out the arse on the first climb of the day chasing with [Ivan] Basso, in between on my own. There'd been a crash with Cadel [Evans]. Again there was no kind of standard pattern to the race, just a frantic opening couple of k, then a big crash with Cadel. I was out the back with Ivan, about 20 seconds down, chasing. We got back on and it was crazy. The two days [Saturday and Sunday] were a lot harder than a lot of people were expecting. It was certainly a couple of hard days, with the heat as well.
Looking ahead, what about tomorrow?
It's going to be another tough day, I think. Well, I hope it will be a tough day in the sense that there'll be a selection over the Madeleine. The danger is that it's a slightly easier tempo and then there's more guys there and there's more things to contend with on the descents. At this stage it's a question of who's going to do that? [set the tempo] Obviously, Lance [Armstrong] is out of it now. Yesterday they were lining up to really hit the Ramaz, until he crashed, and then no one knew what to do once he'd crashed. So there's always that. Cadel's in the jersey now but he hasn't really got the team, there's a couple of guys who can ride. Astana have got the strongest team overall, certainly in the mountains, but I don't know, it's a funny old race.
Astana have got Navarro and Tiralongo
Yeah, they've been exceptional on the climbs. Certainly Navarro.
Thomas Löfkvist was out [dropped] kind of early on the final climb, is that a problem for you?
I don't know really, I don't know. That'll tell in the next few weeks I guess.
Andy Schleck said it doesn't matter so much [team support] on the final climb.
I guess not on the final climb. I mean, yeah, the position they're in compared to me is completely different in terms of team-mates, I think. The position I'm in now, the team-mates thing isn't such an issue in the final because they're [the other teams] the guys who'll have to ride now to close gaps down if people are away or whatever.
Have you done the Madeleine before and is it a climb you like?
Yeah, it's a proper Alpine climb, certainly one of the tougher ones and the climbs before it add up to a whole day, so it's more of a traditional mountain stage. Yesterday we had a lot of drama with the two climbs but we had the whole peloton arriving en masse at the foot of the Ramaz, which causes a lot of problems with the crashes. Tomorrow it'll whittle down quite a lot before we hit the Madeleine. So yeah, so the tougher the better, at least you know where you stand and you get a bit more pattern to the race. After tomorrow we'll know a bit more kind of who the group is. Yesterday, we kind of hit Morzine and there were guys there who'd made it over the Ramaz or had come back from the early break of the day.
Physically, a week in, how do you feel compared to last year?
Well, it was a different race last year. I don't think the race [last year] had been as hard up to this point. We'd had a team time trial and a longer prologue so there were more time gaps. Physically, yeah, fine, ready to go again tomorrow.
Were you disappointed last night?
Yeah, disappointed. You're always disappointed whatever the result, to be honest. I always feel like I could give more. It was just one of those days yesterday. It wasn't a bad day, it wasn't a great day, it was just in the middle. If I keep having them middle days I'm going to be in the ballpark come Paris somewhere in the GC. So it's kind of, just being consistent really.
L'Equipe today was quite dismissive saying 'oh, bye-bye podium'.
Yeah, maybe but that's L'Equipe. Whatever. They're a bunch of wankers aren't they. [laughter] No, I mean, whatever.
Are there more crashes? The first week of the Giro d'Italia was quite crazy and there seems to be a lot going on.
I don't know. It seems that way and it seems quite frantic but I don't know. I guess it's never really changed. It's always the same every year, just a lot of the bigger names have crashed this year but I don't think there's more than there normally is.
Losing 1-45, it seems could L'Equipe be right saying bye-bye podium...
Who knows, I guess we've got two weeks to find out. I mean it's not great, I'm not going to lie to you, it's not fantastic is it, but what can I do? Go home, or stay here and battle for the next two weeks and see what happens and get the best out of myself every day. Sat here last year, no one knew what the next two weeks held. I mean, the Pyrenees is where it's going to be won or lost. By Paris the time gaps are going to be minutes. If we're still 2-45 down in Paris, we're going to be on the podium. So, we'll see.
What was the sense of shock with Lance cracking?
I don't think there was any. I don't think anyone really gives a monkeys to be honest, it's more the spectators maybe and the press. Amongst the riders, it's a crash, Lance has gone down and everyone carries on. A few guys were a bit 'Oh no, Lance has crashed, what do we do?' But the race carries on. There was that whole saga in, wherever we were, Spa, when the peloton decided to stop. That's just cycling I guess. It happens. It was on a roundabout [the Armstrong crash] and half the peloton went to the left, half to the right. It's pot luck, you know. It's one of them things. He's crashed a couple of times in this race but he had seven years with no crashes.
Last year was a new experience riding for GC, do you now feel you're in your element, this is what you were made to do?
Maybe, I don't know. After the pavé stage the other day I kind of really want to go back and do [Paris]-Roubaix really. This year I decided to concentrate on the Tour, that doesn't mean the next five years I'm going to concentrate on the Tour. We decided to see if I could improve on last year, or explore a bit more after last year. There's a lot of races on the calendar I enjoy doing, so I'll just carry on really.
After the whole year leading to the Tour, are you happier now you're in it?
Yeah, I mean it's nice to get the first week done because there's a bit more pattern in the race. There's been a lot of difficult stages this week, not just in terms of terrain, but so many difficulties, such as the pavé. I think if anyone had said to us a month ago we'd be in the position time-wise, we'd have took it. Still two weeks to go and there's a lot of bike racing still to be done.
Asked about the climb to Morzine-Avoriaz
Six k to go I was fine. There came to a point where I realised I couldn't stay with the tempo so it became about limiting the losses really.
Were you surprised by the time gap?
It's not a case of being surprised or not surprised it's a case of - that's your time gap. That's it really. You just take what it is really and move forward. I've done a lot of work trying not to get too carried away with the great days and not to get too down about the really disappointing days. I mean, last year there were so many high days.... I could be sat here this time tomorrow night and we could be having a totally different conversation about the Tour de France, which is what makes it great really.
The time gap is still quite close really, there's a lot of guys still in the race. Obviously the only outstanding guy has been Andy Schleck really, having that on the climbs like Contador did last year. It's really up in the air at the moment.
What do you expect tomorrow?
I don't expect anything really, I just deal with it and whatever happens happens.
Thank you for reading 20 articles this month* Join now for unlimited access
Enjoy your first month for just £1 / $1 / €1
*Read 5 free articles per month without a subscription
Join now for unlimited access
Try first month for just £1 / $1 / €1