Brailsford: You've got to prioritise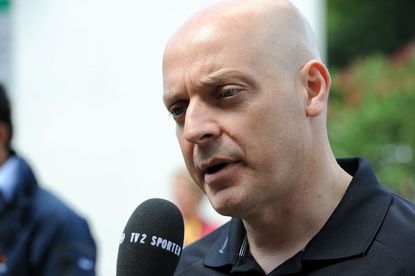 Team Sky boss Dave Brailsford is confident that his team has got its Tour de France build-up just right. Wins for Bradley Wiggins in Paris-Nice, the Tour of Romandy and the Critérium du Dauphiné prompted some to say Sky's leader had peaked too early, but Brailsford has parallels to draw on that suggest there's more to come.
"The uncanny thing is it's so remarkably similar to the pre-Beijing track team," he said when Cycling Weekly caught up with him at the Gatorade Sports Science Institute last week. "Things gain momentum, you start winning and performances go up and up and up. In Majorca in 2007 I remember thinking, 'bloody hell, how do we sustain this?!' But we did."
In the Palma velodrome in 2007 the British track team, that included Bradley Wiggins, won an incredible seven gold medals. In Manchester a year later the team was even more dominant, winning eight gold medals.
No one thought they could improve again for Beijing in the space of just four months but the whole team did. Anyone thinking Team Sky can't follow the same progress on the road would be wise to consider the processes behind the structure of the teams is now remarkably similar.
"I'm confident we've got that in Sky. There's still issues that arise but we've got a good team of people on the ground." Brailsford said.
"If you look at Brad's level of performance since the Dauphiné last year he's been constant since then. He's got himself to a really, really high level, 95 per cent, and then he just goes that little bit more."
"The whole point is to peak at the Tour, not to peak at the Dauphiné or anything else, so the belief is there's a little bit more to come. If we ask ourselves if we're satisfied with where we got to on the eve of the Tour, I think there's a lot of areas where we'd say; 'yep, we've done a bloody good job.'"
Yellow before green
Whether or not to favour yellow over green is not a question Brailsford is asking himself. "You can't have everything equal, it just doesn't happen, you're going to have to tilt it."
"When push comes to shove you've got [to decide whether or not] to sacrifice one of the climbing guys to chase down the group because they're not going to get there for the sprint."
"There are small little decisions that you have to constantly make and if it's completely 50 - 50 they'll struggle."
"If you can have one thing, what would you have? You've got to prioritise and that is about siting down and making a tough decision."
Fortunately for Team Sky Mark Cavendish's goal of stage wins and the green jersey is compromised this year by the lure of Olympic gold. To stand a chance of winning the road race in London Cavendish has had to adapt his training and increase his power to weight ratio.
According to Brailsford, Cavendish hasn't missed a beat in training since completing the Giro and is fitter than ever before. This has come at a price though; his out and out speed has been compromised for the sake of his climbing.
It's a happy coincidence that Cavendish's goals fit with Wiggins's. "Going in to it, just on the facts that we've got now, if you're going to be competitive for the overall, then this is the year to tilt [the team] to the overall." Said Brailsford. "And you do have the Olympic road race on the first day of the Games, first medal potentially for Mark, that seems to make sense to me."
"He's disadvantaged in that he doesn't have the full lead out train that he's had in the past. And the competition is stiffer now than it was, but I wouldn't write him off. He's at his best when his back's against he wall. He's not he world champion for nothing."
"And there'll certainly be stages when some of the sprinters wont be there and Mark will. For sure."
Rumours flying around
Brailsford, who will have to divide his time between the Tour de France and the British track team, who decamp to Newport in the next week or so, laughed off the spate of accusations and rumours levelled at the team after their performance in the Dauphiné.
"Bradley's wins in the races haven't been the tipping point. Four riders together going over the top of the Joux Plane and everyone thinks, 'right, we're not having this!'
"That was the catalyst, it opened the flood gates. Its interesting that it wasn't Bradley winning it was that four blokes out of nine [were from one team]. It's interesting, we've just had this bombardment; 'you've found something. You're obviously cheating'."
It's nothing new though. During the British team's Beijing success rumours started to fly around the Italian press, stoked by officials high up in their national federation. Knowing what they knew about their own track riders who were successfull in the mid to late 1990s they struggled to comprehend how a bunch of 22-year-olds could go seven seconds faster over four kilometres.
"Four years ago when we got a lot of accusations of cheating there was no Twitter. Social media was nowhere near as developed as it is now, so it's very different."
The other stories that came out straight after the Dauphine were of Brailsford presenting all Wiggins's blood profiles to ASO to prove he was clean and that they gave the Tour organisers a donation.
"All these things are completely false. There's a group of detractors [on Twitter], but we know who all of them are. One of them is a local councillor, and they should know better."
Such accusations are like water off a ducks back now, and Brailsford is far more worried about not winning the Tour than the rumours that will circulate if they do.
"I hate losing. The emotion of winning is not as great as the disappointment of losing. It's much worse than winning is good. I've only realised in the last 18 months or so that what drives me is the avoidance of [losing]. Winning is great, but I don't get that much from it. But I hate losing, it tears me apart."
"But when you do lose like that it makes you think 'shit, we need to do something here and we need to think about this.'"
"The Tour in 2010, and some of the results on the track in intermediate years, made us stop and think. It's a healthy thing, it grounds you. It focuses you. Really focuses your mind, and you get the desire back."
Related links
2012 Tour de France coverage index
Thank you for reading 10 articles this month* Join now for unlimited access
Enjoy your first month for just £1 / $1 / €1
*Read 5 free articles per month without a subscription
Join now for unlimited access
Try first month for just £1 / $1 / €1
Editor of Cycling Weekly magazine, Simon has been working at the title since 2001. He fell in love with cycling 1989 when watching the Tour de France on Channel 4, started racing in 1995 and in 2000 he spent one season racing in Belgium. During his time at CW (and Cycle Sport magazine) he has written product reviews, fitness features, pro interviews, race coverage and news. He has covered the Tour de France more times than he can remember along with two Olympic Games and many other international and UK domestic races. He became the 130-year-old magazine's 13th editor in 2015.