Brian Cookson renews calls for UCI investigation after 1998 Tour positives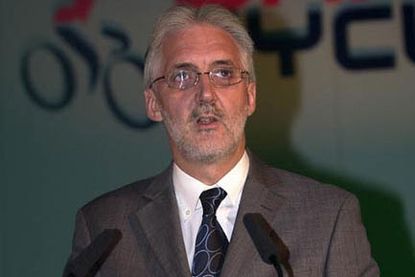 Union Cycliste Internationale (UCI) presidential candidate Brian Cookson has underlined his intent to create an investigation into allegations of corruption and collusion in the organisation after a French Senate Commission published a report on Wednesday naming riders who tested positive for EPO during the 1998 Tour de France.
Both the 1998 Tour winner, Marco Pantani, and runner-up, Jan Ullrich, tested positive for banned blood booster EPO when their stored urine samples were retroactively tested in 2004. Many other riders in the 1998 Tour also tested positive, and others' samples showed 'suspicious' values that could indicate use of EPO.
"Today's news shows just how out of control professional road cycling was allowed to get in the late 1990s," said Cookson in a statement issued on Wednesday afternoon.
"The fact that it appears so many riders tested positive in the 1998 and 1999 Tour de France for EPO is a terrible indictment of the people responsible, and those with the most responsibility for the culture within the sport are the UCI."
With doping widespread during the period, it is hard to understand how the UCI could have been ignorant to the large scale use of banned substances taking place in the peloton. He has also again called for the need of an independent dope testing agency, that operates separately to the UCI.
"What I believe is absolutely essential on our road back to credibility is that we get to the bottom of how this happened," continued Cookson. "Most importantly we need to know whether the UCI was complicit, colluded with riders or was itself corrupt."
"That is why I will implement a fully independent investigation into doping in cycling so we can deal once and for all with the past, with amnesties or reductions in sanctions to encourage all those involved to come forward. The brief of the investigation will centre on the uncovering of any UCI corruption and collusion, and understanding what factors led to the culture of doping."
Earlier this week, Cookson unveiled his seven-point plan to combat doping in cycling:
- Put an end to the UCI's public feuding with anti-doping bodies such as WADA and USADA
- Instigate a fully independent investigation into doping in cycling so we can deal once and for all with the past, with amnesties/reductions in sanctions to encourage all those involved to come forward
- Ensure more transparency, data sharing and co-operation by teams with their national anti-doping body and cycling's Independent Anti-Doping Unit
- Create the role of independent team compliance officers whose duty will be to report regularly to the Independent Anti-Doping Unit
- Introduce a Fit and Proper Person's test in cycling
- Support four-year bans for dopers, and pursue doping enablers as well as riders
- Expand the UCI's anti-doping education programmes
Related links
Cookson unveils manifesto for his UCI presidency bid
Brian Cookson announces his intention to run for UCI presidency
Thank you for reading 20 articles this month* Join now for unlimited access
Enjoy your first month for just £1 / $1 / €1
*Read 5 free articles per month without a subscription
Join now for unlimited access
Try first month for just £1 / $1 / €1