Chris Froome: 'Next year's Giro d'Italia is a big opportunity'
Chris Froome reiterates that the route of the 2015 Giro d'Italia would suit him more than the Tour de France, which he may skip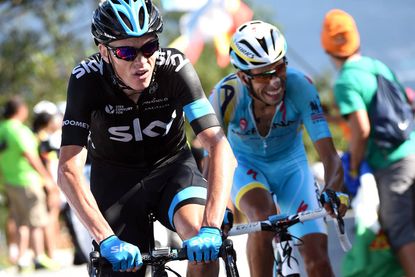 (Image credit: Graham Watson)
Sky's Chris Froome called the 2015 Giro d'Italia route better balanced than the Tour de France and explained that it presents a "big opportunity" for him. The chance to win Italy's big stage race next May 9 to 31 may see him skip the Tour for the first time in four years.
"The Giro course is truly balanced well, the best," Froome told Italy's La Gazzetta dello Sport newspaper while in Japan over the weekend. "A complete rider will win it and that, in my opinion, is the way it should be in a Grand Tour. For me, it would be a great opportunity."
The Giro features a 59.2-kilometre time trial in the second week and an opening team time trial of 17.6km. It has four high-mountain finishes and the Tour has five.
The Tour next July includes an opening individual time trial of 14 kilometres and a 28-kilometre team time trial on day nine.
When Froome won in 2013, the Tour featured 65 individual time trial kilometres. When Bradley Wiggins won in 2012, it had 101.4km.
Froome said that the 2015 Tour suits climbers and will be decided in the mountains. "Anything is possible," he added when asked if he might skip the Tour.
"I love the Tour, nothing's changed," Froome explained. "The Giro is truly a great opportunity, the route suits me very well, like I said, it's well-balanced. I don't know how many opportunities like this I'll have in the future."
The 29-year-old Kenya-born Brit explained that aiming for the Giro and Tour in the same year would be difficult, if not impossible, but that he would have time after the Giro to recover for the Vuelta a España that starts on August 22.
"It's a joint decision," Froome said, adding he and the team Sky will define his 2015 schedule by December.
"The team does not force me to go to races where I have no motivation, nor is it useful that I go to races that the team doesn't see fit."
More on Chris Froome and the Tour de France
Team Sky rider suggests he may prioritise the Giro and Vuelta in 2015
What the best cyclists in the world have to say about the route of the 2015 Tour de France
Thank you for reading 5 articles this month* Join now for unlimited access
Enjoy your first month for just £1 / $1 / €1
*Read 5 free articles per month without a subscription
Join now for unlimited access
Try first month for just £1 / $1 / €1