Chris Froome 'overwhelmed and relieved' after securing Tour de France win
Chris Froome admits that he thought he may lose Tour de France lead to Nairo Quintana on final mountain stage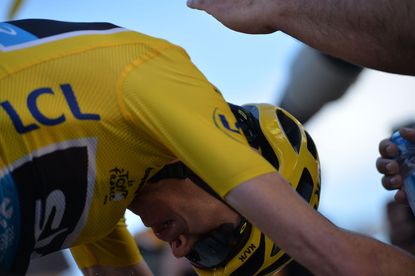 (Image credit: Yuzuru SUNADA)
Moments after securing his second Tour de France victory, and having bounced back from the disappointment of crashing out of last year's race, Chris Froome sat down to face the press. The first thing he did was breathe a very theatrical sigh of relief.
"It's overwhelming," he said. "It feels as if we've been up against everything. To have won the Tour once was a dream come true, to come back and do it for a second time is more than I could have imagined."
He was asked if the climb of Alpe d'Huez, where it looked as if it might all go wrong when Nairo Quintana (Movistar) attacked and rode away from the him, had been the toughest of his career.
"If you ask me now, today, I'd say yes! I've done tough climbs in the last few years, and that was right up there. There were a lot of emotions doing through my mind. There was certainly a moment when I was concerned it could go either way.
"We were getting time checks, and it was comforting to see the gap it wasn't jumping by 30 seconds each time, just slowly going up 5-10 seconds at a time. It was manageable, the way Richie Porte and Wouter Poels were pulling up the final climb."
>>> Five talking points from stage two of the Tour de France
It was a Tour that unfolded in a way few would have predicted, with Froome taking time from his main rivals during the first week of spring-classics style stages. The advantage he took over Nairo Quintana on the second stage, when the race broke up into echelons in strong crosswinds, was more than Froome's eventual margin of victory. It was a surprise from a rider who's always looked nervous on that kind of environment.
But then Froome, and his team, went on to look rather less imperious in the Alpine stages that most had expected.
"I think the key to winning the general classification is consistency, if you look at the crosswind stage [Stage 2], and the Mur de Huy stage [Stage 3], all those were points of the Tour where the GC was decided.
"There was only one stage, to Pierre Saint-Martin [Stage 10] where I really made a mark. The others were about chipping away and being as close to the front as possible. The team kept me in the right place at the right time. Last year I learned what happens when you get caught in the wrong place."
Video: Tour de France stage 20 highlights
Thank you for reading 5 articles this month* Join now for unlimited access
Enjoy your first month for just £1 / $1 / €1
*Read 5 free articles per month without a subscription
Join now for unlimited access
Try first month for just £1 / $1 / €1
Michael Hutchinson is a writer, journalist and former professional cyclist. As a rider he won multiple national titles in both Britain and Ireland and competed at the World Championships and the Commonwealth Games. He was a three-time Brompton folding-bike World Champion, and once hit 73 mph riding down a hill in Wales. His Dr Hutch columns appears in every issue of Cycling Weekly magazine
As a writer, he wrote the award winning The Hour about his attempt on the sport's most famous and sought-after record. He followed that up with Faster, about the training, the science the genetics and the luck behind the world's fastest riders, and Re:Cyclists, a history of cyclists from 1816 to the present day.
He's written for outlets ranging from Cycling Weekly to the New York Times, and has presented and and commentated for the BBC, Eurosport, Channel 4, and Sky Sports.
Before he did any of that he was a legal academic at Cambridge and Sussex universities. He now lives with far too many bicycles in London and Cambridgeshire.