Chris Froome's exit from the Tour de France "devastating"
Team Sky boss speaks after defending champion Chris Froome crashes out of stage five and abandons the race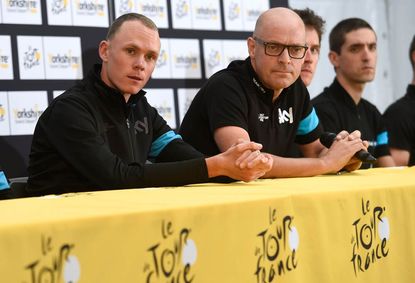 (Image credit: Graham Watson)
By Sophie Hurcom
Dave Brailsford admitted Chris Froome's crash on stage five of the Tour de France from Ypres to Arenberg Porte du Hainaut that forced the 2013 Tour winner to abandon the race was "disappointing" and "devastating".
Froome crashed twice on a stage marred by constant, heavy rain, where the peloton had to tackle the Paris-Roubaix cobbles. His first came at 35 kilometres into the stage, but after he was paced back to the bunch by his team-mates Froome fell again with 67.7 kilometres still to race, before the peloton had reached the first section of pave. After that, he was seen hobbling towards the Sky team car and abandoning the race.
On Tuesday's stage four, Froome also crashed and injured his wrist, although after an X-ray he was cleared to start the stage today.
"In sport, things tend to go your way or they don't," said Brailsford outside the Sky bus after the stage. "I think the crash yesterday and then crashing before it got to the cobbles today is obviously very, very disappointing and devastating for Chris, but you know that's sport really, and we keep on going."
The Team Sky boss admitted that Froome was in pain starting the stage today, following his crash 18 hours before, and that the situation was less than ideal preparation for tackling the cobbles.
"He was in pain, there's no denying that," he said. "He couldn't have had a worse moment to hurt your wrist the day before the cobbled sections, the cobbled stage, so it was obviously going to be challenging.
"It's got to play on your mind a little bit, he's human after all. But he was very very brave and he was really up for it, and he wanted to really fight for today."
The peloton had been due to face nine cobbled sectors totaling 15km across 155.5km on Wednesday's stage, however, two sections of cobbles were pulled from the route before the stage began, due to the wet and windy weather.
"When you actually see the crash that took him [Froome] out, I think it was on a roundabout, but you know, these things happen," said Brailsford.
After he pulled out, Froome was taken to the nearby hospital. "I haven't spoken to him but I know he'll be very disappointed, who wouldn't be it's only normal," Brailsford continued. "But he's a fighter, he'll bounce back and I'm sure he'll be back to compete at the highest level before very long."
Despite losing their leader, Brailsford was pragmatic about the situation and optimistic about the team's chances in the rest of the three-week long race.
"Part of sport is being able to refocus," he said. "We know in sport the goalposts will move for sure at some point and that life's not fair and get on with it, deal with it and move on quickly."
Thank you for reading 20 articles this month* Join now for unlimited access
Enjoy your first month for just £1 / $1 / €1
*Read 5 free articles per month without a subscription
Join now for unlimited access
Try first month for just £1 / $1 / €1