Contador confirms taking part in Tour de France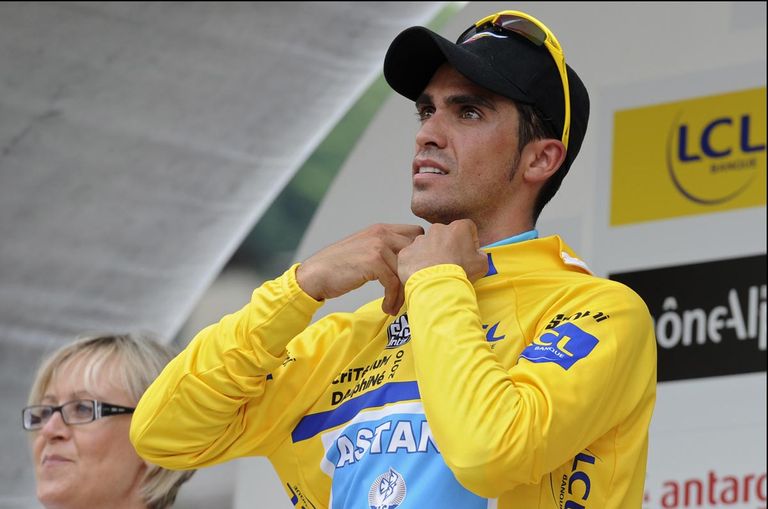 Alberto Contador has confirmed he will be racing in this year's Tour de France in a bid to 'do the double' and become the first rider in 13 years to win both Giro and Tour in the same season.
The Saxo Bank rider announced the decision shortly after completing a cyclo-sportive organised in his hometown of Pinto on Saturday afternoon.
Contador's presence will not be uncontroversial for some sections of the media, given he is still awaiting the outcome of an appeal against the lifting of his provisional ban for a clenbuterol positive from last year's Tour de France. That appeal will not be decided until August at the very earliest.
That will not prevent him being top favourite, given he has won three out of the four last Tours de France, as well as six Grand Tours in a row. In the most recent, the Giro d'Italia, his victory was virtually uncontested and it got to the point where Contador was gifting stages to favoured riders.
There had been doubts about Contador's participation - quite apart from the clenbuterol issue - because of the Giro had been so tough, and Contador himself said on Saturday that a recent test of form had not gone at all well.
"However, there's still time before the Tour starts," the Spaniard said, "although I know it will be difficult."
"But the Tour is the best race with the best riders, and that's a great motivation."
Contador will inspect some key Tour stages next week, with both the Spanish Time Trial  and Road Nationals in his calendar before the Tour.