Equipment choices for Tour de France mountain time trial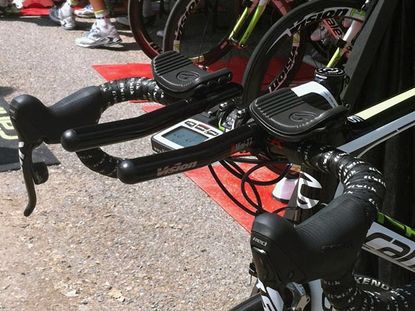 The Tour de France Stage 17 mountain time-trial gave the riders a dilemma - what type of bike to use.
Most started off on the compromise of a road bike with bolt-on tribars - less weight for the climbs and better handling for the descents, but a reasonable aero position for the bits of flat road and the sections of straight descent.
However, a lot of the GC riders swapped to full TT bikes for the fast and rather less technical descent to the finish.
There were some very neat solutions to the problems of creating a hybrid road/TT bike - and there were some that were a great deal less so. Not to mention all the other interesting kit on display round the team busses. So we took a few sneaky phone photos.
The good old adjustable stem makes an appearance at Garmin - it's so they can get a low enough position on an aero road-bike (the Cervelo S5). Scores moderately for elegance - it's let down by the electrical tape holding on the arm rests.
Saxo-Tinkoff road bike (Specialized Venge) with longish extensions - suggesting the rider has moved down a frame-size to keep a closer approximation to their regular TT position. Chris Froome did the same thing.
A much sorter pair of tribars at Cannondale - in the true triathlete style they don't extend beyond the brake levers. Marks for simplicity, but it's very hard to get comfortable in anything approaching a optimum aero position for any length of time. For riders with an attacking style only.
Low on elegance and off the scale on the 'yikes' meter, Argos-Shimano's skinsuits are, unhappily for all concerned, thin, white and, often as not, wet. When Marcel Kittel emerged in his, small children ran screaming. Rapidly followed by everyone else.
Tony Martin (Omega-Pharma Quickstep) warming up in an ice-vest to keep his core temperature down, as well as a nifty set of ice bracelets. Top marks for the old-school cycling cap too.
Another Garmin road bike - this time the bars are off the Cervelo P5 TT rig, modified a little to fit the different frame. Elegant, but perhaps of dubious legality, because some officials might feel that the stem's top section constitutes a fairing.
On the subject of rules, the commissaires had this delightful Fisher-Price bike-measuring device. It's obvious where the chainset lines up, but the hermeneutics of the rest of it requires a deeper understanding of the regulations than most normal people would want to have.
Andy Schleck keeps his phone in a sandwich bag to avoid getting sweat on it. Zero for elegance, and minus a few more for the leather headphones. Pulls it back a little by having the race frame-number behind the headtube where God intended (rather than slapped behind the seat tube), then blows it all on the funny-looking light blue bike.
Tom Dumoulin wearing the tail-less version of the Argos-Shimano Uvex helmet. There are quite a few of this variety of lid around now - most of them modelled to greater or lesser extents on the Sky and Garmin short-tailed helmets from Kask and Giro. Uvex. And yes, despite the skinsuit having dried a little on the ride to the start, you could still read the washing instructions label through it.
This is a photo of a Belkin mechanic using a hacksaw to shorten a pair of tribars while the rider is already warming up. A few seconds later the rider gave a yelp and a curse, and started sucking his finger while glaring at the mechanic. It was all but impossible to figure out what happened.
Belkin again - they had these rather splendid fans that both blow wind and spray cooling water at the riders as they warm up. Oddly, no one else had anything remotely resembling them. They're probably an accessory stolen from a wet-t shirt competition.
Tour de France 2013: Stage reports
Stage 17: Froome wins third 2013 Tour stage
Stage 16: Costa takes solo win as Froome put under pressure
Stage 15: Froome wins on Mont Ventoux to extend lead
Stage 14: Trentin wins from break
Stage 13: Cavendish wins, Valverde loses on stage 13
Stage 12: Kittel out-sprints Cavendish
Stage 11: Martin wins time trial as Froome extends lead
Stage 10: Kittel takes second stage win
Stage nine: Martin wins stage as Froome fights to keep lead
Stage eight: Froome wins Tour mountains stage to take overall lead
Stage seven: Sagan scores first win of 2013 Tour
Stage six: Greipel wins as Impey moves into lead
Stage five: Cavendish wins; Gerrans keeps lead
Stage four: Orica win Tour's team time trial to put Gerrans in yellow
Stage three: Gerrans outpaces Sagan to take win
Stage two: Millar denied yellow as Bakelants takes spoils
Stage one: Kittel wins chaotic opening stage
Tour de France 2013: Podcasts
Podcast six (stage nine)
Tour de France 2013: Comment, analysis, blogs
Moto blog part two (July 15)
Moto blog part one (July 9)
Lessons learnt by Team Sky after Tour visits Pyrenees
Was Sunday (stage nine) a missed opportunity for Froome's rivals?
Rest day review (July 8)
Tour de France: 100 Tours, 1,000 stories
Tour de France 2013: Photo galleries
Stage 17 by Graham Watson
Stage 16 by Graham Watson
Stage 15 by Graham Watson
Stage 14 by Graham Watson
Stage 13 by Graham Watson
Stage 12 by Graham Watson
Stage 11 by Graham Watson
Stage 10 by Graham Watson
Stage nine by Andy Jones
Stage nine by Graham Watson
Stage eight by Andy Jones
Stage eight by Graham Watson
Stage seven by Andy Jones
Stage seven by Graham Watson
Stage six by Andy Jones
Stage six by Graham Watson
Stage five by Andy Jones
Stage five by Graham Watson
Stage four by Andy Jones
Stage four by Graham Watson
Stage three by Graham Watson
Stage two by Graham Watson
Stage one by Graham Watson
Team presentation by Graham Watson
Thank you for reading 20 articles this month* Join now for unlimited access
Enjoy your first month for just £1 / $1 / €1
*Read 5 free articles per month without a subscription
Join now for unlimited access
Try first month for just £1 / $1 / €1