FDJ trainer: Chris Froome's performance looks legitimate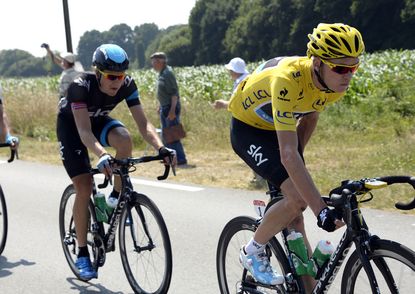 Fred Grappe is the exercise physiologist, biomechanics expert and oversees coaching and testing at the French FDJ team. He's not impressed by Antoine Vayer's 'La Preuve par 21' method of detecting doped riders
Chris Froome's winning ride to Ax 3 Domains which saw him claim the yellow jersey, immediately generated the Doped-Clean debate in the Tour caravan. And, among the pundits pontificating, former Festina coach, Change Cycling Now supporter and trainer Antoine Vayer weighed in with damning 'evidence' that suggested Froome's performance was highly suspect.
Vayer, together with several collaborators, has been working on a model which uses a number of variables to measure a rider's power output on climbs to determine whether they are normal (ie, clean), suspect or outright 'mutant'. It's a controversial method which has been criticised for its reliance on video footage to record rider's times.
Nevertheless, Vayer has been outspoken in questioning Froome and many pundits have picked up on his method and data as 'evidence' that there's something fishy about Froome.
However, one French cycling coach and physiologist who came to the defence of Froome, was Fred Grappe, who works with Marc Madiot's FDJ team. "The problem that I have with Antoine's method is that he's using a model which has around 20 variables which you feed into a mathematical calculation and you get a number which corresponds to a rider's power output, which I think is a bit of a problem. And then, of course, you have to analyse and interpret that data," said Grappe.
"The first issue is to know whether or not the data you are putting into the model are good, are reliable and the second thing is to understand that the number you have come up with has been produced by a rider under very specific circumstances and context."
While Vayer and his supporters used their 'speed trap' model to label Froome close to mutant after his win at Ax 3 Domains, Grappe demurred.
"There's no way based on that performance you can say it was the result of a doped rider, you cannot assert that. However, what you can say is that Froome's performance on the climb to Ax 3 Domaines was of a very, very high quality, close to what we would expect to see near the limit of what is possible. It's hard to see anyone capable of going much faster - as far as I am concerned we are very near the limit of what is humanly possible, but what Froome did is physiologically explainable.
"You could expect to see that sort of ride in a fresh rider who is racing without a great deal of fatigue. Really, you have to be very prudent with power figures, on the basis of what I saw you can't come out and say, 'Oh, he's doped,' especially not on the basis of one ride. Though I'd say it's hardly possible to go any faster, because we are close to the limit of what we can assume is possible."
Grappe went on to explain why simply plucking the performance of a rider from a single short (23 minute) climb was next to useless when extrapolating power figures to determine whether or not a rider was doped or clean.
"The variables that are important are, firstly, the temperature. The hotter is gets the harder it is to reach and maintain really high power outputs. Secondly, altitude plays an important role too. I'll give you an example. When you climb Alpe d'Huez you lose, on average, about five percent of your VO2 max which obviously has an impact on your power output. On a higher climb like the Galibier you can lose up to 10 per cent of your VO2 max - so you can see that altitude plays a part in determining power outputs. And the third variable which has an enormous impact is time, or duration of the climb.
"When you are on a climb of 20 minutes like Ax 3 or a climb that lasts nearer an hour, like Mont Ventoux, then you lose between 40 and 50 watts. Roughly speaking you lose one watt of power for every metre you climb. So, to put some kind of speed radar on riders without taking into consideration temperature or altitude as well as other variables, well, really, you have to be careful to then say a rider is doped. You can estimate things and try to analyse them but there's no way you can say, 'OK, if a rider reaches this or that number, well, he's doped,' that's not possible, it's a lot more complicated than that," insists Grappe.
No doubt the debate will rage on, for this Tour and for as long as there's bike racing. But one factor that Grappe didn't touch on was the accuracy of the timings used by Vayer (and everyone else) to try to calculate these figures.
"Since the Tour doesn't record rider's times up climbs, nor use GPS on rider's transponders, since, in fact, there are no accurate or year-on-year repeatable measures of where the start and finish point is on any climb, it's hard to be confident about any protestations of guilt or innocence from either side of the debate. And, in addition, if a team releases SRM Power meter data, we also have to assume that they have been properly calibrated. And that's not a given either. The debate will rage on but, as Grappe says, with monumental understatement, "it's a lot more complicated than that."
Related links
Chris Froome's performance under focus
Thank you for reading 20 articles this month* Join now for unlimited access
Enjoy your first month for just £1 / $1 / €1
*Read 5 free articles per month without a subscription
Join now for unlimited access
Try first month for just £1 / $1 / €1