Geraint Thomas: I'm having a decent night
Welshman Geraint Thomas finishes Tour de France before racing to Commonwealth Games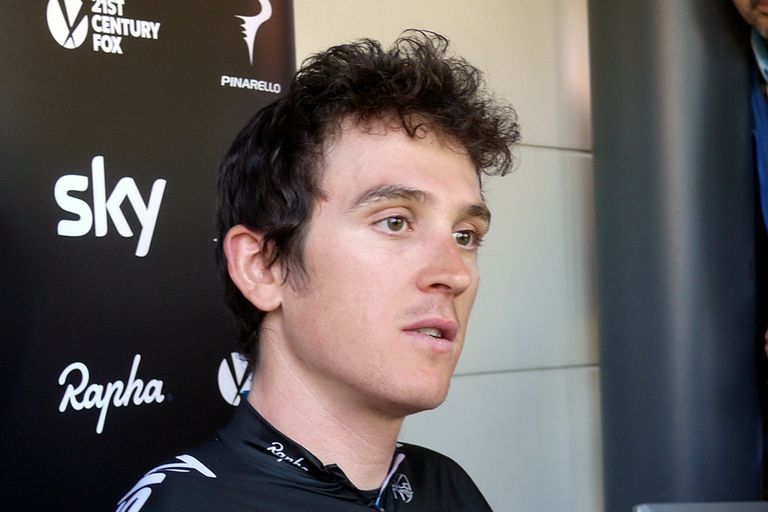 (Image credit: Gregor Brown)
Geraint Thomas has to fly to Glasgow on Monday for the Commonwealth Games but wasn't thinking much past an ice cold beer at the conclusion of the 101st Tour de France in Paris on Sunday evening.
Thomas was the only British rider to finish the race in which his Sky team did not make an impression on the results board after winning the last two editions. The scenes around the Sky bus on Sunday were certainly more demure than last year, but the race was no less gruelling with Sky suffering losses via injury and illness.
Thomas managed a fractured pelvis when he supported Chris Froome all the way to Paris last season, this year was less memorable. "To be honest last year I can't remember a lot of it," Thomas said. "I was at the back and I wasn't really in the race. This year I've been in the racing but we haven't got the results.
"I'm not too sure what I'd prefer - to have another three weeks where I break my pelvis and win the Tour, or stay in one piece and win nothing. Maybe someone else can take one for the team."
Emotions were different at the finish compared to that of previous years but Thomas was pleased with his personal performance throughout the Grand Tour.
"Obviously there's a different feeling now compared to last year. Last year we won the thing and we were defending the jersey for two weeks. It's definitely different emotions now but that's the way it goes as well," Thomas said.
"The last two years Brad [Wiggins] and Froomey won everything they wanted to. I think we've been really fortunate. This year it's kind of been the total opposite and nothing has really gone right with crashes and illnesses. But I think that's sport and that's what makes it so exciting is the fact you can't predict what's going to happen."
Thomas is due to start the men's time trial at the Commonwealth Games this week. However, reaching Paris is still an achievement for any rider and he'll be marking that on Sunday night.
"Personally I still feel like I've achieved quite a bit this Tour. I'm definitely going to have a decent night," he said. "It's not just these three weeks. It's the whole build-up to it since November thinking about the Tour. It's a lot of stress and talking and what not."
Twitter: @SophieSmith86
Geraint Thomas is supporting Richie Porte at the Tour de France, but hoping for a chance to lead a team
The two remaining British riders in the 2014 Tour de France, Geraint Thomas and Simon Yates, in stage 14's escape