Hoy says a Wiggins Tour win would be greatest ever British sporting achievement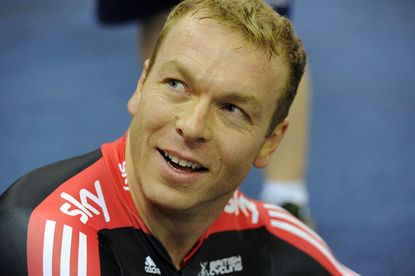 Chris Hoy believes that if Bradley Wiggins seals Tour de France victory in Saturday's time trial, it will be the greatest ever sporting achievement by a British sportsperson.
Hoy has been watching the Tour unfold from his home near Manchester, and now in Newport where he is putting the final touches to his Olympic training in the GB track cycling team's holding camp.
"I have to pinch myself when I turn on the TV and see Bradley in the yellow jersey in the high mountain stags, it's just amazing," Hoy told a group of journalists on Thursday.
"When you think back to when you were a kid and watching LeMond and Indurain and all these guys..... No matter what happens, he's been up there and held the yellow jersey."
"If he makes it to the finish line in Paris, honestly, I think it's the greatest achievement of any British sportsman ever. It's phenomenal. When you break down the Tour and realise what you've got to do to win the Tour, It's not just one day, it's not just having a purple patch of form, it's dealing with all these things to get yourself in a physical state to win it, and then deal with all the other things that are out of your control." Said Hoy.
"Crashes, injury, Illness, people conspiring against you, there's all these things that can happen to prevent you from winning the Tour and you've got to do it for three weeks in a row."
>>>>The essential fans guide to the 2012 Olympics and Paralympics is out now!
"I'm a bit biased because he's an old team mate, but if he gets to that finish line it will be as good as anything any British sportsperson has ever done."
Hoy and Wiggins will become team mates once again late on Sunday evening. Wiggins and Cavendish will be flown from Paris to England as soon as possible after the finiah in Paris and enter the Olympic road cycling team's base in Ottershaw Surrey.
Hoy is currently scheduled stay with the track riders at the Celtic Manor, only travelling up to London and in to the athletes Village on July 28 - the same day Cavendish and Wiggins will be riding for gold in the road race.
One decision yet to be made could alter Hoy's travel plans though. The BOA is set to announce the identity of the flag bearer for the British team early next week, and Hoy is one of a handful of contenders.
For now, Hoy is expecting to watch the opening ceremony on television from his hotel room, but that could change. "That's not something you could turn down," he said. "If it did come my way it would be a massive honour, you couldn't overstate how much of an honour it would be to walk out at a home Olympcis and lead your team in. Whoever gets it, it will be an amazing experience."
Related links
Jason Kenny selected for Olympic men's sprint spot
Thank you for reading 20 articles this month* Join now for unlimited access
Enjoy your first month for just £1 / $1 / €1
*Read 5 free articles per month without a subscription
Join now for unlimited access
Try first month for just £1 / $1 / €1