Petacchi struggling to repeat last year's Tour success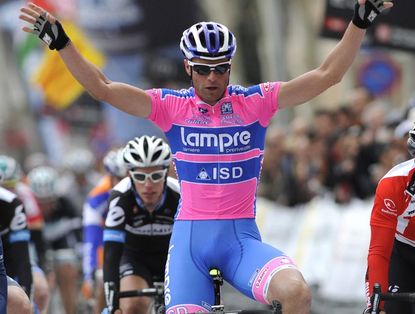 Alessandro Petacchi finished second to Mark Cavendish on Friday in Châteauroux, but has otherwise fallen short in this year's Tour de France. The Italian had already won two stages and firmly put himself at the top of the green jersey competition by this point in last year's race.
"I'm not the same as last year," Petacchi told Cycling Weekly. "I had problems heading into this year's Tour."
The 37-year-old quietly spoke while checking his bicycle ahead of yesterday's leg to Super Besse. He made little eye contact, he seemed almost ashamed of what he was saying.
Cycling Weekly asked his lead out man, German Danilo Hondo for clarification.
"He's 37 years old," Hondo said, "for sure, he lacks the same explosion as the younger riders."
The team Lampre-ISD duo faced three sprints so far this Tour: in Redon, in Cap Fréhel and in Châteauroux. Petacchi only came close in Châteauroux, he was outside the top 100 in the other two. Cavendish (HTC-Highroad) won two of those, American Tyler Farrar (Garmin-Transitions) the third.
Even if there opportunities ahead, he believes it'll be hard beat Cavendish.
"You can see I'm getting better, second yesterday [Friday]," he said. "However, you have to hand it to Mark's team, HTC did an exceptional amount of work."
He won the green jersey last year by 11 points over Cavendish and wrote a piece of history, too. He was the first Italian cyclist to win the classification since Franco Bitossi 42 years ago, in 1968.
Petacchi's season went well ahead of the Tour de France, three wins: one stage each at the Tour of Catalunia, the Tour of Turkey and the Giro d'Italia. His stage win at the Giro d'Italia brought his career tally there up to 22.
"He did something spectacular last year, two stages and the green jersey. It was 40 years since an Italian won the green jersey," Lampre-ISD's sports director, Roberto Damiani explained.
"It's impossible to say that this is the same Petacchi as last year, or two years ago, or even next year. This is Petacchi. It's how he is and we are working with him how he is."
He may have seen his best days at the Tour de France, where he's raised his arms in victory six times since turning professional in 1996.
"The euphoria and craziness passes with age, it's normal," added Damiani. "When you're 18 years old and have no one at home to feed, it's different than when you're 35 and have a wife and children waiting."
Since 1996, Petacchi also claimed 20 stage wins at the Vuelta a España and the one-day classics, Milano-Sanremo and Paris-Tours. In other words, the most a sprinter can ask for combined with the Tour's green jersey last year.
He blames influenza, but the stress of an ever-present doping investigating may have hampered his Tour preparations.
The Italian Olympic Committee (CONI) investigated Petacchi last year. He is accused of using synthetic blood Perfluorocarbon (PFC) and human serum albumin in 2009.
CONI issued his former team-mate Lorenzo Bernucci a lifetime ban in December. Petacchi was a long time team-mate of Bernucci's and linked to his case.
The Italian federation may react harshly since it wouldn't be Petacchi's first offensive. He was banned previously for nine months for excessive use of the asthma inhaler Salbutamol during the 2007 Giro d'Italia.
After he checked his wheel's skewer, he looked up. Agreeing that there are about three stages left for sprinters, he said, "It'll be hard."
Tour de France 2011: Related links
Tour de France 2011: Cycling Weekly's coverage index
Thank you for reading 20 articles this month* Join now for unlimited access
Enjoy your first month for just £1 / $1 / €1
*Read 5 free articles per month without a subscription
Join now for unlimited access
Try first month for just £1 / $1 / €1