Pro Bike: Adrian Timmis's 1987 Tour de France Peugeot
A closer look at the bike Adrian Timmis rode in the 1987 Tour de France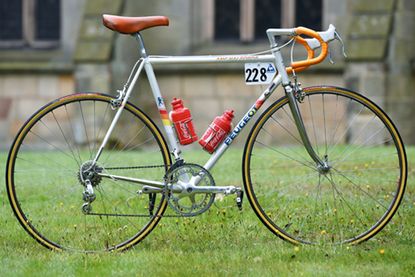 Get The Leadout Newsletter
The latest race content, interviews, features, reviews and expert buying guides, direct to your inbox!
Thank you for signing up to The Pick. You will receive a verification email shortly.
There was a problem. Please refresh the page and try again.
Having sold the Peugeot upon which he rode the 1987 Tour de France, Adrian Timmis could only assume it had gone the same way as most other old team bikes do: cascading through the second-hand market and eventually left rusting, wheel-less, outside a student union somewhere.
That was until someone got in touch with him in 2011 on Facebook to say they had it.
"The guy had raced on it as a junior and then it had just been stuck in his shed," Timmis recalls. "I couldn't believe it when I started reading the message. We weren't even friends on Facebook. I thought it was long gone."
That's my bike
The former ANC rider had always regretted selling the machine through Swinnerton Cycles in 1988. So after seeing some photos from his Facebook correspondent, Timmis offered to buy it.
"It had Brian Rourke transfers on it, but I could tell it was mine. I recognised the handlebar set-up and everything," he says.
Good as new
With the bike back in his hands, Timmis set about returning it to its original state — getting
it resprayed and replacing finishing touches.
Last summer he rode the machine up Alpe d'Huez in full replica regalia to relive the day exactly 28 years earlier where he'd raced on the climb as a member of the Tour's peloton.
Saddle
Timmis rode Turbo saddles for a number of years and maintains that this one is still comfy today. "It looks clunky but the profile is no different from modern saddles," he says. "They're just more cut-out."
Wheels
These were a pair of spare wheels in the 1987 season equipped with Record hubs on Campagnolo Pavé rims. Timmis's race wheels had C-Record hubs.
ANC shod their wheels with Wolber tubs in 1987, but with the French company now defunct, Timmis has gone for a pair of Vittoria Corsa Evo SCs.
Bottles
Coca-cola bottles were something of an icon on the Tour de France. Between 1985 and 2003, a sponsorship agreement between the drinks company and the race stipulated that they were the only bidons riders could use. Timmis kept a couple from 1987 along with his race number.
Handlebar tape
Benotto tape would be found on many bikes of the time, providing handlebars with a neat, shiny, wipe-clean but not very absorbent finish.
>>> The best handlebar tape, and how to wrap it (video)
"You had to wear track mitts," says Timmis. He found this tape on eBay, its colour actually advertised as 'ANC orange'.
Brakes
The alternative to Campag's centre-pull Deltas, the C-Record Cobalto calipers had a distinctive single cobalt blue pivot.
>>> Icons of cycling: Mafac Racer brakes
"These are brilliant," says Timmis. "When I came down Alpe d'Huez last year, they were awesome."
Groupset
There's no mistaking the beautiful, smooth lines and polished finish of Campagnolo C-Record.
The shifting predates indexing and the chainrings are 52/40 paired with a seven-speed 13-24t block of sprockets at the back. A 25 or 26t sprocket would have been employed in the mountains.
Frame
Made from Reynolds 753 tubing with chromed 531 forks and stays, Timmis had the frame repainted by a local car sprayer and custom decals made by a specialist.
>>> Icons of cycling: Reynolds 531 tubing
"Folklore had it we were riding custom-built Cougars," says Timmis. "Some of the others on the team were, but this really was an off-the-peg Peugeot from France with Simplex dropouts."
Pedals
Clipless pedals were still emerging in 1987 and, like the majority of the Tour field, Timmis was still on clips and straps — C-Record ones.
>>> Icons of cycling: Look's revolutionary clipless pedals
It wasn't until 1990, after trying out "some daft Adidas ones where you had to press a button to clip in" and a similarly unsatisfactory pair from Campag, that Timmis fully committed to clipless with a pair of Look pedals.
Pride of place
The Peugeot is now hanging in Cadence Sport along with other cycling memorabilia that Timmis has collected over the years. Note the CW poster top left!
Conquer any climb
The class of 1987
On July 1, 1987, Adrian Timmis was one of four British ANC-Halfords riders lined up at the start of the Tour de France in West Berlin. Under-prepared and under-funded, the team was out of its depth, but Timmis, along with three team-mates, made it to Paris.
Without a proper build-up to his first Grand Tour, the fact that a 23-year-old Timmis made it to Paris at the end of one of the fastest, hottest ever Tours, was nothing short of a miracle.
Team boss Tony Capper disappeared during the final week, leaving Phil Griffiths to take up the reins. The team's story became a small piece of British cycling folklore, and was documented in the book Wide Eyed and Legless by Jeff Connor.
Thank you for reading 20 articles this month* Join now for unlimited access
Enjoy your first month for just £1 / $1 / €1
*Read 5 free articles per month without a subscription
Join now for unlimited access
Try first month for just £1 / $1 / €1
Get The Leadout Newsletter
The latest race content, interviews, features, reviews and expert buying guides, direct to your inbox!
<