Riis: Tour is the goal with Schlecks despite sponsor problems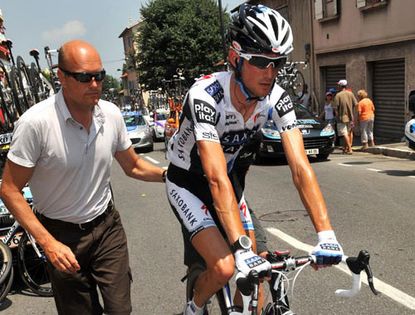 Bjarne Riis today insisted that his team is focused on helping Andy or Fränk Schleck win the Tour de France this month, despite questions about his team's future.
Saxo Bank is ending the sponsorship deal at the end of 2010, one year early, and Riis is yet to find a replacement. He is now in a race to find a sponsor as the peloton enters the negotiation period. Rival teams have already approached some of his riders.
"There have been a lot of expectations and rumours about announcing a new sponsor before this Tour de France. Anyone who is in the business industry knows it takes patience and a lot of work in a process like this. I have patience," Dane Riis said today, two days before the Tour de France.
"I can say we are working on a lot of scenarios, but I have to keep the cards close. My team will have something to announce, but we cannot announce it until we are ready and have the news. I believe the team will go on.
Team Sky's and Riis' former press officer, Bryan Nygaard is said to be creating a team for 2011 based in Luxembourg.
Nygaard joined Team Sky after working several years with fellow Dane Riis at team Saxo Bank/CSC. After the Giro d'Italia he left his post with Sky to form a team. Nygaard hired Kim Anderson as his head sports director, who abruptly left Saxo Bank this week after six years.
Andy and Fränk have been linked with the team because it will be based in their country, and due to their relationship with Andersen. Andy said this week that he is in discussions with four different teams: Riis', Nygaard's' and two yet unknown teams.
Riis wants to keep harmony in his team so they can win the Tour de France and he will have a better chance to secure a sponsor. But it is clear that his riders are not 100 per cent focused on the Tour, rather, they are spending some energy thinking about their future, with or without Riis. The same for Riis, who will be on the telephone with potential sponsors after the stages.
"I want to make it clear to all that we are here to do the Tour. We won't go into discussions about speculations and rumours. We have talked in the team, with Andy and Fränk... Things are clear: we are here as one team and to win the Tour together," Riis added.
"The team decided not to talk about these things in the next three weeks. We are here to concentrate on the race, we owe it to the sponsors, the fans and ourselves. We are here to race the Tour."
"I know Bjarne is able to create a great team," Nygaard told Politiken.dk, "and I am sure he has a new sponsor on the way"
Nygaard is unable to confirm the sponsors at this time and, following UCI rules, will not release any riders' names until after September 1.
Thank you for reading 20 articles this month* Join now for unlimited access
Enjoy your first month for just £1 / $1 / €1
*Read 5 free articles per month without a subscription
Join now for unlimited access
Try first month for just £1 / $1 / €1