Twitter reacts to the slow pace of Tour de France stage three
It's a slow day at the Tour de France, with riders well behind the slowest time schedule on stage three and not everyone is enjoying it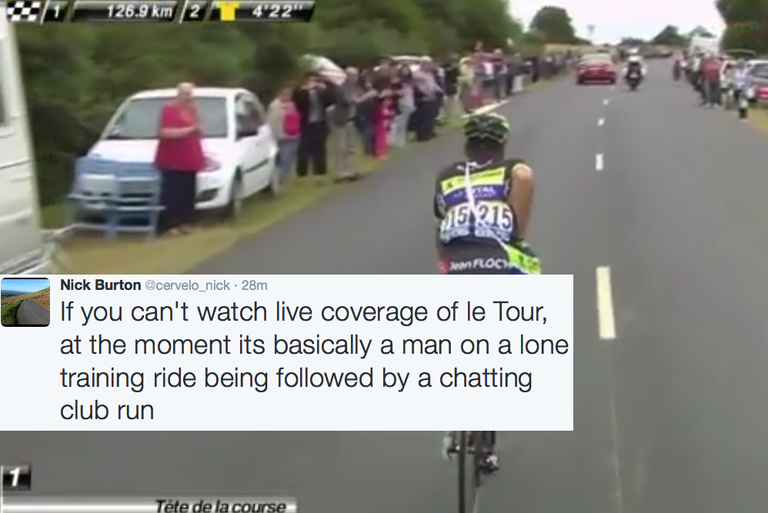 After two frenetic finishes in the first two days of the Tour de France, the riders are in no hurry to complete stage three, with the average speed for the the first 100km or so standing at around 33kph - more than half an hour slower than the slowest time schedule.
It's hardly surprising - it's the Tour's longest stage and there's a solo breakaway from a rider who is essentially being humoured by the peloton, who aren't trying to bring him back.
Twitter users have made a few funnies about the slow state of play, starting with the guy from Pro Cycling Stats falling asleep on his laptop.
Nick Burton sums it up well. The peloton are ambling along like it's a Sunday club ride...where's the café stop?
Matt Slater is certainly enjoying it.
As is William Fotheringham...
>>> This is what you have to eat to compete in the Tour de France
Even the Tour's own media team is getting a bit bored.
As is Tom Dumoulin.
Here's a lovely bit of banter about Armindo Fonseca's doomed breakaway...I just gave away the answer, didn't I?
Castelli Café had to backtrack on their prediction of a fast stage.
And Dr Hutch finds the silver lining. There will definitely be some more exciting stages over the next three weeks.